Porotherm clay block walling system is an innovative method of construction. Along with the reassuringly traditional values of clay material, it delivers versatile, high performance, and sustainable walls with full technical support available at all project stages. Porotherm has become well established as an excellent alternative to traditional masonry such as concrete blocks, as well as other systems such as timber or lightweight steel frames.
Why Should You Use Porotherm?
The range of benefits offered by building with Porotherm cover a broad spectrum of subjects from economic to environmental to lifestyle. Here we take an in-dept look at the top benefits of Porotherm:
1. Faster Construction
Due to the interlocking precision design, the lighter weight compared to other materials and the specialist tools, such as the mortar roller, Porotherm is very quick to build with. An average of 25-30m² per man, per day, is easily achievable, which is much quicker than traditional masonry which is between 12-15m² per man, per day. Porotherm is more stable and rigid than traditional masonry construction, allowing single storey height construction in a day.
2. Uses 95 Percent Less Water
Construction with Porotherm uses around 95% less water than construction used in traditional methods. In a typical 212m² building, traditional mortar will consume circa 1060 litres of water when compared to just 72 litres for the thin joint mortar that is used with Porotherm. Therefore, Porotherm projects are much less reliant on the local water supply and the system takes less time to achieve a watertight shell.
Porotherm is virtually dry compared with concrete blocks that can come with up to 30% moisture content within the block itself adding to the 1000 litres extra water in the mortar.
3. Strong
The compressive strengths of Porotherm's core range are typically 10 N/mm², which is more than standard concrete blocks that are usually around 7 N/mm². As clay blocks are versatile, one block can usually fit the majority of requirements, as a result, there is no need to keep multiple blocks on-site, reducing the risk of the wrong block being used and optimizing storage space on-site.
4. Safe
Porotherm blocks are generally lighter than concrete blocks, allowing workers to maintain steady production rates without the risk of repetitive strain injuries. Precision engineering means no sharp arrises, reducing the risk of cuts.
5. Sustainable
Used for thousands of years in construction worldwide, clay remains the most sustainable solution for modern buildings. Clay is an inert material that provides no risk to either the environment or end-user. Its natural properties mean that it provides a complete, long term sustainability, not only offering increasingly sophisticated low-carbon product manufacture, but giving a building life of over 150 years with little or no maintenance.
Strong and durable, yet lighter and often less of a strain to work with than many of the alternatives, clay also builds-in sound and temperature-control benefits wherever it's used – creating the ideal internal living environment.
30% of materials from alternative, recycled or secondary sources. (MARSS)
Life expectancy of more than 150 years and blocks are recyclable at end of life, for example into hard core.
Porotherm benefits from having excellent thermal properties for both heat loss aiding u-value calculations and thermal mass reducing overheating, creating a stable and even all year round internal temperature and hence a comfortable living environment.
Builders can achieve higher quality blockwork thanks to the precision engineered blocks and true 1mm bed joints.
Porotherm is a breathable material and if used in conjunction with other breathable wall solutions can help to regulate room humidity and benefit from a healthier living environment.
6. Efficient
Thermally efficient in helping to regulate variations in temperature; air-tightness is maximised with a parge coat or wet plaster on it's inner face.
Acoustically efficient.
Fire resistance is outstanding, Porotherm achieves a Class A1 rating.
Breathable – can help with regulating room humidity when used in conjunction with other breathable materials.
No moisture shrinkage – no disruption to finishes, fewer movement joints (1:20 linear metres) and reduced risk of cracking.
On average there is only a 2% wastage provision, improving site waste management as well as offering reduced costs and cleaner sites.
With Porotherm there is no need for installation of bed joint reinforcement.
7. Green Accreditations
Porotherm is listed by IGBC (Indian Green Building Council) in the 'Green Product Category' under energy-efficient product, material with recycled content & use of regional material. It is also rated by GRIHA, Green Rating for Integrated Habitat Assessment.
8. Versatile
Porotherm can be used for monolithic and cavity wall construction and provides an airtight yet breathable solution using a fabric first approach. It is a strong, stable, adaptable method of construction which allows flexibility in the choice of external facades and systems.
There is no shrinkage and minimal need for movement joints (typically at 20m centres) meaning less snagging and follow up work required for the builder.
Porotherm blocks and components are readily available through a national distribution network.
Wienerberger offers ongoing technical support during design and construction as well as comprehensive training either on-site or at Porotherm training centres.
Consistent Product From Trusted Manufacturer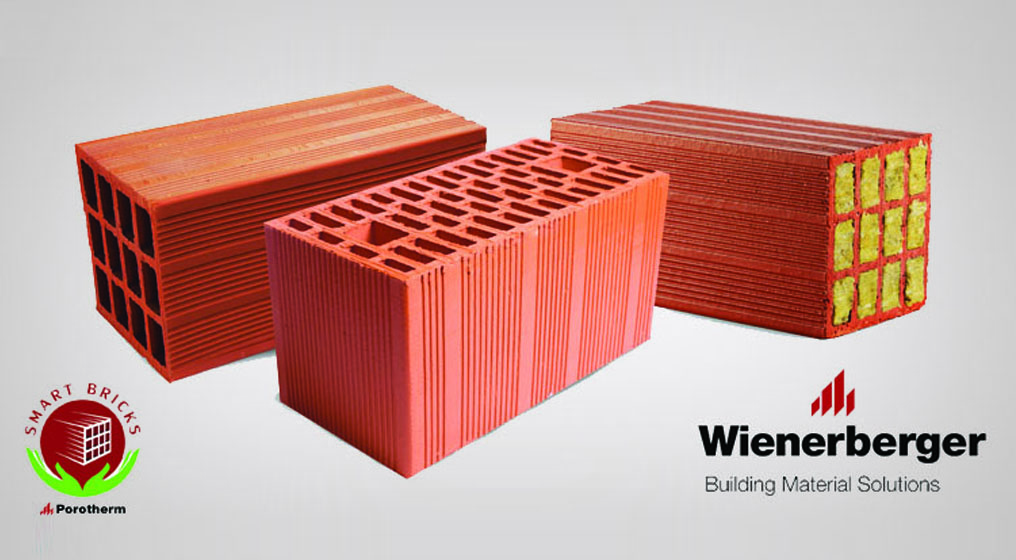 Wienerberger is a global specialist in wall solutions. Wienerberger group is the World's largest producer of clay (terracotta) building bricks. With over 204 factories across 30 countries, Wienerberger has become the foremost authority when it comes to natural, sustainable, green building material solution provider.
In India the wall solutions offered by Wienerberger come under the brand Porotherm Smart Bricks. Porotherm is a large format, clay hollow block that is available in two main categories: Non-load Bearing (Infill/partition walls) and Load-bearing (G+1 construction without RCC). The non-load bearing hollow blocks include Porotherm HP (Horizontally Perforated), Porotherm HP G (Grinded) and Porotherm Thermobrick; where as the load bearing brick includes the brand Porothrm VP (Vertically Perforated). All blocks come in 3 sizes (4″,6″ and 8″) along with half bricks. As a value add, Wienerberger also provide END Bricks for wall endings & junctions, door & window jambs as well as 'T' & 'L' junctions.
Porotherm hollow bricks are being extensively used as quality, strength and economical value are applauded upon them. They're aesthetically beautiful and functionally smart bricks. Currently, these bricks are also being used by famous builders and developers. You should invest in projects that use Porotherm Only.
Read: Quality Construction, Why Is It Totally Worth To Buy An Apartment Built Using Porotherm Bricks?
Curated by a building expert from Wienerberger India
Originally published : Wienerberger UK