Budva Project Details
After 35 years on the same site, this renowned school in Chennai, India, had to move. This project looks like a perfect podium for the architecture world as it created a structure that would inspire the 400 people using it to lead a sustainable life.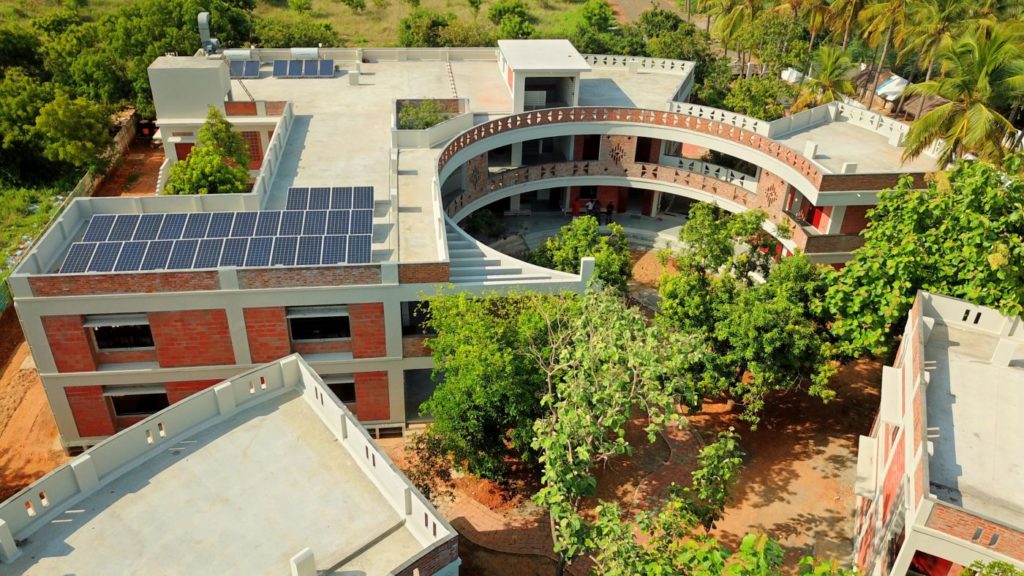 Interplay Between Campus And Nature
The Indian philosopher Jiddu Krishnamurti (1895-1986) famously said that 'If you lose touch with nature you lose touch with humanity, and his teachings are at the heart of everything the day school, 'The School', of the Krishnamurti Foundation does.
The school's holistic approach aims to ensure that sustainability is actively practiced and, above all, is visible. So, the Chennai-based architectural firm Green Evolution took care to preserve the site's 76 trees when they constructed the campus. The result is an organic sense of reciprocity between the campus and its natural surroundings, which is both visibly and physically appear in the inner courtyard.
Sustainable Use Of Resources
The architects incorporated comprehensive sustainability measures into their design from the outset. Rain and wastewater on the campus is thoroughly treated and reused, and the organic waste from this process is composted on-site, in line with the zero-waste principle, and the energy consumption is 50% lower than at the old campus.
Read: Rain Water Harvesting – Why, Benefits, Techniques & More

In 2018, the Indian Green Building Council awarded the new campus the highest (platinum) level of certification under its Green Schools certification scheme. The materials used to build the campus have also been awarded eco-labels. The clay bricks used – Porotherm Smart Bricks – have been recognized by the Indian Green Building Council (IGBC) for their resource-saving sustainability. The IGBC likes the bricks for their low U-value, and because they use local, recyclable raw materials such as fly ash and granite silt. Depending on the version, the hollow clay brick can achieve a U-value of 1 W/m2K, which, in the hot Indian summers, saves on energy for air conditioning systems.
Read: The Story Of Indian Green Building Council (IGBC) Has Just Gone Viral!

Light Play In Favorite Spaces
The architects visited the site on several occasions, at different times of the day, in order to get a feel for the place. The result is an open arrangement of six buildings, which allow the breeze to pass between them, creating an airy feeling.
The trees in the courtyard, which were already there, provide natural shade. Light and shade mingle and play from the treetops to the façade. Indian Jalis are sections of wall constructed from half-bricks, to create organic, ornate, filigree lattice screens. Although the campus is smaller than the site of the old school building, more efficient distribution of the buildings and use of space means that there is more space overall.
If you lose touch with nature you lose touch with humanity. – Jiddu Krishnamurti
Curated by a building expert from Wienerberger India