Bricks, the quintessential material required for any construction have been here for centuries. They are one of the most important materials used in building construction even then their importance is often ignored. People pay very little attention to what type of brick could be used in building a house. What's even most alarming is the fact that many are unaware of the different kinds of bricks available in the market live alone the advantages and disadvantages of each of them. There are many types of bricks like Common Burnt Clay Bricks (red bricks), Sand Lime Bricks (Calcium Silicate Bricks), Concrete Bricks, Fly ash Bricks, Fire Clay Bricks, and the Hollow Bricks, the latest technology in the bricks segment. Among the huge assortment of bricks available in the market, it is essential to select the right kind of bricks for construction, because once the building is constructed – you will not be able to change the bricks!
In this blog, we would learn about hollow bricks i.e., an innovative building material that has been gaining immense popularity for its various uses.

What Are Hollow Bricks?
Hollow bricks also known as Porotherm Bricks is a new age brick that has been gaining huge popularity in the construction industry. Porotherm HP (Horizontally Perforated) bricks are 60% less weighted than a concrete solid block. There are even more advanced hollow bricks packed with special insulating material (Rock wool) called Porotherm Thermo Brick. The bricks have been manufactured by an Austrian-based multinational brand Wienerberger, considered to be the World's biggest brick manufacturer with over 215 production units across 30 countries, including India.
Here's a quick run-down of the impressive features: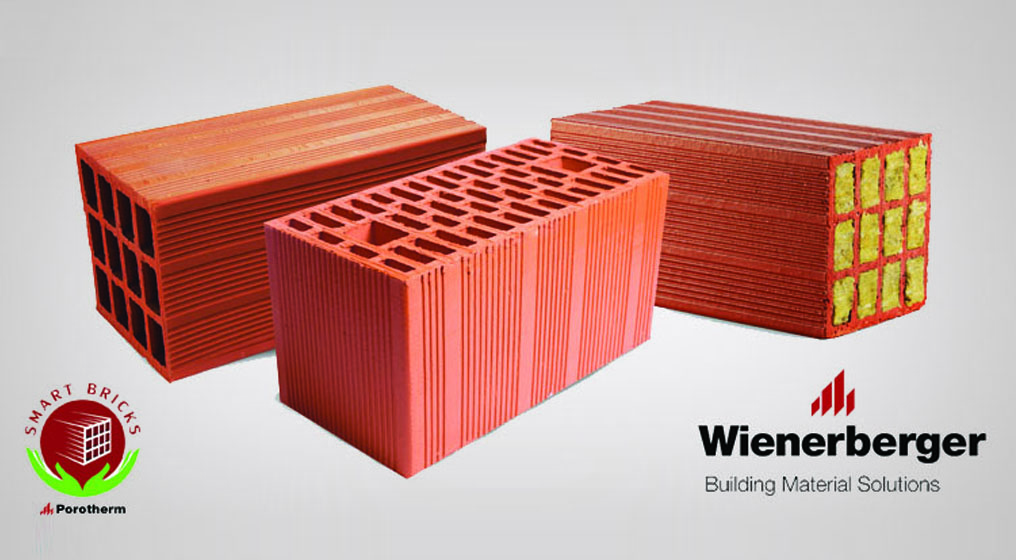 Hollow bricks are perforated either horizontally or vertically. When compared to other traditional varieties of bricks, hollow bricks overall performance is proven to be very good.
Hollow bricks enable faster construction as they can be easily handled on the site.
These bricks absorb very less water hence are environment friendly. Because of its low absorption of water, there are very few chances of efflorescence on the wall's construction using hollow brick.
Helps in improving the aesthetic factor of the building structure, and imparts it a better view.
Hollow bricks are an Eco-friendly Construction material that is manufactured by recycled waste and materials like coal ash, rice husk, and fly ash. It is certified by the Green Building Council of India.
One of the main functions of hollow bricks is to reduce the dead load of the Structure. These are extremely light in weight than most other variants of bricks. The holes or the pores present in these bricks help in reducing their weight making them extremely lightweight.
These bricks are used mostly in partition walls in the building, but they can be used as load-bearing walls as per their compressive strength.
The hollow space of the poles present in the hollow bricks is used to pass the plumbing and electrical wiring – this is not possible in traditional bricks.
The thermal insulation properties of these bricks help in significantly reducing the heating/cooling effects.
Hollow bricks add to the architectural aesthetics and give a better view as compared to solid bricks. They are also fire resistant and hence are much safer.
These provide uniform quality, faster construction, and less labor involvement and hence prove economical and cost-effective Construction material.
The Hollow bricks are one of the innovative construction material and perfect substitute for the traditional bricks which are used in the construction. Studies show that hollow bricks or blocks have greater advantages than solid bricks. Both clay hollow bricks and concrete hollow bricks have enough proven benefits but the former having much more than the latter.
Reasons To Use Hollow Bricks
Hollow bricks can be used to build load-bearing as well as non-load-bearing walls depending upon the compressive strengths of the material used. Some of the reasons to use hollow bricks are-
1. Green Living
Hollow bricks are eco-friendly since they are manufactured by using recycled/waste material/natural substitutes like coal ash, rice husk, granite slurry, fly ash, etc.
2. Energy Conservation
Hollow bricks can reduce the use of cooling and heating devices as per the seasonal requirements due to their thermal insulation property. This reduces energy consumption thus saving the resources and your pockets.
3. Thermal And Sound Insulation
The air present in the hollow area of these bricks makes them thermal insulators. They keep the interiors cool in summer and warm in winter especially the 'clay hollow bricks'. They also provide more sound insulation as compared to solid bricks.
4. Better Usage And Strength
Hollow bricks display good compressive strength making them suitable to install heavy wall compartments, cabinets, geysers, etc. The presence of hollow space makes it easier to pass the electrical and plumbing fixtures as compared to solid bricks where you need to chisel adding to the labor, damage, and cost.
5. Cost-Effective And Low Maintenance
Hollow bricks are much lighter compared to solid bricks. This brings down the overall structural cost. Masons can work faster and thereby cutting man-hours further reducing labor costs. Low maintenance costs due to little or no efflorescence on the surface of hollow bricks as against solid ones. Using hollow bricks also cuts on the cost by reducing the number of joints to be filled. That means less mortar is required since the hollow bricks are larger. And as mentioned before, the thermal insulation aspect helps to keep indoor natural cool all year down bringing down your energy costs substantially throughout the lifespan of the building.
6. Time-Saving
As these bricks are much lighter in weight than the solid bricks, the ease of working with them promotes faster constriction and early completion of the project. Also, one Hollow brick is equivalent to 9 bricks; hence, these are faster and easier to install which in turn saves construction time and labor cost.
7. Mortar Consumption
Owing to it's large size, these bricks reduce the mortar quantity and also the number of joints that need to be filled during the construction process.
8. Less Dead Load
Hollow Bricks is 60 percent lighter than the volumetric alike of 9 bricks. Thus, hollow bricks will reduce the amount of dead load for buildings, and thus structure cost will be cut down.
9. Eco-Friendly Construction Material
Hollow bricks are eco-friendly Construction material which is manufactured by recycled waste and materials such as coal ash, rice husk, and fly ash. They are rated by the Green Building Council of India.
10. Easy Electrical Installation
One of the major advantages of Hollow Bricks is that the presence of holes in the bricks makes it easier to pass the electrical wires and plumbing fixtures through it.
Uses And Properties Of Hollow Bricks
Hollow bricks are mostly suitable for the construction of partition walls. But they can be conveniently used in load-bearing structures up-to ground+3 building structures.
These bricks are available in different sizes in the market. The most common dimensions available are (Length X Width X Height)
400mm x 200mm x 200mm
400mm x 150mm x 250mm
400mm x 100mm x 200mm
400mm x 200mm x 300mm
The compressive strength of the hollow bricks is around 3.5N/mm2 and its dry density is 694-788kg/m3. Their thermal conductivity is around 0.28-0.31W/mk.
Hollow bricks are almost 60 percent lighter in weight hat traditional walling materials. Water absorption of these bricks is around 15 percent of its overall weight.
With your house constructed with hollow bricks, you have the gift ready to pass on to generations. It's a good idea to explore the options available and choose the one that offers long-lasting durability and at the same time proves to be cost-effective in the long run.
_____________________________
Additional resource 1: 2 minutes video on 'Things you should know about Porotherm Hollow Bricks' 
Additional resource 2: A short video on 'Using clay hollow bricks while constructing your house?'
Additional resource 3: To Know more about Porotherm VP Bricks Click Here
Authored by Building Experts from Wienerberger India
For expert advice, drop a word at our email id gosmartbricks@gmail.com