When we talk about bricks, we aren't just talking about a building material but a 'Feeling'. A home is a place that gives us that feeling of warmth and coziness. Hence, the decision of materials which will be used in its construction is very important. Through several decades, bricks have been one evident choice in building materials. Starting from the medieval era through the Victorian age to the present time – Brick practically suits every building and every interior. Sadly, the current state of man-made structures looks more like enormous glass boxes or the ones directly challenge the environment. Amid this clutter, stands 'Brick Cave' i.e. a brick house constructed by Vietnam-based H&P Architects.
Read more to know about this marvelous brick house in Hanoi, Vietnam.
Brick Cave – The Rustic Brick House In Vietnam Dominating Urban Architecture
With the inspiration from Earth's unpredictable geological forces and the aim to contrast the surrounding man-made clutter, H&P Architects constructed this private brick house in the suburban Hanoi. Here are some interesting things about this rustic brick structure: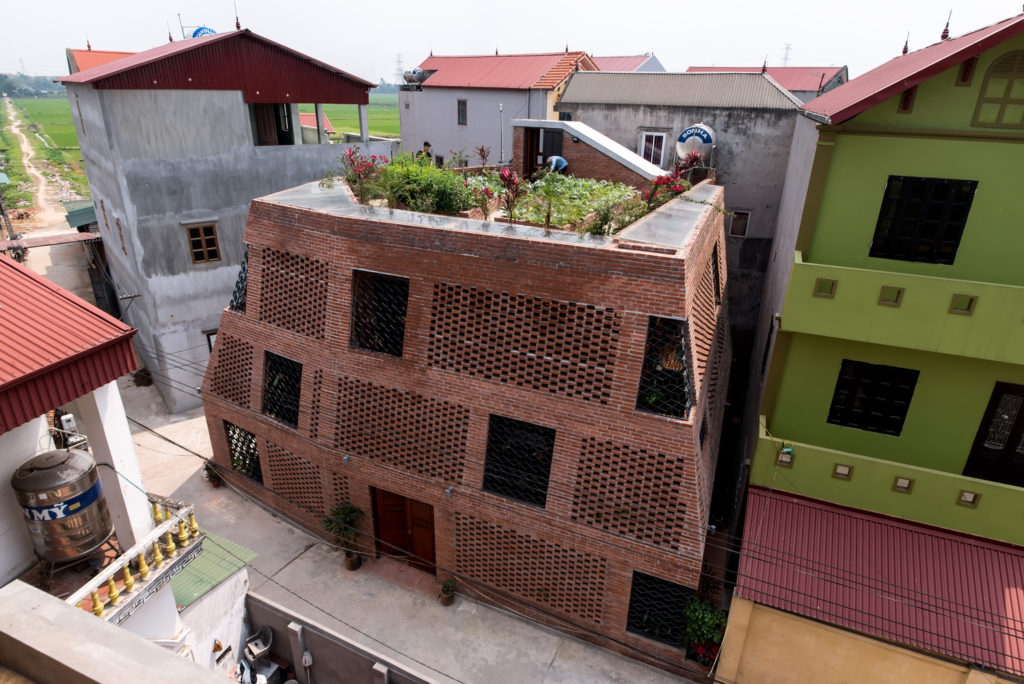 Uses Traditional Building Materials
'Brick Cave' relies on materials which traditionally featured in the region's structures and harkens back to man's earliest homes.
Double Layers Of Brick
Yes, the most interesting part of this home is that it uses a double layer of recycled bricks which acts as a shield against sun and wind. In addition, it perfectly incorporates green elements and natural light. The outer layer uses ceramic bricks which abrupt dust, smoke, noise, and heat from entering inside the home. Also, the plants and vegetables arranged in nooks and crevices absorbs all the humidity and provides shade; basically, providing natural insulation.
Users Can Sense Time & Weather
According to the architects, the walls of this home are angled in such a way that it provides better views of the outside to the occupants sitting inside. The users can sense time and weather through shadow and air from any corner of the house.
Well-Calculated Window Placement
H&P Architects conducted numerous studies on the daily position of the sun to ensure the home catches the sun perfectly. The windows of the Brick Cave were placed in such a manner that it invited ample of natural light to tactically fall across stairs, hallways, and walkways while not overheating the areas.
Mix Of Modern & Organic Styles
The huge, brick-walled interior blend together organic and modern styles for a soothing indoor environment which mixes traditional houses with cutting-edge functionality. In addition, a rooftop garden ensures the inhabitants are closely connected with nature.
Brick House Photo Gallery
Conclusion
Nowadays there are hundreds of interior projects where the bricks play a dominant role. Unquestionably, this is one of the very few building materials which never goes out of date and matches perfectly with each style. Furthermore, bricks are a great option for every room – kitchen, living room, bedroom, corridor – in each situation it will be a perfect accent in creating a casual and warm atmosphere. Exploring different options for bricks is a good idea but choosing the one that offers long-lasting durability, cost, and energy savings is the best thing.
If you are looking for a smart and classy option – take a closer look at Porotherm Smart Bricks.
Related:
Top 7 Types Of Bricks Used In Indian Construction
Look At These 7 Most Amazing Brick Homes In India
7 Totally Innovative & Famous Buildings Made With Bricks
Why Architects Love Building With Bricks?
Curated by editor at Wienerberger India
Like this story? Or have something to share? Write to us: gosmartbricks@gmail.com or connect with us on Facebook and Twitter.