Humans have used bricks for building purpose for nearly thousands of years. The origin of bricks dates to 7000 BC, in fact, it is one of the oldest known building materials to mankind. Still, when it comes choosing a building material in this current scenario – Bricks unquestionably are the #1 choice. It is also the most durable of all building materials, no wonder, even today we see brick walls, pillars, foundations, and road surfaces constructed thousands ago still intact and in good shape.
Did you know? The first bricks were produced in areas having warm climates, these were mud bricks that were dried in the sun for hardening, and; then the greatest breakthrough came with the discovery of fired brick which is relevant even today. Well, that was a little gist on the history of this super building material and where it stands today.
Bricks are a vital construction material that is normally available in a rectangular shape and are manufactured from clay but that's not all. Today different types of bricks are used in construction based on the raw material used in it like concrete, lime, fly ash and many more.
Let's know the different types of bricks used in Indian Construction.
Top 7 Types of Bricks Used In Indian Construction
1. Sun-Dried Bricks
Also called unburnt bricks, these are one of the most primitive examples of bricks, this type of brick was not burnt in kilns but were dried in the sun for hardening. Sun-dried bricks are less durable, have less water resistance and less fire resistance. These are mostly used in rural areas or in constructions that are temporary. The process of making these bricks involves 3 simple steps, i.e. preparation of clay, molding, and finally sun drying.
2. Burnt Clay Bricks
Burnt clay bricks are the oldest and most widely used construction material. These are superior quality bricks and are used in the construction of many vital structural members like walls, columns, foundation, etc. Burnt bricks are classified into 4 different types, these are:
Zimovniki First-Class Bricks – This category of burnt clay bricks complies with all the quality of good bricks. These are table molded and are burnt in kilns. These bricks hold standard shape, smooth surfaces, and sharp edges and are more durable and have more strength.
http://ashmann.uk/2010/03/ Second-Class Bricks – These bricks are of moderate quality. These are ground-molded and then burnt in brick kilns. The shape of these bricks is irregular, and the surface isn't smooth but rough. In addition to this, these bricks can have hair cracks. This class of bricks is used in places where the brickwork is covered with a coat of plaster.
Third-Class Bricks – As the name suggests, these are poor quality bricks which are normally used for structures that are temporarily constructed. Note, these are not suitable for areas that receive a lot of rain. Third Class bricks are molded on the ground and are further burnt in clamps. The surface of this category of bricks are rough and these have edges that are unfair.
Fourth-Class Bricks – These are over-burnt, irregular shaped and dark in colour. This class of bricks is used as the aggregate for concrete in foundations, roads, floors, etc. Owing to its compact structure, these bricks are sometimes found to be stronger than the first-class bricks.
3. Fly Ash Bricks
Fly ash brick is a building material that is specifically used in masonry units. It contains class C or class F fly ash (a byproduct of coal burning) and water that is fired at around 1,000 degree Celsius. Due to the high concentration of calcium oxide in class C fly ash, this type of bricks is every so often described as "self-cementing". Typical uses for fly ash clay brick are in structural walls, pillars, and foundations.
4. Concrete Bricks
Concrete bricks are made using solid concrete along with ingredients like cement, sand, coarse aggregates, and water. The sizes of these bricks can be tailored according to the size requirements. These are commonly used in facades, hidden/internal brickworks, fences, and tend to provide an outstanding aesthetic presence.
5. Engineering Bricks
#5 on our types of bricks list are the Engineering bricks. These have high compressive strength and are used for special applications where strength, acid resistance, low porosity, frost resistance is essential. Engineering bricks are most commonly used for basements, this is because in these areas chemical or water attacks are quite prevalent.
6. Calcium Silicate Bricks
Calcium Silicate Bricks also commonly known as Sand lime bricks, these are made by mixing lime, sand, and fly ash. This type of bricks is used for numerous purposes in construction industries like masonry works, ornamental works in buildings, etc.
7. Porotherm Smart Bricks Or Eco Bricks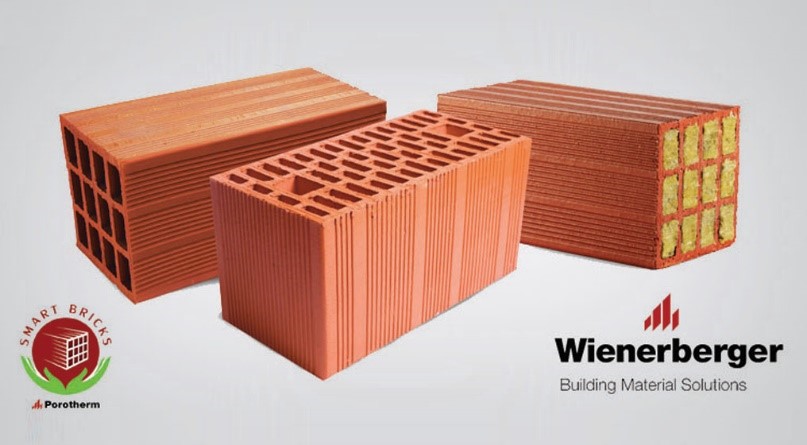 Porotherm hollow bricks are smart walling material that peruses the advantages of natural clay. These are perforated hollow bricks, which can be either horizontally perforated (HP) or vertically perforated (VP). The fact that they are made of natural substances and are hollow from inside makes them far more efficient than the traditional solid bricks and blocks.
Porotherm bricks are used in thousands of residential and commercial projects. Easy application of the bricks and regular support from Wienerberger technical experts have made Porotherm Bricks a sought-after walling material for house owners in metros and tier 2 cities.
Read More: Porotherm Clay Bricks What All You Need To Know
It's Your Turn Now!
How many types of bricks have you used for your building projects? Did you try Porotherm Smart Bricks?
Curated by editor at Wienerberger India
Like this story? Or have something to share? Write to us: gosmartbricks@gmail.com or connect with us on Facebook and Twitter.