Many people are not aware or do not pay enough attention to the walls when it comes to building a house. More than the frills like paint colours, interiors and the elevation; the structure too is very important.
There are many factors that need to be looked while building, and bricks are the basic units of building establishment.  A number of factors should be taken into account while buying them for construction.
The quality and the strength of the brick are very important and this varies from place to place. Most of the bricks are fired in kilns which are manually operated therefore they are average in quality and there is a lack of  consistency.
What you need is a quality, durable, energy efficient brick that is being manufactured in a factory.
With the need for such kind of bricks, http://canalsideconferencecentre.co.uk/wp-content/plugins/pica-photo-gallery/css/style.css Wienerberger, an Austrian company, leading producer of clay building materials for wall systems, facades, roofs and pavers for landscaping has introduced buy Lyrica from mexico Porotherm clay bricks – to South India.
What is a Porotherm clay bricks?
Porotherm clay bricks are horizontally perforated clay bricks.
These bricks are used for non-load bearing partition walls or infill masonry.
For instance, take a water melon on a summer day and you find the surface is hot. But when you cut into the fruit the flesh inside, it is cool. The outer layer of the water melon acts as an insulator and prevents heat from getting transferred inside.
The Porotherm clay bricks too have the same concept. The perforations of the brick give a unique walling system which facilitates thermal insulation resulting in cooler interiors in summer and warm in winter.
Hence it is also called Porotherm clay Bricks!
The walling solutions offered through Porotherm Clay Bricks are environment-friendly, cost-effective, easy to use and feasible to address non-load bearing new age construction methodologies. Under Smart Bricks, Wienerberger offers a range of products including Porotherm HP (Horizontally Perforated Clay Bricks), Porotherm VP (Vertically Perforated) Load Bearing , Porotherm VP Tongue & groove and Porotherm Thermobrick.
Porotherm HP is lauded for being 60 per cent lighter than conventional walling materials, resulting in lower structural cost due to the reduction in the dead load. Given its perforation, the thermal insulation properties are almost 100 per cent more than conventional walling materials. Fired at 1000 degrees in the kilns, the bricks also enjoy a fire rating of F240 for 240 minutes.
The latest addition to the Porotherm Smart brick category is the Porotherm VP Tongue & Grove or VP T&G. This latest format takes masonry construction to a whole new level, being the strongest, non-load bearing walling material in the market which is 100% natural with unquestionable durability.
Along with VP T&G, you get a revolutionary dry mortar system the Dryfix.System, a construction glue which is a remarkable replacement to the convention sand and cement mortar, thereby eliminating curing time and giving you a completed wall within a day!
Here are some of the advantages of VP T&G from the portfolio of Porotherm clay Bricks by Wienerberger
order provigil from canada Strong Bricks: Strong bricks ensure strong walls. It has a high compressive strength of ≥ 7 N/mm2. They have recycled content, as well as  energy efficient and are made to last since the bricks are fired at 900 – 9600 C which combined with the non-corrosive nature of terracotta gives the material excellent strength.
Hemer Thermal Insulation: It gives a superior thermal insulation that greatly improves the indoor comfort of the building. Unlike walls built with traditional bricks, use of Porotherm Thermo Brick results in interiors being cool in summer and warm in winter, when compared to the external temperatures.
Cost and Energy Savings: It saves a lot of energy as well as cost. In summers generally you will use AC in summer and heaters in winter, but the usage of  Porotherm clay bricks eliminates this pre-requisite. Additionally there is no requirement for sand and cement so it brings down the cost of construction to a great extent.
100 % Eco-friendly: The Porotherm is manufactured using natural products. It uses natural clay, coal ash, rice husk, and granite slurry. No chemicals are used so using this will relieve you from allergic problems.
Speed of Construction: Porotherm is much lighter than conventional walling materials. It is easy to handle too. There is no curing required post wall construction. Hence the speed of construction is faster.
Ease of Fitting Pipes and Fixtures: It is easy to cut and chisel for the electrical and plumbing work, when you want to install fixtures.
Maintenance: It has got zero maintenance cost and adding to that these have high fire resistance, as well as longevity.
Clean and dry work site: Porotherm leaves no debris to be transported or disposed of, thereby ensuring a clean and dry work site as working with
Features of the Porotherm clay Bricks
The main features of Porotherm clay bricks are:
Main Advantages:
60% less weight than a solid concrete block
Compressive strength >3.5 N/mm2
Density of approx. 694 to 783 kg/m3
Large size & low weight
Excellent thermal insulation
Water absorption ~15%
Resulting in:
Reduction of dead loads
Saving on structural costs
Faster construction

More than aesthetics which play important part no doubt, it would be prudent to look at the things which matter the most in spite of being invisible as they would ultimately decide how comfortable your house would be …
Every body's dream is to own a beautiful house.They save their hard earned money and invest everything in their dream house. So the builders have to ensure that the materials that they use meet the highest quality standards to ensure the safety of the residents and also to give value for the money invested by them.
Testimonials by users of Porotherm clay bricks
As structural engineer Praveen Kumar says, "I decided on Porotherm clay bricks primarily because the strength of the brick is uniform at every point. These lightweight bricks are 60% lighter than solid concrete blocks thus lessening the weight of the structure and bringing down the cost of construction. Masons can work faster with these bricks". Praveen Kumar has used Porotherm clay bricks in apartment buildings and houses in Bangalore and Hospet.

Architect Vasanth Kumar and associate Shanmugham first saw these bricks in a convention at Bangalore. "We have used Porotherm clay bricks in our projects as they are thermal efficient and have good sound insulation. By using these brick one can save on time and cost during construction. The quality is excellent. If a brick is cut by a machine, the remaining pieces can be used unlike other clay bricks. In one residential project, we used all the remaining pieces to make parapet walls. So, the uniform quality across each brick makes it very easy to work with. Also, the compression strength of the brick is commendable. According to the product specifications, Porotherm clay bricks have high compressive strength (>35 kg/cm2), are non flammable, have excellent thermal and sound insulation apart from being light weight. As a result, there is reduction in dead loads, savings on construction costs, faster construction but above all, one gets a house that is built for generations, extending with it the values of sustainable construction".

Prasanna Kumar, a Structural Engineer from TRC Engineering, Bangalore says that they used Porotherm clay primarily because the strength of the brick is uniform at every point. The low U-value of Porotherm is another advantage.

Vasanth Kumar from Bangalore also says that they used these because they are thermal efficient and have good sound insulation. He says that he has also cut cost and saved time of construction.

Saneeth Varghese says that when they were constructing people were standing and admiring the beauty of the product.
For more information on Porotherm clay Bricks and projects currently using the product, here is a quick slideshow:
About the Company
Wienerberger Group is the World's largest producer of clay (terracotta) building bricks and No. 1 in the clay roof market in Europe. With over 212 factories across 30 countries and 5 export markets.
In 2006, the company was incorporated in India with its very first Asian plant in Kunigal, 70 Kms from Bangalore.
State of the Art production centre
The company has been manufacturing Porotherm clay bricks since May 2009 at its state-of-the-art production facility at Kunigal. The automated and technology driven production ensures that Porothem bricks are of excellent quality and strength.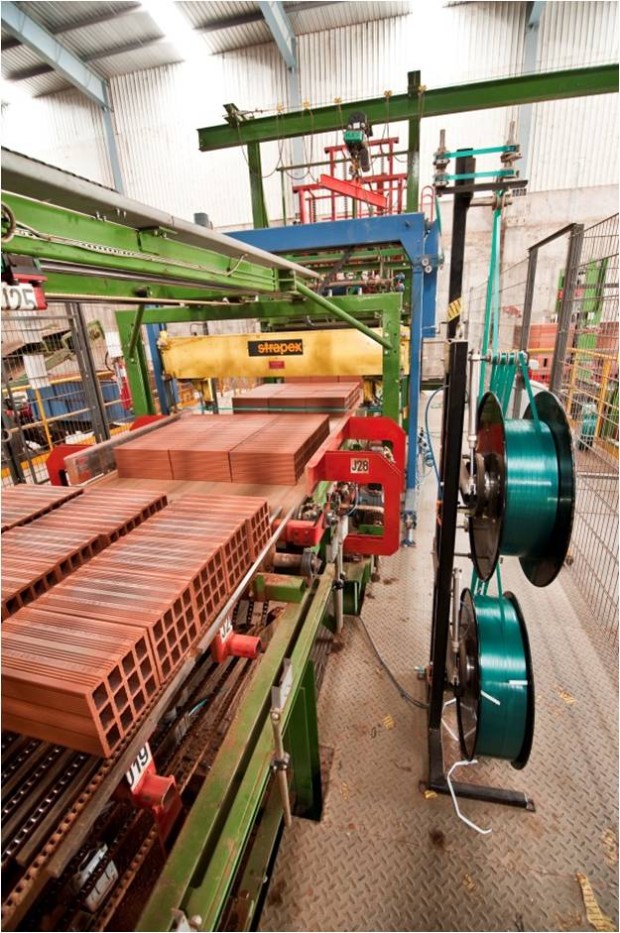 In house Quality Control Facility
The Porotherm clay Bricks produced here go through stringent quality control. An in-house ceramic laboratory for chemical and physical tests of raw materials and finished products take care of quality consistency.
Summary