India is home to some of the most amazing architectural wonders – and few of those are learning institutions. What in your view would be an ideal design for a school? A place that fosters the children, makes them feel comfortable, safe, and most importantly acts as a place for constant exploration. Furthermore, a school should be something so beautiful that it will last in their memories forever – and with such beautiful ideas in mind few architects designed learning institutions in our country that truly give school architecture a new and improved meaning. The School of Dancing Arches in Bhadran, Gujarat is a gift to Indian Architecture, lets learn more about this beautiful place that urges children to learn and explore.
Terracotta School Of Dancing Arches – 10 Interesting Things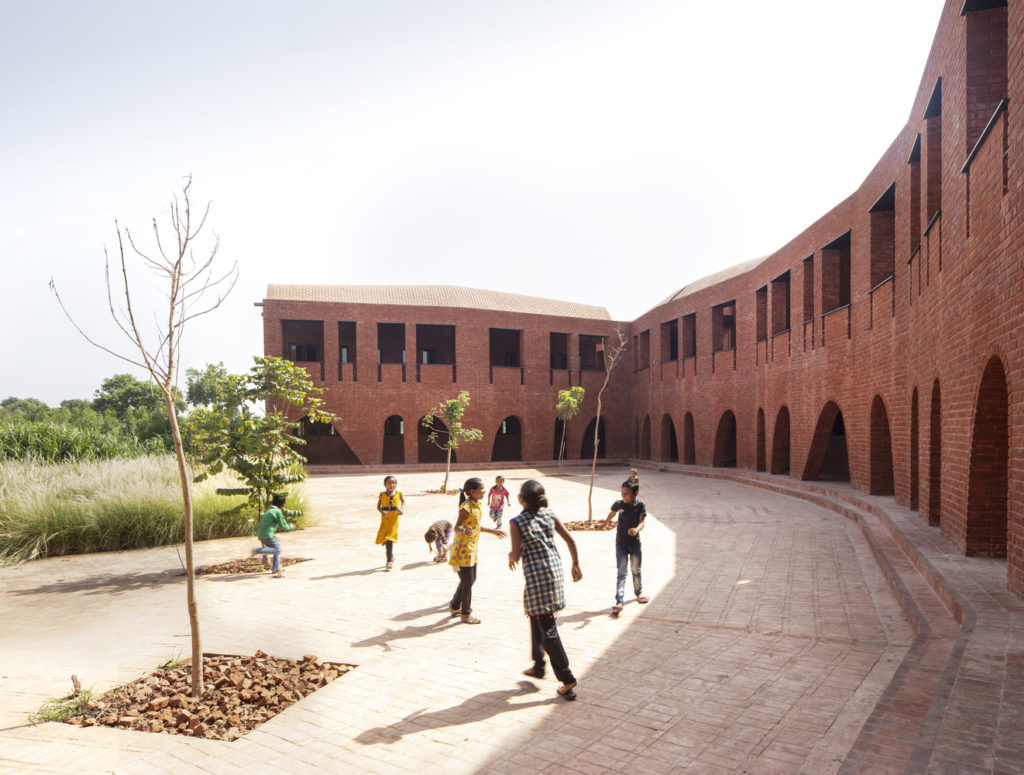 Built as an extension to the Bhadran English Academy School, the School Of Dancing Arches is an explicit piece of art. Here are 10 interesting things you need to know:
Ambad 1. Architect Samira Rathod
Samira Rathod Design Associates have designed this beautiful terracotta school building in Gujarat, India. Here is how the architects beautifully describe their inspiration around this project:
"This is the premise on which we began to design the spaces of the school at Bhadran, where a child spends his formative years, where his first friends are made, where his first memories are etched. This evolved as a quilt of many small events, of small places and spaces, to hide, to collide, climb, roll, run into and out of, to satiate curiosities of a forming mind, allowing its idyllic imagination and wonder."
http://lyndsaycambridge.com//wp-content/uploads/typehub/custom/a57bze8931/.__a57bze8931.php 2. The Idea – Children's Scribbles?
Interestingly, the design of the school of dancing arches was conceptualized from a child's early scribbles. A scribble is indicative, it is not being instructed – and when children scribble it is an expression of freedom. In the form of crooked and wavy lines, their expression is only something that the child understands. It portrays an expression of their freedom – The dancing arches are a reminder of this freedom.
When it comes to perfection in architecture, it is not always mandatory to be straight or conventional. Irregularity makes the forming mind curious and question – What a beautiful idea, isn't it?
3. The Beautiful Location
Spreading around 18000.0 ft2 areas, the school of dancing arches is set on a plot of land surrounded by tobacco fields. It looks like a picturesque monument, and with its fort-like charm, it is one of the must-see buildings in the Bhadran Village of Gujarat.
4. The Unconventional Design
Speckled with fruit trees, blooming Gulmohar trees, and green mounds for children to roll all around, the open area defies rigor in favor of fantasy. As for the building, a bastion of exposed terracotta bricks, architect Rathod provided a strong structure with a distinctly unconventional design.
5. True To One Material – Bricks
The architect stayed true to one material with this project i.e. terracotta. Bricks and only bricks have been used in walls, floors, and roofs.
A research (conducted in Austrian schools) * has proved that children's learning ability and general health is affected by the quality of air within classrooms. Hence use of natural building materials like clay which allow quality air circulation within closed rooms becomes imperative. This is exactly why Schools and educational institutions choose Porotherm Smart Bricks. Read more….
6. Locally Sourced Materials
The school of dancing arches is entirely clad in locally sourced terracotta bricks. All the bricks used in this project have been sourced from a kiln close to the site. The love of labor from around the town and the craft they behold lends this structure impeccable semantic and precision.
7. Light – A Needle To Embroider Moments
The architects consider light to be a tangible building material that is often used like a needle that embellishes moments and experiences in their architecture. The School of dancing arches plays around with lights and shadows. The sharp dark shadows resulting from the irregular arches in the corridor, the beams of light flowing in through the skylights and slits, the soft glow of tangerine through the lopsided cellars – all add to the experience and creating interest i.e. the most important things in learning.
8. Sandwiched Roofs
The roof of this terracotta marvel is a sandwiched structure i.e. concrete is laid in between layers of bricks on the top and bottom. The roof is waterproofed with a thick layer of brickbat Coba in the profile of the arches forming a playful broken brick landscape even on the roof.
9. Skylight Classrooms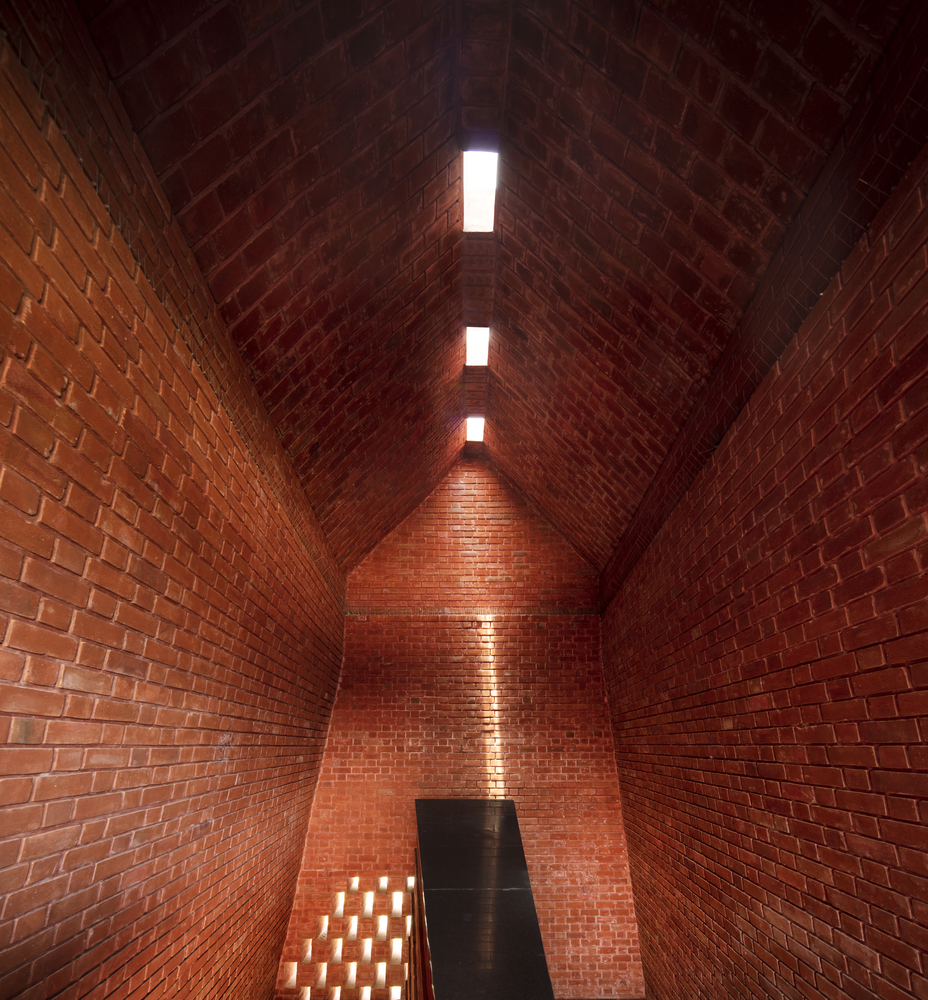 Distributed on two floors, the building features five blocks set along a central, curvilinear corridor with a total of 11 classrooms – six on the ground floor and five on the first floor – a two-floors office, bathrooms, the main staircase, and a temple. The classrooms of the dancing school of arches have skewed beams with irregular jack arches, a unit of which protrudes to come to a skylight.
10. Truly Sustainable
All the modules of the building are designed to create repeated use of shuttering material made in waste steel and can be arranged in various patterns as deemed fit. Reuse of shuttering reduces the cost while using fewer resources making the building truly sustainable.
In The End
Red bricks to build an unconventional design i.e. inspired by a child's scribbling. Natural light spilling in through the asymmetrical arches, trees, green mounds with vast open areas to hide and play. You may think the building is defying the basic idea of a building structure – but it creates a sense of questioning and exploration – Indeed something that is an important seed for learning. The school of dancing arches is an exemplary example of how architecture could influence learning positively.
Dancing School Of Arches – Photo Gallery
Curated by editor at  Wienerberger India
Like this story? Or have something to share? Write to us: gosmartbricks@gmail.com or connect with us on Facebook and Twitter.
Recommended Video