Over the last few years, things have become very noisy. Whether you can hear construction work going on in full swing outside, children's playing and giggling outside, your neighbour's loud music or perhaps you can hear almost everything your neighbour is doing. The truth is, even when home we are constantly bombed by loud noises that disturbs our everyday life.
It doesn't end there; do you know noise is an underestimated threat that can cause a number of serious health issues for humans. Noise beyond a perimeter can be a reason for, stress, hypertension, increased vulnerability to forgetfulness, insomnia, depression, heart diseases and many other serious ailments.
The noisy atmosphere in which we are living is a huge obstacle to securing good health, hence sound insulation for walls is a must.
What Is Noise Doing To Your Health?
According to sources, around 20% of the population in the OECD countries are exposed to Environmental noise levels above 65 dBA from road traffic. Look at few alarming numbers related to the extreme exposure to noise in developing countries like India, Pakistan, Argentina, Brazil and others:
Traffic noise about 100 dBA
Extensive use of horns: exposure up to 90 dBA
Advertisements: exposure up to 100 dBA
Ceremonies and festivals: exposure up to 150 dBA
The number of people complaining of health issues and hearing damages is increasing. This is not only due to occupational exposure to industrial and construction site noise (e.g., blast noise, heavy construction equipment), but also due to constant exposure to noise in everyday life. Operation of automobiles, high-speed trains, aircraft, subways, televisions, karaoke, and cell phone sounds are few hazards to name.  Take a look at few staggering facts:
http://chrisgraymusic.com/keyboards-for-beginners Negative Effect On Children – Living around loud noises can disturb a child's developing brain. Studies prove, children's stress hormones get boosted by continuous exposure to noise, which, in turn, disturbs their psychological well-being.
Indoor Noise & Its Sources
Today, in modern living environments "Environmental Noise" has become an intimate everyday problem. Sound from roads traffic, factories, airports, and construction totally disturb the everyday life of the individuals living around and can cause serious health effects and diseases.  Take a look at the classification of Indoor Noise:
| | |
| --- | --- |
| catastrophically Type Of Noise | Noise Source |
| Human movement | Noise from everyday human activities like speech, instruments, buzzers, household appliances, footsteps on stairs and children playing. |
| Power engines | Traffic noise from aircraft and automobiles, plant machinery sound |
| Building equipment | Plumbing equipment |
| Construction/operation | Construction / workplace noise |
| Human gatherings | Mass noise in schools, celebration venues, and public facilities |
| Other | Mikes, street broadcasts, Sirens, alert sounds etc. |
Sound Insulation For Walls Can Change Your Life For Better
Noise reduction is one of the simplest ways to increase your quality of life and relax in your indoor living environment. This is why when new buildings are being constructed it's crucial to invest in the right sound insulation for walls.
What Is Sound Insulation?
To prevent you from being disturbed by the activities in the neighbourhood or in the next room, the construction has to stop sound from being transmitted. Sound insulation or soundproofing relates to the overall ability of a building structure to reduce the sound transmission through it.
Importance Of Sound Insulation
The constantly increasing population in India also means that there is more traffic, more construction work and more noise in general. There are many reasons why investing in sound insulation would be beneficial to you and your property. Here are some of them:
Privacy – Sound insulation prevents voice leaks making it difficult for you or others to overhear conversations. Basically, listening to others conversations or the fear to be heard in the same area is minimal.
Avoid Noise Disturbance – Noise can be a commotion to your neighbours. With good sound insulation, hosting a party or having extra loud kids is no more a problem.
Health – Too much noise is bad for the environment and for the humans too. Less outdoor noise seeping inside your house is good for health.
Comfort – Sound insulation helps to avoid noise levels that prevent good quality sleep thereby increasing the comfort level inside your home.
Increase Property Value – Having sound insulation for your walls will upsurge your home prices and will work in your favour if you decide to sell.
Basic Principles Of Sound Insulation
Sound insulation for walls might seem like a simple concept. For many, it's just putting up some soundproof material between themselves and the source of the noise – but it isn't that simple. If you're looking for effective soundproofing, first learn about these four principles:
1. Mass
Any solid object which is heavy and thick will block sound. Mass-loaded vinyl, Drywall, and Porotherm Bricks are great soundproofing materials which use this property. This tactic is most effective against airborne sounds.
2. Damping
Damping is one of the most important elements and most effective one for low-frequency noise, like music beats or noise from construction activities. Tap a wine glass with a spoon, and it rings, but if you clamp your fingers in the sound would abruptly stop – that's exactly the effect of damping. In sound insulation, damping can be accomplished with damping compounds. The most important property of the damping compound is its capability to convert sound energy into heat so that it can stop the sound.
3. Decoupling
There are few forms of sound that are transmitted through the building structure. With decoupling, gaps are made into the parts of the building, which prevents sound vibration from continuing on its path. Decoupling can be accomplished with ease during the initial stages of a building's construction.
4. Absorption
Absorption plays a very important role in sound insulation for walls. Loosely packed fiberglass and acoustical ceiling tile insulation are few good examples of sound absorbers.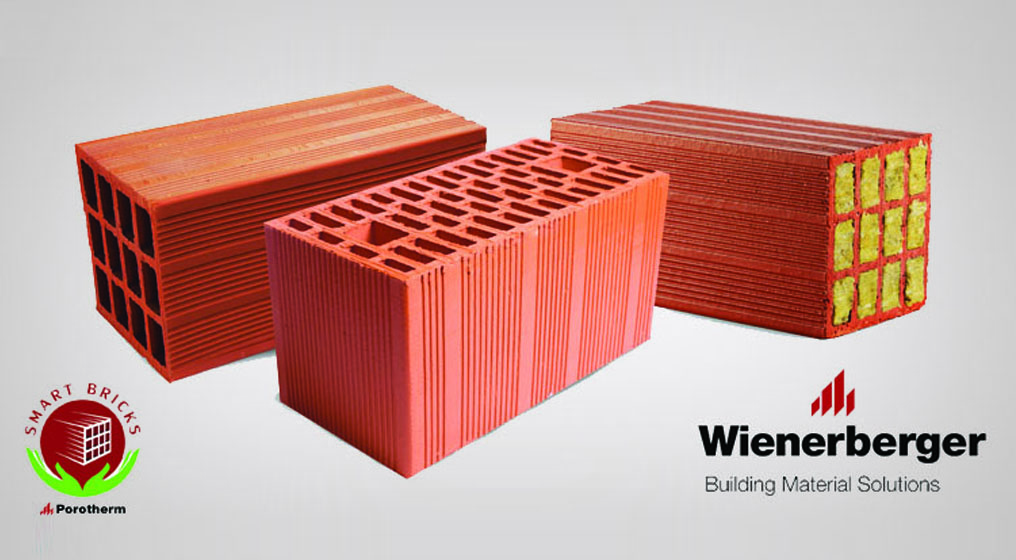 Sound insulation measures are required to protect the residents of a building from outside noise as well as noise from neighbouring rooms.
Porotherm Bricks are a natural, Green Building material. It is sourced through de-silting of dead water tanks with the use of only natural additives such as coal ash, rice husk and sawdust. Credited by Indian Green Building Council, Porotherm provides excellent sound insulation and reduced noise pollution.
Clay hollow brick walls ensure a peaceful living without noise irritation from outside or inside the building. Solid exterior clay hollow brick walls exhibit excellent sound insulation values.
Some of the intrinsic features of Porotherm Smart Bricks include:
LIGHTWEIGHT – Enabling faster construction
HIGH COMPRESSIVE STRENGTH – Efficient & long lasting
THERMAL & SOUND INSULATION – Ensure a comfortable in-door living environment
GREEN BUILDING PRODUCT – 100% Natural, sustainable & rated by the Indian Green Building Council (IGBC) & the Green Rating for Integrated Habitat Assessment (GRIHA)
#KnowYourWall
Know how your walls can significantly improve your living environment.
To know more about Porotherm Bricks Get in touch
Read More: "Indoor Air Quality" – Know The Common Indoor Air Toxins & How Green Walls Can Help
Final Thoughts
The noisy atmosphere in which we are living is an obstacle to securing good health. But, Porotherm Bricks ensures protection from all the noises, which means healthy living for you and your family.
Curated by editor at  Wienerberger India
Like this story? Or have something to share? Write to us: gosmartbricks@gmail.com or connect with us on Facebook and Twitter.