A sacred water source, meeting place, and of course, an amazing architectural wonder – Step wells in India have time and again captured our imagination and attention for centuries now.
It is estimated that India was home to over 3,000 step wells built in the two northern states. And the earliest stepwell most likely dates to about 550 AD. Today majority of them have fallen into disrepair, largely forgotten, and some languish in a state of decay. The local term used for a stepwell varies with each region. In Hindi, it is called a 'vav, or 'baori' or 'baoli.'
The architecturally rich, mysterious India, stores the best step wells of the country. Building on this today we explore 15 of the best step wells in India.
The 15 Incredible Step Wells In India
1. Chand Baori, Rajasthan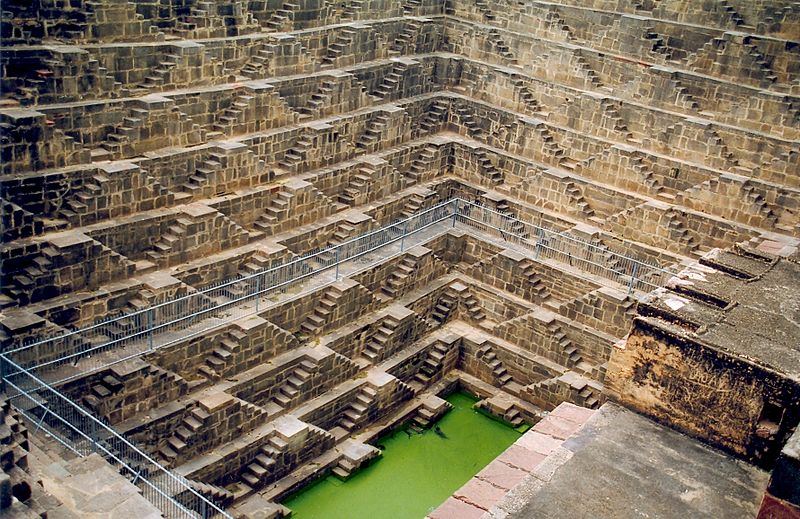 Built over a thousand years ago in the Abhaneri village of Rajasthan, Chand Baori is one of the deepest and largest step wells in India. This stepwell consists of 3,500 narrow steps with over 13 stories and extends approximately 30 m (100 ft) into the ground.
2. Rani ki Vav, Patan
Ranki vav or Rani ki Vav means lit. Queen's stepwell. This stepwell is located in the small town of Patan in the state of Gujarat. Set right on the banks of river Saraswati, this stepwell is one of the finest step wells in India. It is a masterpiece of architecture, construction, and adornment.
3. Nagar Sagar Kund, Bundi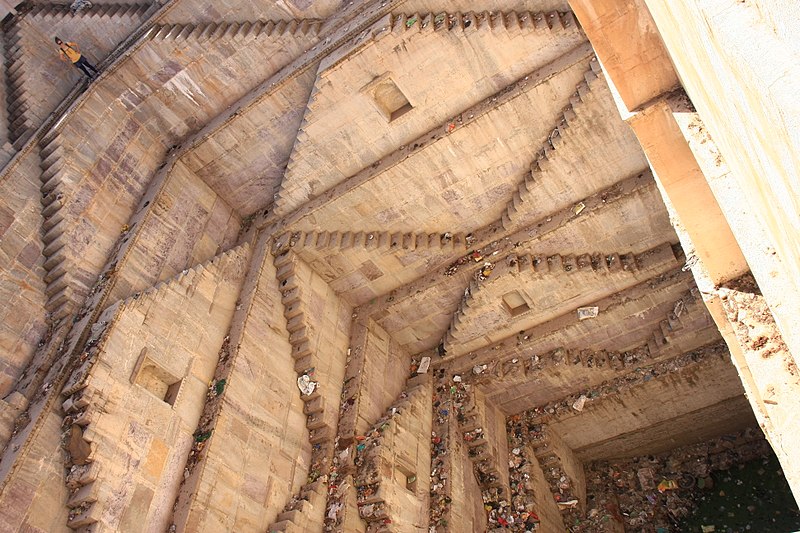 Located in the city of Bundi, Rajasthan the Nagar Sagar Kund are twin step-wells crafted in pristine masonry. Originally these twin step-wells were called Janana Sagar and Ganga Sagar, but now these are jointly names as Nagar Sagar. This stepwell is located right in the center of the market and is architecturally very impressive; but sadly, it isn't kept clean.
4. Hampi Pushkarini, Karnataka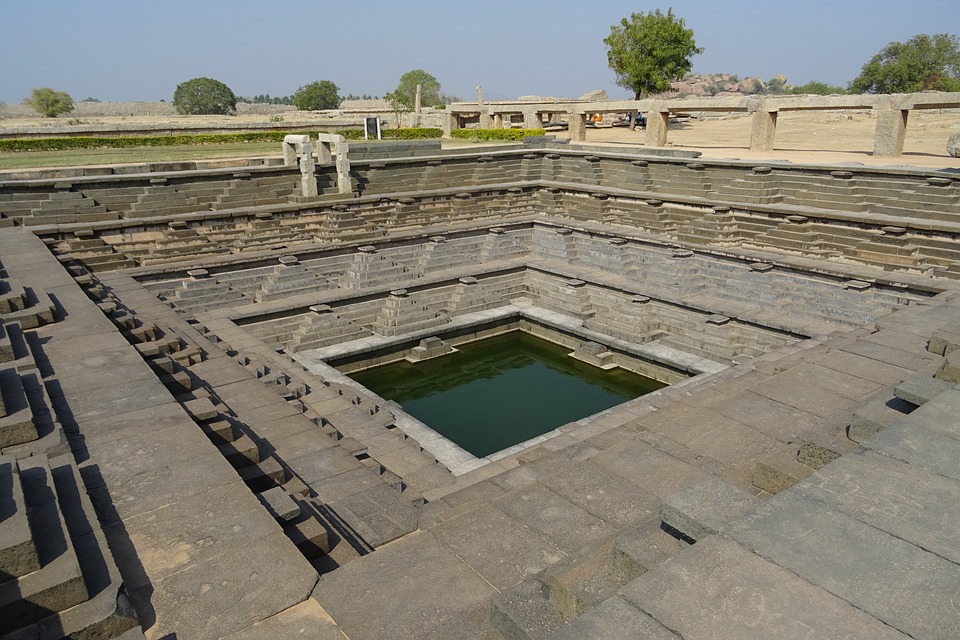 Known for its Chalukya architecture this stepwell is one magnificent example of India's rich architecture. The Pushkaranis in Hampi is the sacred water tanks that are attached to the temples. These tanks are totally different from other structures of Hampi as they are constructed using finely finished blocks of black schist stones. The stepwell is faultlessly geometrical, and do not have elaborate carvings.
Read: 10 Most Popular Styles In Indian Architecture
5. Toor Ji Ka Jhalra, Rajasthan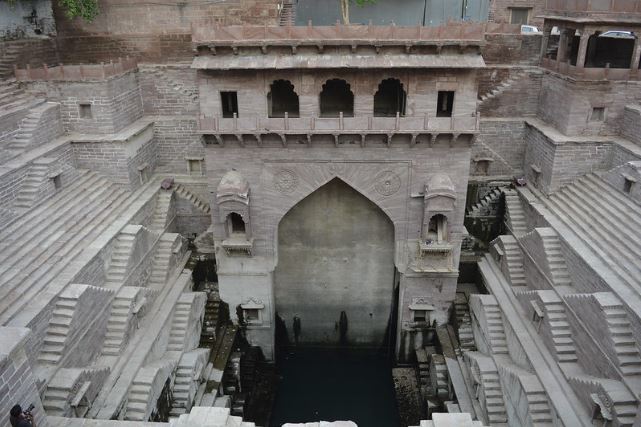 Toorji ka Jhalra is one of the most fabulous architectures of ancient times. This stepwell was built by Rani tawar ji, consort of King abhya singh of jodhpur in 1740; this historic structure was only recently excavated and restored.
6. Madha Vav, Wadhwan
Wadhvan is one of the best examples of living fortified towns of Gujarat. This little town is home for two ancient step wells in Wadhvan i.e. Madha Vav and Ganga Vav. With pyramidal roofs and a high-water level, this stepwell presents a magnificent sight.
7. Surya Kund, Modhera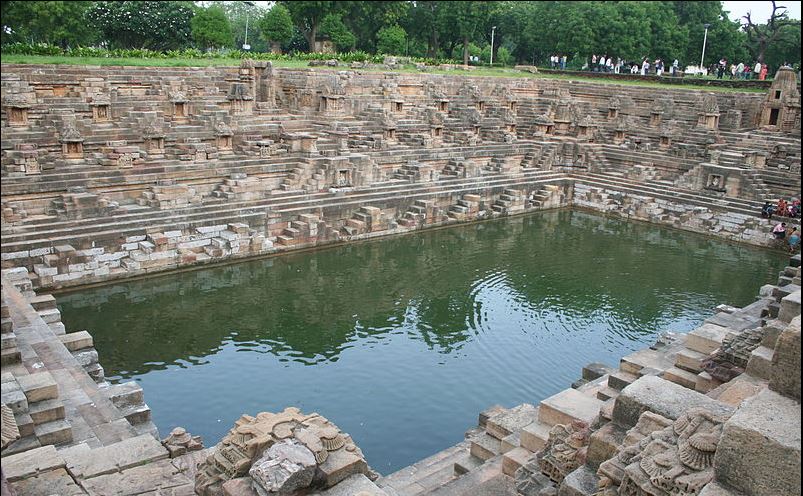 The ancient Sun Temple of Modhera features three axially aligned components; the shrine proper (garbhagriha) in a hall (gudhamandapa), the outer or assembly hall (sabhamandapa or rangamandapa) and a sacred reservoir (kunda). According to literature, the steps of Surya Kund are a stylized mirror image of the Shikhara which brought together the fire and the water.
8. Rajon ki Baoli, New Delhi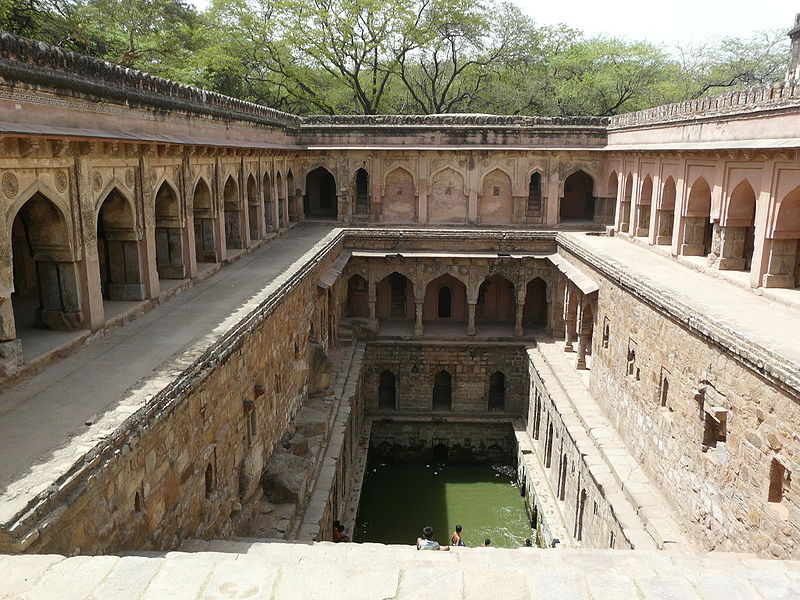 Of course, this stepwell is one of the most popular ones in the country. Located in Mehrauli Archaeological Park, Rajon ki Baoli was supposedly built in 1516 by Daulat Khan and restored in the early 2000s. This grand structure is rich in terms of both scale and architecture.
Read: 6 Prominent Styles In Hindu Temple Architecture
9. Lakkundi Step-wells, Karnataka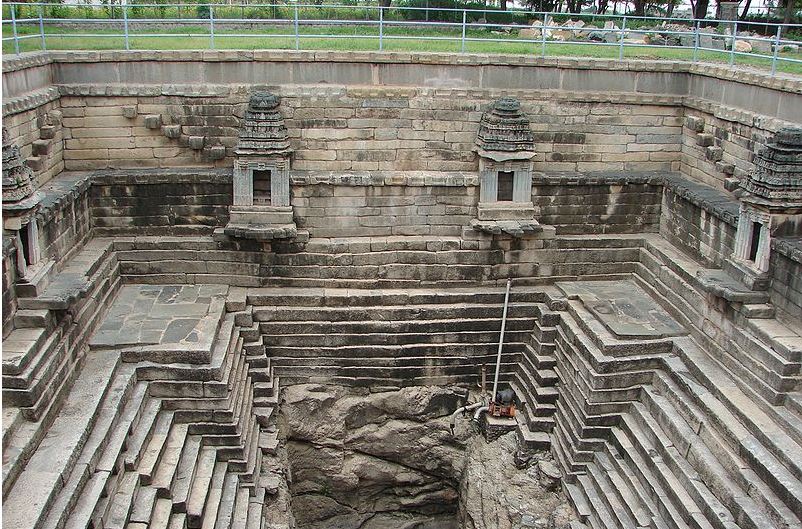 The tiny village of Lakkundi is noted for its step wells, artistically built with small canopied niches inside the walls of the wells enshrining lingas. There are many ancient step wells in Lakkundi, of which the Chateer Bavi, Kanne Bavi, and Musukina Bavi are most popular for their carving's architectural beauty.
10. Agrasen ki Baoli, New Delhi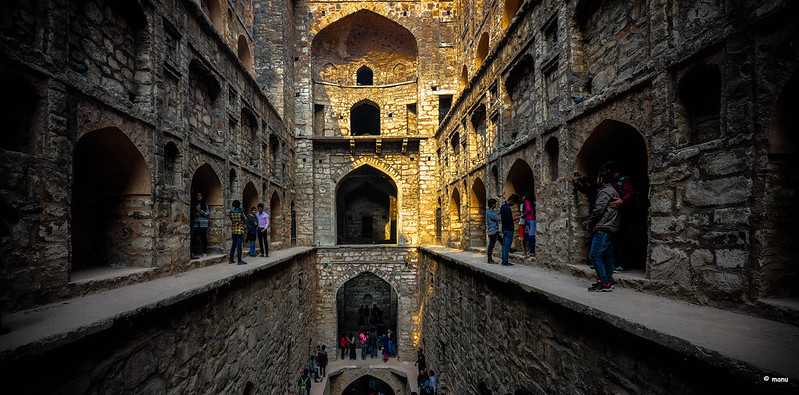 Located in the capital city of India, this is a 60-meter X 15-meter stepwell, with 103 steps. Agrasen ki Baoli gathered more fame after it was featured in Aamir Khan's starrer 'PK'. The stepwell is also supposed to be haunted with many people telling stories of feeling a presence in the area.
11. Adalaj Stepwell, Ahmedabad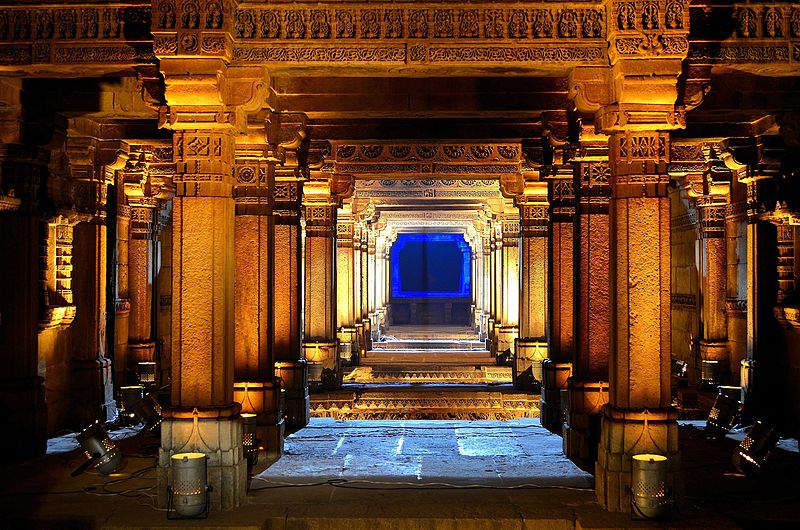 Adalaj ni vav is a beautiful structure located at about 18 kilometers from Gujarat state capital, Ahmedabad. Adalaj Vav is a 5-storey step-well on the outskirts of the city. It is perhaps the finest stepwell in Gujarat, with a series of platforms and galleries built on the sides.
Read: Karnataka Architecture and 7 Astounding Buildings Examples
12. Panna Meena Ka Kund, Jaipur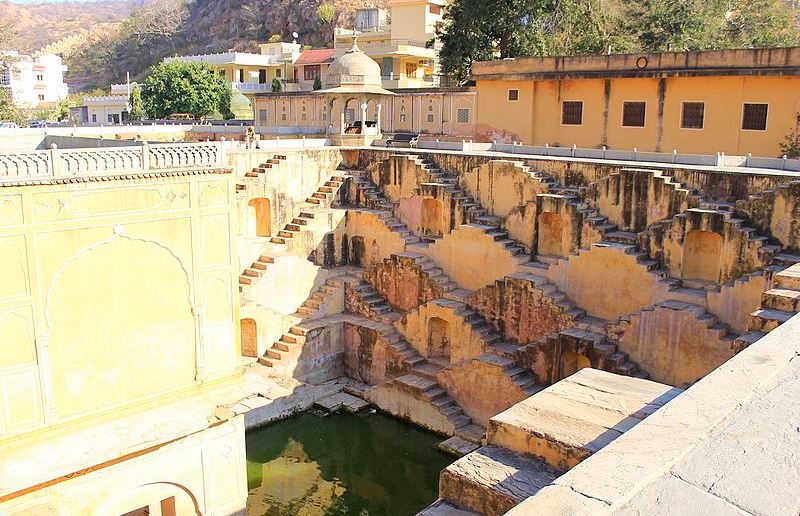 This structure is an excellent example of fine architecture and water conservation techniques. This stepwell is over 200 feet deep with 1800 symmetrical steps on three sides of the rectangular structure. Once a source of water for the nearby locals, this kund is filled with water throughout the year even today.
13. Mahila Bag Jhalra, Jodhpur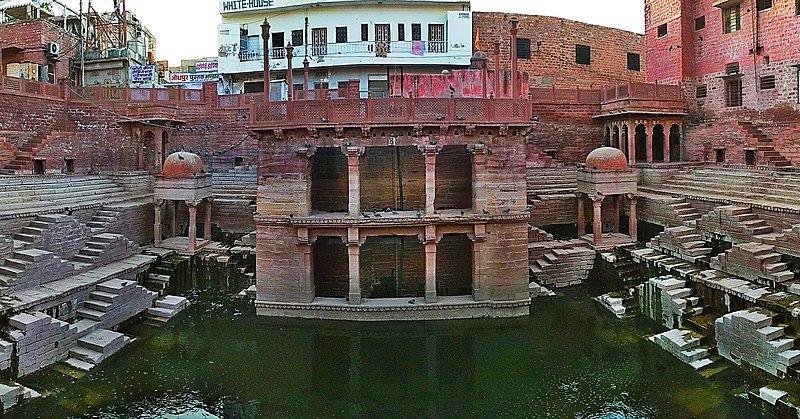 Located just 5 minutes' walk away from Toorji Ka Jhalra, Mahila Bagh Ka Jhalra is another amazing stepwell in the beautiful city of Jodhpur.
Read: 7 Classic Examples Of Buddhist Architecture In India
14. Shahi Baoli, Lucknow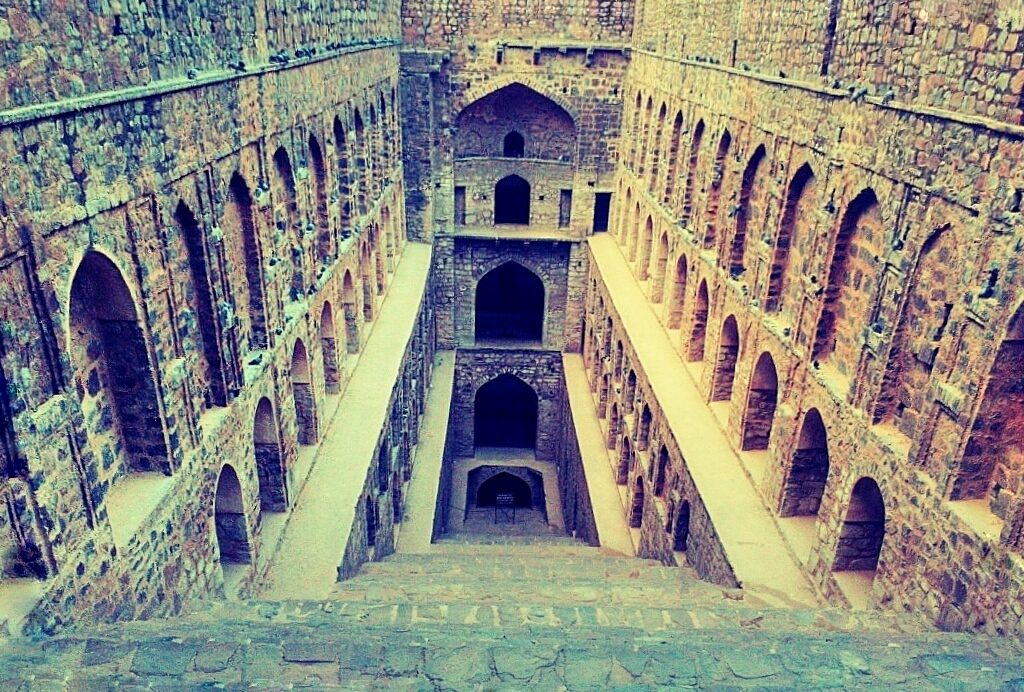 Shahi Baoli is one of the most extensively popular step wells in India known for its exceptional architectural design. It was built by Nawab Asif-ud-daula one of the most skillful architects of those times during the years 1784-1794. The superb Indo-Islamic architectural design of this structure makes it an immaculately unique edifice.
15. Dada Hari Ni Vav, Ahmedabad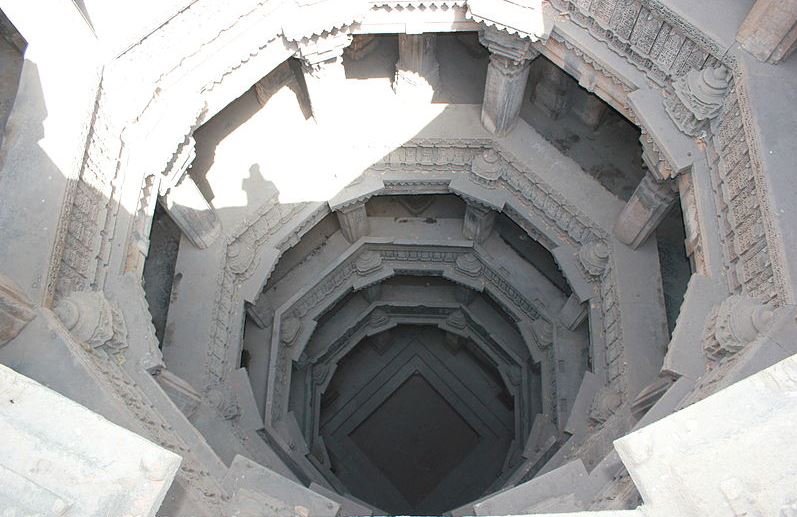 Completed in the city of Ahmedabad in 1500 by Dada Hari (Muḥammad Begda's harem supervisor of Sultan Bai Harir) this stepwell still offers a site to behold. Dada Hari stepwell has spiral stairways which leads down 7 levels; it has ornate pillars and arches with inscriptions engraved in both Sanskrit and Arabic.
In The End…
The grand scale of these ancient step wells in India is awe-inspiring which points to the fact that they were much more than just a place to access water. While the construction may be utilitarian, in many cases they include significant architectural features and embellishments. Thousands of steps and a dozen stores, these step wells are in all ways truly enchanting. Another truth that doesn't change – most of them are in desperate need of care or they will soon be lost.
Curated by editor at Wienerberger India
Like this story? Or have something to share? Write to us: gosmartbricks@gmail.com or connect with us on Facebook and Twitter.