Vertical Garden as many calls it is something that has scarcely hit the industry with a bang, but the good news is – it's slowly getting there. Across the globe, companies are tapping into this technology to turn the dense urban cities with adequate plant growth to curb air pollution and make the city beautiful.
Very recently, China flaunted Asia's First Vertical Garden that has the ability to produce 60 kgs of oxygen every single day. Well, India isn't behind, this concept has been catching the eyeballs of many, and the proof is Bengaluru's First Vertical Garden which already accommodates 3500 plus plants.
While vertical gardens are slowly and steadily becoming a flamboyant trend, let's try and understand them in detail.
What Is A Vertical Garden?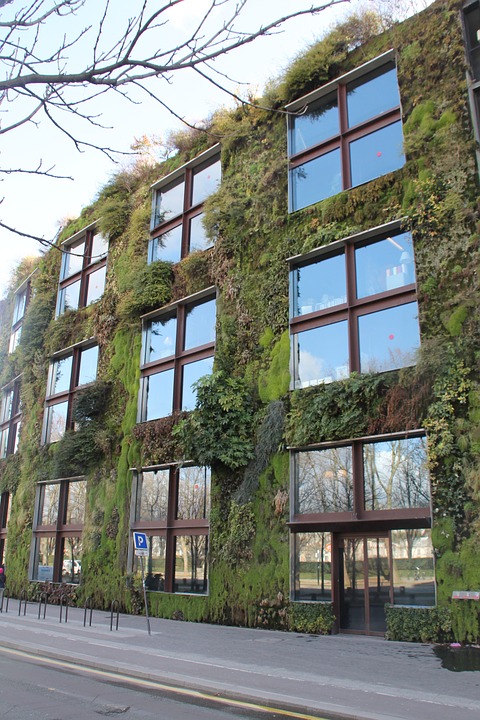 Vertical garden is a unique technique that allows us to grow plants on a suspended panel that is vertically placed by using hydroponics. These structures can either be attached to the wall or be self-supporting.
This concept isn't new, as Vertical Gardens have been around since ancient civilizations. Lack of trees, lack of land space, increasing pollution levels and rising temperatures has today necessitated the need for more and more vertical gardens to add a pop of nature around our concrete jungles.
Vertical gardens are known by many different names, living walls, live walls and moss walls are just a few to name. These vertical plant structures can be as tiny as a picture frame or as gigantic as a 60 ft wide masterpiece, amazing, isn't it?
Where Can A Vertical Garden Be Placed?
While potted plants can practically be placed anywhere, the options with vertical garden are endless too. Today, vertical gardens can be seen in major corporation headquarters, in hotel lobbies, and even in small residential backyards. These gardens not only look impressive but also add a level of comfort to the environment by tapping into nature's inherent calming powers.
A vertical garden is a wonderful alternative to potted plants. Since vertical gardens are planted on one single panel they do not eat up or demand a lot of place, also these are easy to maintain and at the same time, they add a lush pop of color to any environment.
How Does It Work?
Vertical Garden is constructed just like the actual walls, these have a skeletal structure which is hung with several sections containing the plants and flowers which ultimately make up the garden. But, how these walls function, well, it depends on the kind of system installed. Few systems come along with hidden pipes which provide a mechanism for self-watering which helps in keeping the plants healthy, but there are other systems which demand hand-watering too.
How Long Do These Last?
Well, as one reasonably new technology, the lifespan of these garden is difficult to declare with certainty. The hardware, the panels can last up to 25 years, but how long the plants will survive is difficult to establish.
Benefits Of A Vertical Garden
Green walls are one sure shot way to enhance a building structure's appearance, but apart from the aesthetics factor it offers other amazing benefits too:
1. Visual Benefits
They can create a breath-taking statement by producing an alluring and inviting environment. The inhabitants are always greeted by a lush green environment, it also creates a soothing effect of being around plenty of foliage. Also, these walls work as a natural air-filtration system, which means more fresh air to breathe, basically these walls are purveyors of good health and healthy minds.
2. Credits/Sustainability
The installation of vertical gardens can earn buildings credits from recognized Green building certifiers like LEED (Leadership in Energy and Environmental Design), and IGBC (Indian Green Building Council). More points mean improved carbon footprint and increased property values.
3. Improved Air Quality
A vertical green wall is a natural air-filter, it helps in the creation of a cleaner and invigorating environment which helps to enhance the occupant's health and productivity. Considering a typical office environment, where the workers are exposed to harmful air toxins like carbon monoxide, formaldehyde, Benzene and VOCS, a vertical garden in such an environment can break down harmful toxins while releasing fresh oxygen into the workplace air.
Read: "Indoor Air Quality", Know The Common Indoor Air Toxins & How Green Walls Can Help
4. Energy Cost Reduction
Both the interior and exterior vertical green walls by a process called "evapotranspiration" cool the air in the hotter summer months. During the winter months, it adds to the building insulation consequently reducing energy costs required for the heating of the building. Exterior vertical garden can reduce the wall surface temperatures by nearly 50 degrees °F, this can help in significant energy savings.
5. Noise Level Reduction
One lesser known benefit of a vertical garden, these structures can reduce noise levels in buildings. Across the world, plants are being used to reduce the noise levels along roads and highways. Vertical gardens can expand on this idea as vegetation 'naturally' blocks high-frequency sounds. These walls act as an extra insulation with a layer of air between the plants and the wall. Additionally, they can reduce noise levels by refracting, reflecting, and also by absorbing acoustic energy.
Read: Indoor Noise Pollution And The Role Of Sound Insulation For Walls
6. Lack Of Dependence On Land
Just as the name suggests, everything grows upwards rather than getting spanned horizontally. Vertical gardens rely on racks and can be effectively built as a tower which means no need to invest in elusive land areas.
7. Less Overhead Costs
In terms of water usage, a vertical farm consumes 90% less water than the traditional gardens, this is because water is constantly harvested and reused. But, bigger savings come in the form of labor. Huge lavish garden settings demand a lot of manpower to maintain it, but with vertical gardens, only one skilled professional can do the job of monitoring the plants and ensuring that all the parameters are correct.
8. Shields Building Structure
Buildings get adversely affected by fluctuating temperatures which causes materials to contract and expand, which over time results in deterioration, fissures, and cracks. Having exterior vertical gardens protect buildings not just from temperature fluctuations but also diverts water away from walls when it's raining heavily and also provides protection from harmful UV radiation.
Different Types Of Vertical Gardens
Keeping in mind different factors like cost, type of plant, watering needs and drainage, and the growing conditions required, the different kinds of vertical gardens are:
Green Wall – Can be organized into panel and tray systems or freestanding walls, which means there is a wall suitable for practically any space. This one is one of the most attractive types of vertical garden.
Pockets – Plants grown in pockets is another great way of vertically growing plants. These pockets are made from felt fabrics which allow the plants to breathe as they grow.
Arranged Garden Pots – Normal gardening pots of several colours and materials are used to plant and these pots are then hanged on the walls. Different kinds of plants can be planted in these ports to create an attractive view.
Tiered Gardens – Numerous long and narrow beds are used to grow plants like a staircase. This is one economical option that is light on space and money, ideal in urban areas.
Trellis Gardens – Plants can be grown vertically with the help of a standard trellis, these trellises support the plants to grow vertically.
Well, to have a vertical garden, one needs to carefully consider factors like the species of plants one wants to grow and the watering demands and drainage.
How Do Vertical Gardens Help The Environment?
With the industrial revolution and modern advancements, air pollution levels have gone drastically high. Today, built-up areas have negligible number of plants and our air is filled with poisoning gases and particulate matter. Vertical Garden is an amazing way to utilize nature to reverse the impairment we are causing to the environment.
Vertical Gardens help the environment exactly in the same way a normal horizontally placed garden does. Plants play a huge role in cleaning the air, they help to reduce noise pollution as they possess noise reduction capabilities. Another important function of the plants is to reduce the amount of carbon monoxide in the air and filter out the pollutants by breathing them in and then exchanging them for clean, fresh, clear oxygen.
Coming to noise reduction, for long plants have been used to reduce noise levels on raucous roads and highways across the globe. Vertical gardens expand on this idea, as vegetation naturally helps in blocking high-frequency sounds. The use of vertical gardens could significantly change the urban environments by eradicating the noise of the hustle and bustle we have actually adapted to.
Vertical gardens can be fitted to both refurbishments and new builds, from small independent houses to huge commercial developments. These are totally versatile and can be installed both inside and outside the building structures.
What An Amazing Discovery, Isn't it?
A vertical garden is surely one amazing discovery, it is undoubtedly the best option of gardening for the urban areas where growing space is rapidly becoming limited. So why crib about lack of gardening space when there is always an option to Start Growing Up!
Read: A Living Wall – Adds More Green and Life to your Living Spaces
Curated by editor at  Wienerberger India
Like this story? Or have something to share? Write to us: gosmartbricks@gmail.com or connect with us on Facebook and Twitter.