The urban population of India has been growing at a rapid rate and so has the demand for urban housing, but, the construction sector has failed to meet these rising demands at a quick pace. This unending housing demand instigated the Indian Government to recognize the need to fill the gap in the urban housing by advocating large-scale affordable housing projects as a solution. With this growing focus on affordable housing for all, the Government and the real estate stakeholders are increasingly emphasising on the use of innovative and new construction techniques. And one great option is the Mivan Technology. Let's understand the concept, its merits, and demerits.
What Is Mivan Technology?
Factually, Mivan is an aluminium formwork system manufactured by Mivan Company Ltd, Malaysia in the year 1990. This innovative form of work is quite suitable for constructing houses in large volumes at a faster speed.
In technical terms, a huge number of houses can be constructed at much faster speed using Mivan shuttering as this system of formwork construction runs the structural system in one continuous pour. When the formwork is removed a high-quality concrete finish is shaped with precise tolerances and verticality which invalidates the need for additional plastering.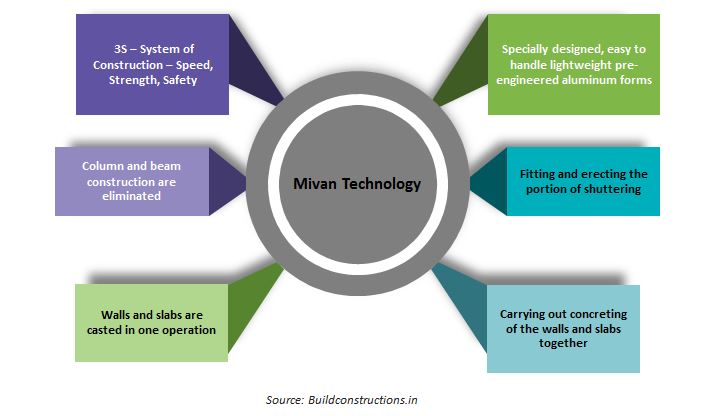 This construction technique involves 3 unique steps:
Setting Up The Wall Reinforcing Steel – This is used to provide structure to the building and support the concrete till they gain 50 percent of the essential strength. The aluminium formwork is cast around the factory-made steel mesh which is directly erected on the construction site.
Placement Of Aluminium Formwork – Along the wall reinforcing steel, prefabricated floor slabs, and room-sized walls are erected. The aluminium alloy slabs are very easy to handle and are also very precisely made. These are also pre-integrated with spaces for, windows, doors and ducts, other features like chajjas, staircases and façade panels are also integrated. The pin and wedge system is used to join these forms, these can be quickly dismantled once the concrete structure is ready.
Pouring Of Concrete – After the forms are cast, high-quality concrete is poured in which takes the shape and form of the cast. The cast is later removed to make way for a hard-concrete structure supported by wall reinforcing steel. These aluminium forms can be reused for nearly 250 times, which means minimum wastage from the construction site.
MIVAN is perhaps one of the most useful modern construction technologies introduced in the Indian markets. This technology is designed to permit rapid construction of several unit projects and surge efficiency.
Merits And Demerits Of Mivan Technology
Shortage of construction manpower and mounting costs has forced the developers to try new technologies. Considering Mivan, this technology is very well suited for high-rise buildings with typical floors saving time as well as money as compared to the conventional column beam construction methods. However, along with the advantages, this technology does scores on a few negatives too; let's take a look at both merits and demerits of Mivan.
Merits Of The MIVAN Technology
Speed – Reduces the total turn around time by almost half when compared to conventional construction techniques.
Demands Less Labour – With a set procedure and checklists to follow, this technology minimizes the need for skilled labour and also eliminates activities like masonry and rendering activities which are labour intensive.
Seismic Resistant & Durable – The buildings are more seismic resistant and more durable.
Less Maintenance – Primarily with no construction joints and with free flow concrete used, this technology reduces the chances of seepage which further results in negligible maintenance.
Smooth Finish – Mivan construction ensures uniformity, hence all walls and slabs have a smooth finish which means additional plastering is not needed.
Higher Carpet Area – it gives the scope to take out more carpet area in comparison to traditional construction techniques.
Earthquake Resistant – More earthquake resistant structure and safer in case of a strong earthquake. This is because structures built using Mivan is a monolithic concrete structure which acts as a whole single strong unit.
Irrespective of so many attractive advantages, the demerits of this formwork cannot be ignored. Let's take a look at them now:
Demerits Of The MIVAN Technology
Expensive – Aluminium formworks are much expensive than the conventional formworks.
Visible Finishing Lines – Because of small-sized components, the finished structure could have several finishing lines visible on the concrete surfaces.
Less Scope Of Alterations – Alterations or modifications are not possible as all the members are cast in RCC.
Demands Uniform Planning – This technology is comparatively expensive, to be cost-effective uniform planning as well as elevations are needed.
Can Have Contraction Cracks – Shrinkage could result in cracks on walls and slabs. This can be prevented either by reducing the heat hydration by using fly ash or by using control strips on the structure.
These demerits do not really pose much serious problems though.
Read: The ABCs Of Prefabricated Construction
The New Age Construction Technology Mivan
Increasing number of builders have been already using this technology and many are following their footsteps. Change is foreseeable in the real estate industry. The new gen developers are giving the required thrust to these new construction technologies which in turn is providing the much-needed global shape to the construction industry. Today, more and more emphasis given to quality consciousness and timely delivery of projects giving motivation to the switch from conventional to innovative methods like Mivan. But again, such construction methods mean huge investments and are not feasible for small construction projects.
Some of the popular Indian developers using MIVAN technology are Shapoorjii Group, Oberoi, Lodha group, Golden Gate Bangalore, Marathon Group etc.
Curated by editor at  Wienerberger India
Like this story? Or have something to share? Write to us: gosmartbricks@gmail.com or connect with us on Facebook and Twitter.