Tackling our impact on the environment today is a daily struggle; as we grow more and more concerned about climate change every day, we have started to do whatever it takes to reduce our negative footprint on the planet as much as possible. It possibly includes regimentally recycling, eating less meat, carpooling, taking the bus to work, and yes having environmentally sustainable celebrations, isn't it?
Diwali, The Festival of Luster, is banging on our doors, this brings immense joy and ecstasy spirit among the peeps. This Festival of Lights is celebrated to mark the return of Lord Rama to Ayodhya along with Devi Sita and brother Lakshman after 14 years of vanvaas (exile). On this auspicious day, people decorate their homes with lights and diyas, rangolis, wear new clothes, exchange gifts and sweets, burn crackers, and most importantly perform Lakshmi Pujan in the evening. Diwali is celebrated exactly after ten-days of the Dussehra festival (also called Vijaya Dashami).
Sadly, the festival of lights over time got a darker side; yes, burning firecrackers causes health hazards which is now a common thing. Firecrackers cause air pollution which is one of the biggest issues of the present-day and has innumerable ill-effects on the environment. The harmful particulate matter in the air shoots up to outrageously alarming numbers, vehicles are jam-packed on the road honking away to eternity, people carrying Diwali Gifts, plastic and food waste increased to exponential levels and strewn across the streets. Rather than goodness prevailing, there are signs of distress and angst on the things that we value – people, animals, and the environment.
Hence, all we can do is increase self-awareness and try to have celebrations that are environmentally more sustainable. So, this year let us celebrate Green Diwali with lights and diyas. Let us return to our traditional ways to celebrate this beautiful festival.
How To Celebrate A Green Diwali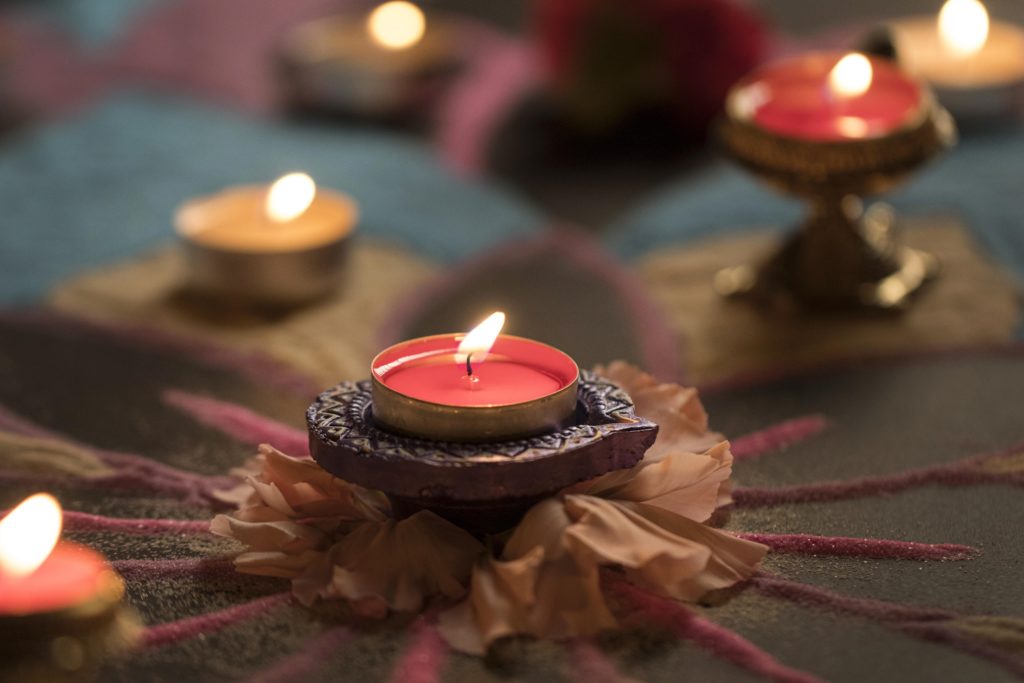 Here are 5 ways that will help you celebrate a Green Diwali without downing your festive spirits.
1. Save Electricity
The energy used in the gaudy-looking electronic lights is wasted a lot instead of this you can use the very traditional way to celebrate the festival and light diyas and candles. These are a great replacement to the fancy lights which do more harm than good.
2. Use Fewer Firecrackers Or Green Crackers
We understand Diwali without crackers is a big no for many, this holds especially for children.  especially children. But we must consider the exorbitant stats of air and noise pollution caused by the firecrackers every year. One way to resolve this issue is celebrating Diwali together as a community that way, everyone gets to burst crackers, but fewer crackers. Another way is to get environmentally friendly green crackers that do not harm the environment.
Viana You May Like: 8 Home Decoration Ideas To Celebrate Green Diwali
3. Reduce Plastic Use
Diwali shopping is one of the most exciting parts of the celebration. But shopping means a lot of plastic bags. Let us say a big 'No' to plastic shopping bags, instead carry cloth bags when going out for shopping.
4. Natural Rangoli
Rangolis are a big and one of the most beautiful parts of Diwali celebrations. Colorful pretty designs make our homes look beautiful, sadly synthetic colours are very dangerous for our environment. Also, if these are inhaled these can cause serious health issues. Opt for natural colours that do not cause harm to our surroundings. These days organic rangoli colours are widely available in the markets easily.
5. Organic Gifts
During Diwali, we express our joy by exchanging sweets and gifts. This Diwali go organic by gifting organic gifts to your relative and friends. These days there are many options available in the market; you can gift organic teas, spices, coffee, soaps, and creams. Choose eco-friendly gifts like eco-friendly Diwali hampers and go soft on nature.
Final Thoughts
It is high time that we recognize the dilemma and prepare a road by which we can make a healthy and environmentally balanced world. The idea of a "green world" is rapidly spreading all over the world now it is our responsibility as well to maintain and sustain a better and safe society for ourselves and our forthcoming generations. 2020, let us have an environmentally sustainable celebration and do your bit in restoring equilibrium to the environment.
http://livelifepursuehappy.com/com/embed/TOfotZVmAwA Read: Diwali Greetings! Will Big Celebrations Affect The Environment Around Us?
The Diwali 2020 Pledge
This Diwali let's pledge to follow the Five Principles for Nature conservation.
Reduce the amount of things we use.
Reuse the things we have in different forms until we have absolutely no use for them.
Recycle items that are no longer functional.
Rethink the choices we make when deciding to buy something.
Refuse things that we do not need at all. #ecofriendlydiwali #greendiwali.

Authored by a Building Expert from Wienerberger India