The world's biggest brick manufacturer decided to return the bricks to it 's original home town…India. Clay bricks have been used since ages in the country, known to most as the birth place for terracotta culture. It was wienerberger's initiative to introduce this amazing building material Porotherm Clay Brick in an organized format, south India being their first destination in Asia.
In 2006, the company was incorporated in India with its very first Asian plant in Kunigal, 70 Kms from Bangalore, aiming to produce high quality clay building materials for the local market. After receiving the authorization from Karnataka State High Level Clearance Committee, Wienerberger completed construction of its production unit spanning 30 acres in the Kunigal KIADB Industrial Area by 2008, while manufacturing commenced in 2009.
The facility has the distinction of being a first of a kind fully automated production unit for manufacturing of clay bricks in India. With a capacity of over 100 million brick units per annum, it is one of the biggest units of its kind in Asia. The production is environmentally friendly, and runs 365 days a year irrespective of weather conditions. Presently, Porotherm Clay brick are being used in all major cities in Karnataka, Tamil Nadu, Kerala and Andhra Pradesh.
Till date, Wienerberger has supplied Porotherm Horizontally Perforated Bricks to over 26,000 apartments across South India. The projects include large apartment, villas, educational institutes, hospitals, hotels, commercial complexes and individual houses. Savings from using these bricks are large especially in high rise construction.
The goal of Wienerberger India is to meet the design requirements of architects, developers and builders in order to progress with time while always keeping the end customer in mind. The main focus is to create natural and healthy living spaces for the Indian consumers.
Why Porotherm Clay Brick is Green?
Wienerberger India has always believed in the concepts of sustainability through all its endeavors, right from procuring raw materials, to the production methodology and the products that we offer are all bound by principles of sustainability. Some of the initiatives in this respect include:
Disilting of Clay Tanks
Use of locally available products
Use of waste products from other industries
Efficient use of Biomass & other environmentally friendly fuels in manufacturing
Apart from these, we continuously recycle heat & energy in the production process and systematically adopt various conservation projects in our plant on a regular basis.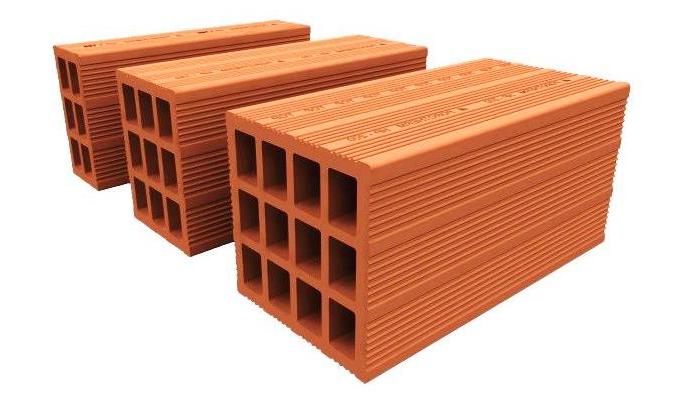 Wienerberger products (Porotherm HP, THERMOBRICK) have been rated by the Indian Green Building Council (IGBC) & GRIHA (Green Rating For Integrated Habitat Assessment) developed by TERI (The Energy and Resource Institute) two of the premium organizations dealing with green building in India.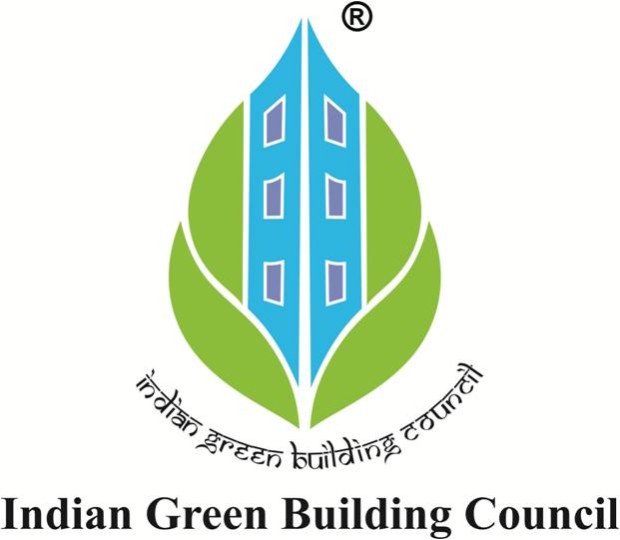 The IGBC-LEED rating system has been developed based on guidelines of USGBC and promoted by CII – Confederation Of Indian Industries. We are happy to inform that POROTHERM HP Clay bricks are rated by IGBC under following criteria's:
Energy Efficiency : Lower 'U' values assure better thermal insulation thus providing comfortable indoor climate – reduce energy demand for air conditioning
Material with Recycled Content :

Raw Material used are industrial waste or recycled materials – thus save on natural resources Eg. coal ash, rice husk, granite slurry etc.

Regional Material : Factory to site distance < 400km
In addition we use De-silted Clay from dead water tanks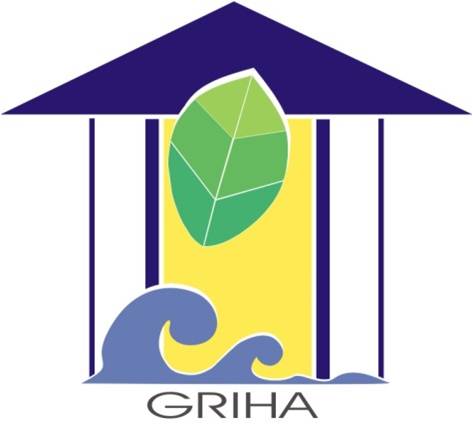 GRIHA buy cheap generic Quetiapine Green Rating For Integrated Habitat Assessement is a rating system developed considering Indian Climate Zones and inhabitants requirements indigenously. It is developed to rate commercial, Institutional and Residential buildings in India, emphasizing national environmental concerns, regional climatic conditions and locally available solutions.
These Porotherm Clay Brick are used for Non-Load Bearing partition walls or infill masonry.
http://noamchen.com/?attachment_id=6409 Key Advantages:
60% less weight than a solid concrete block
Compressive strength >35 kg/cm2
Density of approx.694 – 783 kg/m3
Large size & low weight
Excellent thermal insulation
Water absorption <20%
As a result
Reduction of dead loads
Saving on structural costs
Faster construction
What People have to say about Porotherm Clay Brick?
"Wienerberger's Porotherm Clay Brick are a great replacement to one of the fundamental component of most buildings having a tremendous potential to out-weigh other masonry units in almost every aspect of construction that is relevant to today and tomorrow – towards a greener future. Right from precision manufacturing to delivery and beyond, the professional approach is an added plus."
– Mr. Sameer Kulkarni, Partner – PMK Architects
"TERI is actively involved in promoting sustainable development & use of resource – efficient materials. In this endeavor TERI acknowledges with thanks the support & cooperation extended by Wienerberger India to promote production & use of clay-fired resource efficient products in the country. We appreciate their practical & professional approach and look forward to similar kind of cooperation in future as well."
-Mr. Girish Sethi, Director, Industrial Energy Efficiency, TERI
"We offer our sincere appreciation for the exemplary services & Support rendered by Wienerberger India Private Limited towards the supply of Porotherm Clay brick from the financial year 2009 till date."
-Mr. V. Jaggannathan, Managing Director-RAMANIYAM GROUP.
"Porotherm Clay Perforated Bricks manufactured by Wienerberger India, at their fully automated production facility at Kunigal, Karnataka, is a quality product adhering to the specs is IS 3952. The product is recommended to be used as non-load bearing infill masonry for individual houses as well as high rise apartment buildings and can as well be used as load bearing masonry for G or G+1 buildings. The thermal insulation and light weight of the product makes it an excellent option for environmentally friendly walling material.The production Facility is state- of- the- art German technology ensuring the product to be of excellent quality. There are lots of direct & in direct benefits in using this product as walling material for buildings."
-Dr. CS Viswanatha, Chairman – Civil Aid Technoclinic Pvt. Ltd.
Leed rated buildings who have used Porotherm HP:
1. Indian School of Business, Hyderabad
– Porotherm Horizontally Perforated Clay Bricks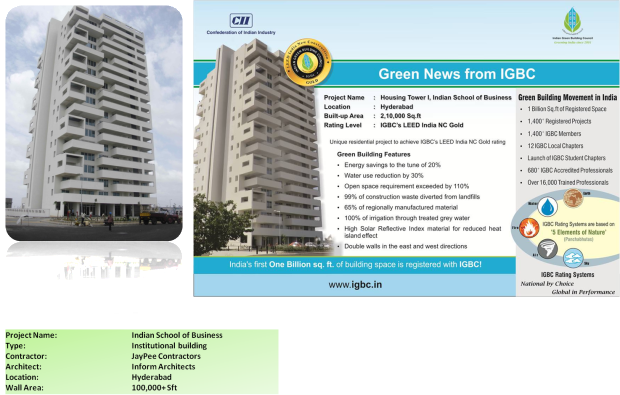 The Concept Note for ISB, Hyderabad:
The Housing Tower One [HT 1] is a 20 storeyed LEED Gold [NC] certified Residential building in the ISB campus at Gachibowli, Hyderabad.
The plan comprises of two apartments on each floor, connected by the main and service cores and separated by an inner courtyard. This planning strategy enables the two cores to contribute significantly to the structural stability of the tower and makes it possible to have large cantilevered balconies, structured with vierendeel girders with end verticals.
Each apartment has large balcony / terrace spaces that create a varying rhythm on the facade allowing one to go beyond the "extruded elevation" so typical of high rise apartments. The aesthetic of the building is derived from functional and creative moves that are intrinsic to the planning rather than an external application of elements.
The concrete mix design ensures early strength to structural elements to minimize shuttering stripping time and Porotherm hollow clay bricks reduce the dead load for economical use of Fe 500 grade steel reinforcement.
The building responds to the local climate by orientation and thermal mass and at the same time, it relates to the main campus by way of its strong massing and colour scheme. The building achieves its green status through the deployment of pre-dominantly passive means – UPVC windows with performance glass, rain water harvesting, water-saving fixtures, solar energy, effective cross ventilation and adequate natural lighting.
Housing Tower One is a sustainable tall green building with quality residential and social spaces that encourages responsible living and social interaction amongst its community.
For more information & testimonial contact: Ar. Kiran Venketesh from Inform Architects: Ph: 080 2671 3360.
2. Puma Store (Retail Outlet), Bangalore
– Porotherm Horizontally Perforated Clay Bricks
PUMA has launched their first sustainable store in Bangalore, India making it an exceptional retail experience. It is the first of its kind that will revolutionize the concept of retail spaces globally. The 800 sq meters space has been designed in a way where every element has been locally developed and sourced. It incorporates a number of revolutionary and innovative design strategies to ensure significant energy savings and environmentally friendly practices. The lower levels serve as a retail area and a 'PUMA Social Club' cafe and bar is located on the upper floor and terrace.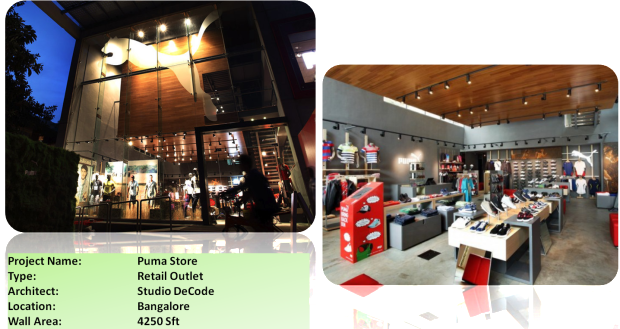 The Concept Note for PUMA Store, Bangalore
The sustainable features of the store include:
Recycled steel from old DVD players, bicycles and tiffin boxes to construct the building.
Porotherm blocks used to construct the shell of the building have been made using silt from the lakes in Kunigal.
The Store's roof garden keeps the building insulated from the direct heat of the sun and the plants lower the temperature.
More than 90% of the interior spaces in the store have direct access to natural daylight.
The artificial lighting used in the store is energy efficient with fewer watts being consumed for the same lumen output.
The highly insulated building shell allows for cooling without an air conditioning unit.
Cooled air is taken from the earth 12ft below AFF through an air tunnel as it is equal to the average ambient temperature.
The sustainable PUMA Store is 100% solar-powered as solar photovoltaic cells provide 10,384 kwh units of energy per year.
Under Floor Air Distribution helps to save energy. This system works on the principle that air in any particular space needs to be cooled only for the first eight feet from the floor because currents cause hot air to rise automatically while cool air remains at the bottom.
The furniture and fixtures in the store are made of recycled wood, while low VOC paint has been used to paint the walls of the store.
Occupancy sensors provide automatic on/ off control so that lights are used only when the room is occupied.
There are many incredibly innovative features that make this retail space environmentally friendly. It serves as a teaching model on how materials can be utilized locally or recycled to construct a building. In addition to building materials, energy conservation has also been minimized. Integrating photovoltaic panels on the roof harnesses enables the sun's energy to be utilized for the lighting and cooling systems of the retail space.
For more information & testimonial contact: Ar. Ashok Dutta from Studio DeCode. Ph: 080-26591709
3. Geojit BNP Paribas' Green Building, Corporate office, Kochi
– Porotherm Horizontally Perforated Clay Bricks
The landmark building is constructed keeping in mind the health, sustainability and the comfort of the occupants. It focuses on efficient energy management and low water consumption which would generate less waste materials, thus creating a space for a healthy work environment. The building that boasts of 1,04,580sqft area is expected to consume 25% less energy than other conventional buildings.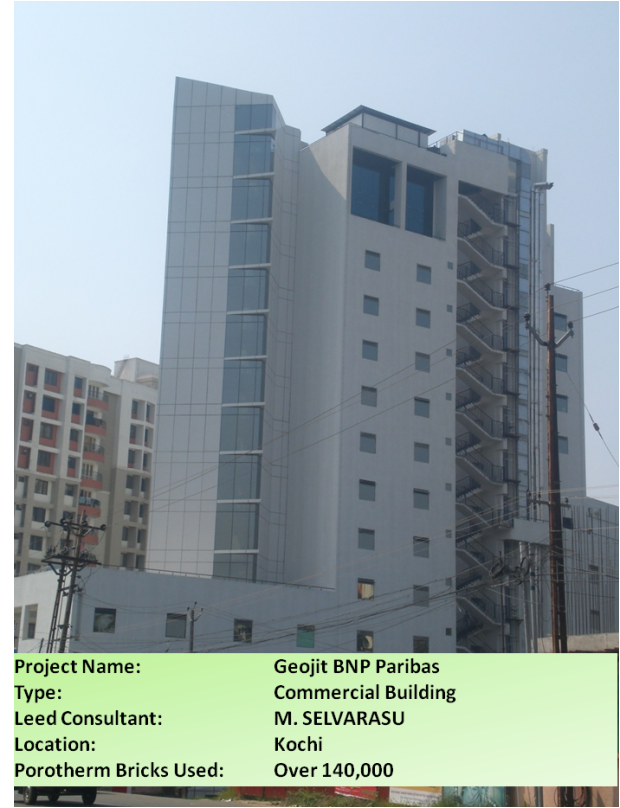 The Concept Note for Geojit BNP Paribas, Green Building, Corporate office, Kochi
It has incorporated spectrally selected high performance windows, Porotherm clay brick, efficient air conditioning equipment and low energy consuming lighting fixtures.
The windows, which are few in numbers, are carefully positioned so that they provide ample daytime light in the perimeter areas and at the same time reduce the total heat gain in the building. The external walls of the building are built with 20cm thick Porotherm clay brick, which have a better u-value than conventional clay /solid / fly-ash / cement mortar bricks.
The glass windows are double glazed units (DGU) having 6mm air gap between the two layers of glass with SHGC 0.22, while the exposed roof, especially the top floor roof, is insulated with 20mm thick thermocol under-deck insulation. The use of efficient water cooled chillers in the building help reduces the energy load on air-conditioning. The ventilation system is designed to provide 30% more fresh air than ASHARE 62.1:2004 standards, thus improving the indoor environment quality and occupant well being. All air handling units are equipped with Variable Speed Drives (VSD) and MERV (Minimum Efficiency Reporting Value). To save on energy consumption, the building is fitted with occupancy sensors in non-regularly occupied areas and has an average LPD (Lighting Power Density) of 0.65 watts / sqft. In the building interior, all light fixtures are LED based.
The building does not use any lighting for façade and use only full cut off lamps for exterior illumination. In addition, all computers are energy efficient and TFT monitors are used. Also installed are treated fresh air units (TFA) with heat recovery wheel which will enable the building to maintain the desired fresh air quantity as well as reduce its energy consumption. The TFA system is based on demand control ventilation that regulates the amount of fresh air admitted to each occupied place, depending on CO2 level sensed through sensors placed in all occupied areas. This leads to greater energy conservation and efficient management of the TFA. To ensure the good environmental quality and safeguard the building occupants' health, only low emitting materials are used, like low VOC paints, adhesives & sealants and all engineered wood free from urea formaldehyde resins. Water sustainability too is an area that was focused on. The new building has rainwater harvesting facility, low flow dual-flush toilets and other water efficient fixtures. Most of the construction debris was reused or recycled to leave minimal imprint on the environment. Geojit BNP Paribas met all the seven points of prerequisites to apply for LEED rating under various categories like sustainable sites, water efficiency, energy, materials & resources and indoor environment quality. Geojit BNP Paribas team is looking forward to setting a new landmark in Kochi, continuing its tradition of caring for the welfare of its customers, employees and the environment
For more information & testimonial contact: Ar. M. SELVARASU, LEED CONSULTANT; PH: 080-42980111
For more testimonials on Porotherm Clay Brick, please contact Ms. Minni Sastry – Fellow & Area Convenor, TERI (The Energy and Resources Institute) and Dr. Vishwanath – Chairman, Civil Aid.