The current situation in Kerala is tremendously tragic – Torrential rains, overflowing rivers and a series of landslides have claimed lives of more than 300 people in the state and the numbers are still adding up. It's hard to process the seriousness of the damage done, but these highlights could provide you an idea of what went wrong and how things are distressing even further.
Kerala Floods: Top 10 Highlights
1. The normal annual average rainfall for Kerala is 2924.3 mm, but this year, from 1 June to 15 August 2018, the state recorded 30% excess rainfall than it normally does.
2. The normal anticipated rainfall during this period should have been 1606.5 mm. But, the State recorded 2086.8 mm of rains, which lead to severe flood conditions.
3. Malappuram and Kottayam districts each received 41% excess rains.
4. Idukki District alone accounted for a devastating 70% excess rain.
5. A Red Alert has been issued in all 14 districts of the state.
6. The death toll up till now has risen to 370.
7. The heaviest rains and floods since 1924 have triggered massive destruction, leaving more than 75,000 people in relief camps and damage to crops and properties that the state estimated to be over Rs 8,000 crore.
8. Rescue operations are going on in full swing, teams of the army, air force, coast guard and navy have begun operations to airlift stuck people in different parts of the state.
9. The Kochi airport has been shut down till August 26 after water level inside the airport constantly increased. All operations have been suspended.
10. The railways have diverted most of the long-distance trains passing through the state. The Thiruvananthapuram railway station has stopped issuing train tickets until the condition improves.
For the past 10 days, people of Kerala have been struggling with floods. Sadly, thousands of them are currently with no shelter, food, and clothing.
Kerala Floods: Help And Information
It is a truly upsetting situation, and the people of Kerala need all our help. Here we have compiled some valuable information on emergency contacts and ways to help the people stuck in Kerala floods.
Donate To Stand With Kerala
If you wish to help the people of Kerala in this time of need, you can immediately donate using any of the below-mentioned ways:
http://asbestos-testing-norfolk.co.uk/category/uncategorized/ 1. Kerala Chief Minister's Distress Relief Fund (CMDRF)
Account Number: 67319948232
Bank: State Bank of India
Branch: City Branch, Thiruvananthapuram
IFS Code: SBIN0070028
Donations can also be made online through the CMDRF website: https://donation.cmdrf.kerala.gov.in
Donations through cheques or demand drafts (DD) should be mailed to The Principal Secretary (Finance) Treasurer, Chief Minister's Distress Relief Fund, Secretariat, Thiruvananthapuram – 1.
Silopi 2. Donate To A Campaign Run By Rapid Response
Rapid Response is an award-winning organisation, that provides disaster response & preparedness services across the country and has been actively on-ground in Kerala since the onset of the calamity. They have been actively distributing food packets, milk & biscuit kits and conducted medical camps in the worst affected areas of the state.
You can contribute to the campaign here, or click on this link – https://www.ketto.org/fundraiser/keralafloods.
Thousands of people have already been showering their support and the campaign has successfully raised more than Rupees 15 Lakhs out of an intended goal of Rupees 24 Lakhs.
buy ivermectin ivermectin 3. Donate Online: Links for Donation Websites /Apps
In under 5 minutes, here are simple ways to contribute online towards relief funds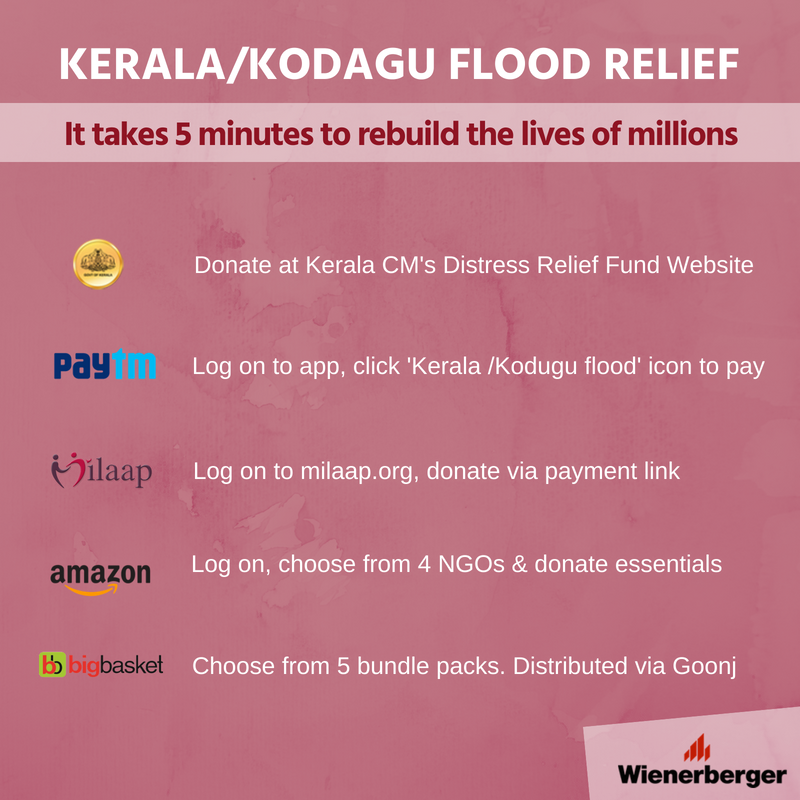 4. Donate Essentials
In Ernakulam, the district administration in collaboration with Anbodu Kochi, an NGO, and has rolled out an initiative called #DoForKerala.
In a Facebook post, the collector of Kannur requested people to come forward to help those exiled by Kerala floods. The vital items can be sent or directly dropped to Control Room, Collectorate, Kannur – 670002, Phone no. 9446682300, 04972700645. Online orders can be directly addressed to the Control Room in Kannur, the collector added.
To help the people in Idukki, you can send essential items either to the Collectorate or taluka control rooms — District Collector Idukki, Idukki Collectorate, Painavu PO, Kuyilimala, Idukki – 685603.
Volunteer For The Cause
The Kerala Government has launched an online Portal to simplify effective coordination between volunteers/donors and beneficiaries. You can Click Here to contribute.
Finding Missing People With Google's Person Finder
Google has launched 'Person Finder', an application that helps in finding information on missing people in the flood-affected state of Kerala. The tool is designed to help people find their near and dear ones. The tool can be actively used to find people in the aftermath of a natural calamity or a crisis. It can be used if someone is trying to find a missing person, or if you have any information on a missing person.
To use this tool, click on https://google.org/personfinder/2018-kerala-flooding.
Helpline Numbers
If you are marooned or know someone who needs help, use or pass on these numbers. These may save many lives.
State Emergency Operation Centre – 0471-2364424
State Disaster Management Control Room – 0471-2331639
Revenue Department Helpline Number – 0471-2518595, 9995484519, 9496253850
Revenue Department Flood Rescue State-Wide Toll-Free Number: 1077, 1070 (Prefix the STD codes of your respective district)
Chief Minister's Helpline Number – 0471-2333812
State Disaster Relief Authority Numbers:
Pathanamthitta – +918078808915 (Whatsapp) / 0468-2322515/2222515
Idukki – +919383463036 (Whatsapp) / 0486-233111/2233130
Kollam – +919447677800 (Whatsapp) / 0474-2794002
Alappuzha – +919495003640 (Whatsapp) / 0477-2238630
Idukki – +919383463036 (Whatsapp) / 0486-2233111
Kottayam – +919446562236 (Whatsapp) / 0481 – 2304800
Ernakulam – +917902200400 (Whatsapp) / 0484-2423513/2433481
District-Level Helpline Numbers:
Idukki: 0486 2233111, 9061566111, 9383463036
Ernakulam: 0484 2423513, 7902200300, 7902200400
Thrissur: 0487 2362424, 9447074424
Palakkad: 0491 2505309, 2505209, 2505566
Malappuram: 0483 2736320, 0483 2736326
Kozhikode: 0495 2371002
Kannur: 0497 2713266, 0497 2700645, 8547616034
Wayanad: 04936 204151,9207985027
Kerala State Disaster Management Authority – 94465 68222
Wienerberger India urges you to share this information so that it can reach more and more people in need. To know about the recent updates, you can follow the hashtags #KeralaFloods2018, #PrayForKerala, #KeralaFloods or #StandWithKerala.