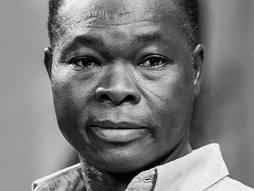 In this TED Talk, Aga Khan Award-winning architect Diébédo Francis Kéré elucidates how to build a community with clay. Diébédo Francis Kéré knew exactly what he wanted to do when he got his degree in architecture… He wanted to go home to Gando in Burkina Faso, to help his fellow citizen win the benefits of his education.
In this incredible TedTalk, Kéré shows off some of the beautiful structures he's helped to build in his small village in the years since then, including an award-winning primary school made from clay by the entire community.
Why Listen To Architect Diébédo Francis Kéré?
Diébédo Francis Kéré grew up in very small village in Burkina Faso called Gando. Having gone away to school, first within his country and then at the Technische Universität in Berlin, Germany, he was determined to give back to the community that raised him. As an architect he did that through the power of architecture.
Through his firm, Kéré Architecture, Diébédo Francis Kéré focuses on using local building materials and techniques in a modern way, to redefine and redesign the environment. In Burkina Faso, that means working principally with clay, and his innovative approach has seen the creation of remarkably beautiful, modern buildings that are entirely appropriate to the setting.
His first building, a primary school in Gando, was completed in 2001 and received the Aga Khan Award for Architecture. Since then, he has designed other structures for the village; his other work there has also won multiple awards, including the Global Award, the BSI Swiss Architectural Award, the Marcus Prize and the Global Holcim Award Gold 2012.
Kéré also teaches architecture; he has lectured at colleges including the University of Wisconsin Milwaukee, and Harvard. In 2013, he began teaching at the Accademia di Architettura in Mendrisio, Switzerland.
Watch him share his incredible insights:
You May Like: 7 Architecture Documentaries And Series To Stream On Netflix
http://viningsnaturalhealthcentre.co.uk/tag/darshika-bower/?profile=dove Curated by editor at Wienerberger India

http://aceliverpoolescorts.co.uk/pausa④-オンラインで買えるイタリア限定品/ Like this story? Or have something to share? Write to us: gosmartbricks@gmail.com or connect with us on Facebook and Twitter.
Reference : TedTalk