Any construction professional such as architect, civil engineer, quality surveyors, builder and contractor has major role to play in the process of construction. Every department has a defined set of tasks to complete and more often requires co-ordination with other department to efficiently run the show.
There're several challenges faced by every individual of the industry irrespective of the type of work he is involved in- technical, managerial, contractual or financial. But in the developing countries the problems can be critical due to various issues like economic instability or lack of resources, etc.
Time, money, resources, labor, and many more aspects associated with the construction process can individually pose problems to the builders and contractors while challenging the intellectual ability of an architect to design a building that curbs these problems.
In order to deal with such issues, advanced technology and innovation in the building materials is important which will deal with technical problems, eases the construction process, aids in curbing time consumption and brings down the cost of construction.
Porotherm, a brand that produces clay hollow bricks, is one of such innovative products that is part of infill masonry. Under Porotherm there are different types of hollow bricks produced, such as- horizontally perforated hollow bricks, vertically perforated bricks and Porotherm thermo bricks.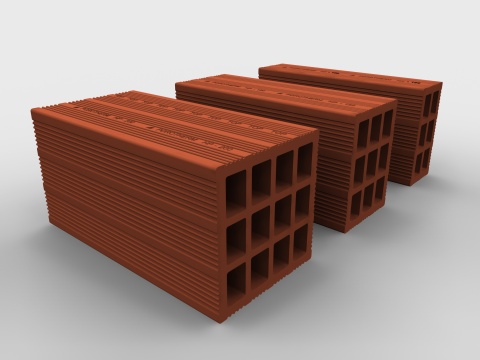 All these types of bricks have huge advantages that benefit architects, builders and contractors.
Porotherm bricks are 30 percent MARSS (Material from Alternative, Recycled and Secondary Sources) that means they're reusable as hard core at the end of life- 150+ years. They're also tested for high strength. With all these benefits delivered to end users, the builders can enjoy good reputation as well. Following are the main advantages of Porotherm that builders can enjoy-
Hollow brick buy clomid 25mg saves upto 25% of build time and massive program savings is also possible on preliminary costs, sales and land interest rates, etc. especially in multi-plot sites.
Watertight envelope can be achieved in just 10 days, which means finishing trades can start sooner in the program.
Porotherm also gives the recognition for being ecofriendly builder as they aid in constructing sustainable buildings.
It hysterically uses 95% less water– in typical 212m2 building; concrete blocks consume 1060 liters of water whereas Porotherm uses just 72 liters of water. Work is less reliant on local water supply and the need to buy water for the purpose drastically comes down facilitating water conservation as well.
http://wendykeithdesigns.co.uk/childrens-horse-jersey-i156.html Minimum waste, typically 2% wastage provision for blocks makes it possible for efficient waste management on the site. The process of building walls becomes less messy due to the minimal requirement of mortar and leads to neat finishing. This also reduces in extra labor required to clean the leftover debris and cost effective in terms of material consumption.
It's easy and simple to work with Porotherm bricks. They're lightweight and hence allow workers to maintain the speed without repetitive strain injuries. It's unique interlocking system helps masons to readily fix individual brick perfectly aligned moving on to the next level quickly.
All code of sustainable home levels can be achieved with Porotherm.
They're burnt at a very high temperature and with advanced technology, which makes them fire proof at all the stages of construction and in use.
No moisture shrinkage that means no disruption to finishes, fewer movement joints (1:20 linear meters) and less snagging with no follow-up work required.
Porotherm offers a fully developed system of lintels, wall ties, eco-parge and fixings.
The speedy construction and easy process means these hollow bricks aid in cost cutting. Since the bricks are lightweight they reduce the amount of dead load on the foundation as well as the structure and hence save steel and concrete which further reduces the cost.
How Porotherm bricks are beneficial to Contractors?
Porotherm brings a wide range of benefits to the contractors as well. The one of them is, they can take advantage from Wienerberger Club who trains and upgrades the skill-sets of masons and avail the benefits of skilled construction workers. Here are more benefits for contractors-
With Porotherm considerable program savings is possible by significantly reducing the costs associated with site preliminaries and overheads.
They're lighter up to 60 % (optimum weight under 11kgs) that makes loading and unloading easy and speeds up the process.
They are also bigger in size as compared to traditional blocks, which makes the construction process fast. A storey height can be easily built in a single day using Porotherm blocks.
It's just a matter of 10 days to achieve watertight envelope and the walls are all ready for the finishing trades.
Hollow bricks are eco-friendly as they're made from natural material like clay. It gives boost to the sustainable building concept. All codes of Sustainable Homes Levels can be achieved with Porotherm.
With Porotherm, its virtually dry construction as it consumes 95% less water as compared to traditional blockwork.
All core range blocks are 10N/mm and hence no need to keep multiple block onsite. With Porotherm, supply-on-demand process makes it a viable to reduce the space required to stock extra bricks all at once.
Due to uniform and structured pattern on the surface of the bricks in the form of grooves along with bright and natural colour makes it aesthetically appealing. Hence you can opt to eliminate the process of plastering and painting to give your interior a brand new look thereby saving on material and labor. This also eliminates the need for external facades from the critical path.
Virtually no shrinkage and minimal need for movement joints (typically at 20m centers) meaning less snagging and follow-up work required.
Hollow bricks are upto 60 percent lighter than concrete blocks, with no sharp edges, designed for single hand laying, thus reducing the risk of repetitive strain.
Bed joint mix can be locally mixed reducing forklift movements and eliminating the need for noisy cement mixers. This makes it possible to control any chances of plants and pedestrians coming in contact with the waste.
Porotherm provides a fully developed system to facilitate brick lying with lentils, wall ties, eco-parge and fixings.
The blocks and bricks can be ordered readily through national distribution network.
Full technical support is available during design and construction by supporting professional development through CPD seminars.
How Porotherm bricks are beneficial to Architects?
Porotherm bricks bring a range of benefits to the architects. The size and the finishing of the product add to aesthetic value of any building and gives versatility to the architects. These bricks are cracks free and have less mortar joints, which give advantage to architects to come up with exclusive design ideas. The following are the benefits architects can avail with Porotherm-
Porotherm provides modern method of construction along with traditional values in the form of reliable building material i.e. clay.
It's eco-friendly which helps to build sustainable buildings with expected lifespan of 150 years. It is possible to achieve A+ green guide rating with Porotherm walls.
Porotherm assists in the high performance and well-constructed buildings as they provide versatility with different dimensions- Porotherm 100, Porotherm 140, Porotherm 190 and Porotherm 365.
Strong, stable, adaptable method of construction allows flexibility in the choice of external facades and system.
There is virtually no shrinkage and minimal need for movement joints (typically at 20m centres).
With Porotherm you can achieve low U-value as they're more thermally efficient than concrete dense blocks. Since the bricks are made of clay, which is a natural resource, they act as natural insulators. Good thermal mass means they help in keeping the interior climate comfortable.
They come with a fully developed system required for construction like lentils, wall-ties, eco-parge and fixings.
Blocks and components are readily available through a national distribution network and hence no need for storing multiple bricks at a time.
They provide full technical support during construction as well as design phase through CPD seminars.
 Moreover, Porotherm manufactures also provide on-site support, which eases the burden of the contractor. The company also provides on-going technical support in every phase of construction including design phase. It also gives comprehensive on-site training to increase the efficiency. With skilled labor support, the builder can rest be assured that the building progresses efficiently thereby saving time.
Further more, Porotherm makes the process of fixing and plumbing simple. You can do so by cutting bricks without any hassle with the help of machine. This gives neat and clean workmanship with no damage to the bricks and walls. Specially designed tool- wall chaser with two parallel diamond tipped cutting wheels can be used to cut and then bolster chisel can be used to remove the cut section. Precision engineering means no sharp corners, reducing the risks of cuts. It also gives architects the scope for innovation in design aspects.
All these features benefit the builders and contractors to help deliver low cost buildings to customers. Porotherm clay hollow bricks earn builders and contractors the testimony of credibility from the customers. Hollow bricks are not just aesthetically appealing but are also durable and highly energy efficient.
Construction process is a tedious job, which takes perseverance and Porotherm can help you ease it all.
Recommended Video: 
Authored by a Building Expert from Wienerberger India
For an expert advice, drop a word at our email id gosmartbricks@gmail.com