The element of celebration, lights and sweets is liked by everyone regardless of any region, religion, age or gender. The festival of lights, Diwali is more associated with element of celebration and lightening than any religious ritual.  

Although it is a Hindu festival, it is more visible by the decoration of sites, lights, firing of crackers and gifting sweets and dry fruits. Even those who do not participate in any religious ritual enjoy the occasion because of the rejoicing mood that comes along with Diwali.
On the festival, Diwali, one can see colourful lights, diyas and candles lightened outside all the houses. Earthern Diyas are used in large quantity for decoration of different styles. Diwali means a bulk of happiness to many. A glittering display of lights and colours just enlivens the festive mood. When one observes millions of oil lamps lightened around him, he can make out the festivity in the air.   
It is that time of the year again. The time when the sound of laughter in the yearly family reunion can be heard. When the awaited sparkle in eyes of siblings and parents is back. There are numerous ways to make Diwali special and memorable. Sweets, Lights, Family, Crackers: Diwali means a lot of different things to different people. But, one thing that everybody can relate to when we talk about the festival is memories. We all have very special memories tucked away in a corner of our hearts which make us smile every time we think of them. There are ways to decorate your house in an economical way with recycled material at your home and give your home a decorative and dazzling look. They are as follows:
As Diwali is the festival of lights, it cannot be complete till some stunning homemade lightening is added to it. There are different materials which can be used to make candles from Orange peels, salt dough and even sea shells. This how you prepare them.
Sea Shell Candles – The Sea Shells that you have been collecting as a memory can be put to beautiful use this Diwali.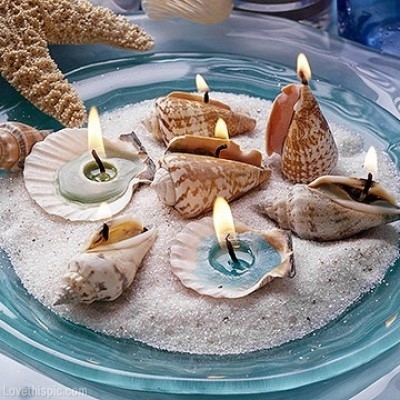 Image Source: lovethispic.com
Card sheet lantern- These lanterns are easy to make and can be made by kids. Pull out your old card sheets &  make lantern in different shapes, as shown below. Trust, kids would love to do this & help you in home decoration.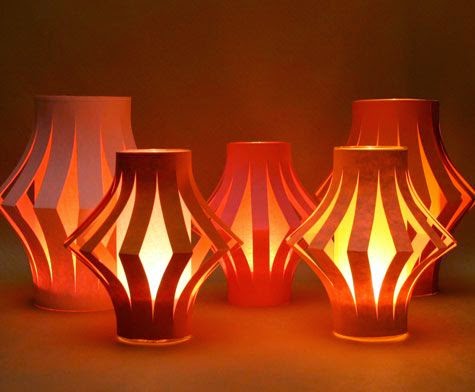 Image Source: designdecoranddisha
You can make TORAN for home decoration by using cardboard and handmade paper. Toran is used to decorate the entrance of the house for welcoming guests.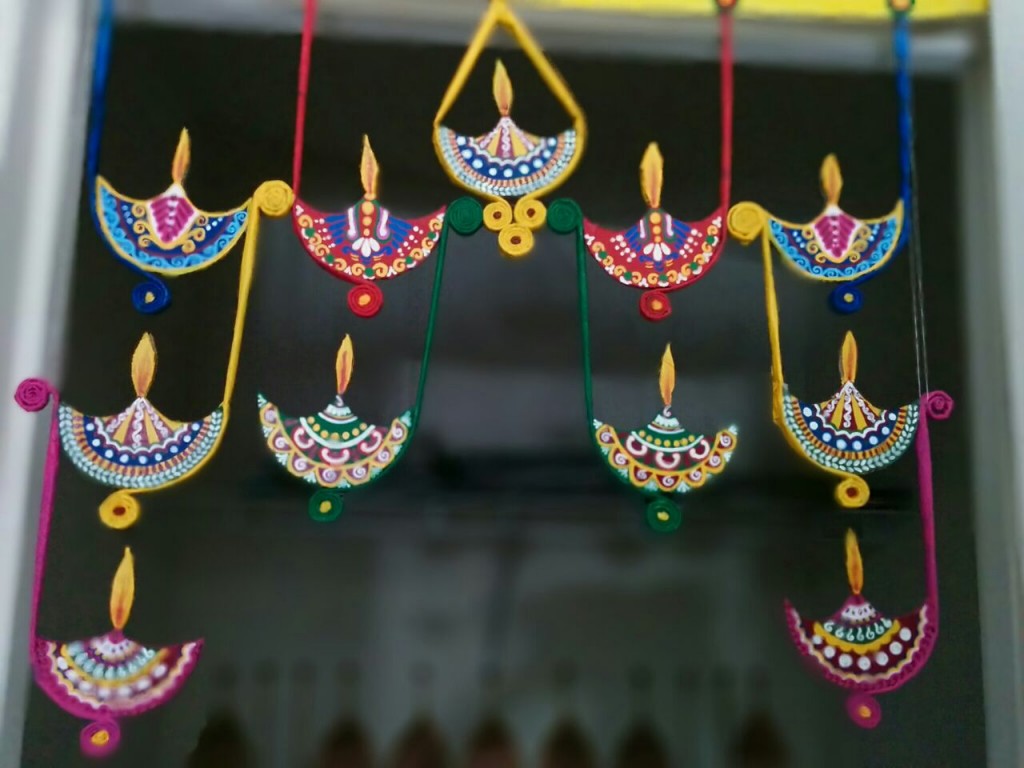 Image Source: pinimg.com
Recycled Glass Jar Lanterns – You can use old bottles of jam, sauce and spaghetti jars and gold dimensional puffy paint to create these morocco inspired  lanterns which could be the focal point for your home decoration this Diwali.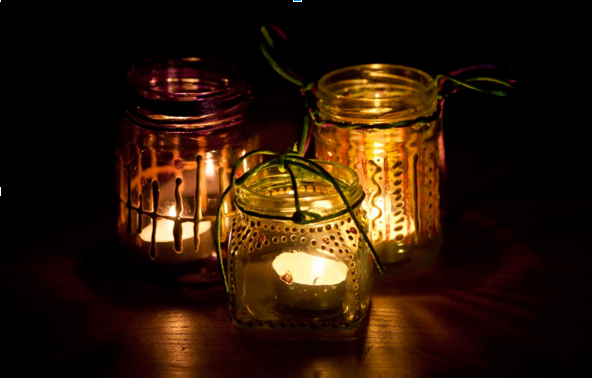 Image Source: demandabsolute.wordpress.com
Paper Bag Lanterns – Once Diwali shopping is done, you are left with a bunch of paper bags that you are not sure what to do with. There is an idea of recycling them and preparing beautiful lights for your home decor.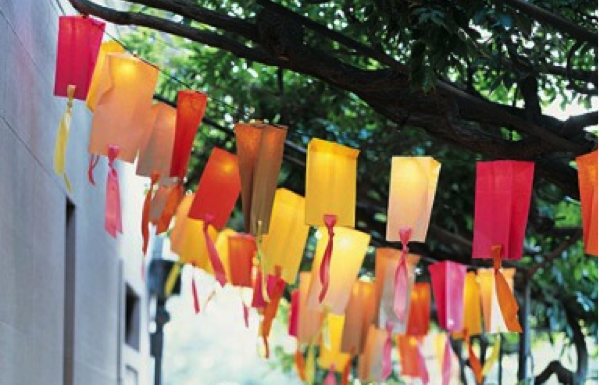 Image Source: themomviews.com
You can also prepare Diwali Diya Platter to create a nice effect. This will help in creating an awesome décor which will be both affordable and economical. In addition to being a platform for putting your creative ideas in use, it is Eco Friendly and helps in saving environment along with saving money. Instead of burning chemicals this Diwali, fly happiness in the air. So keep Diya Platter on your home decoration list.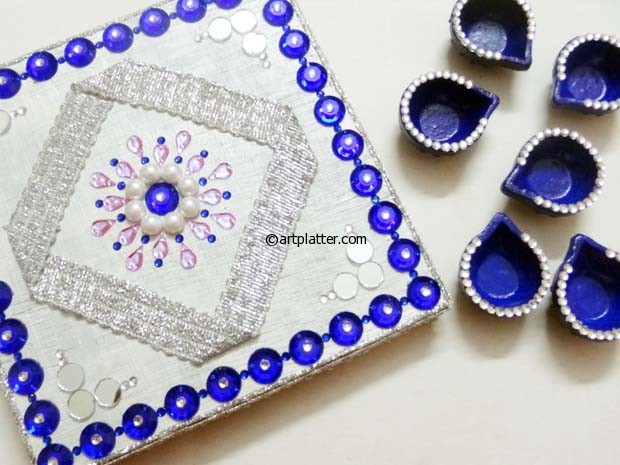 Cinnamon Candle Sticks– For candles with amazing rustic look with delightful smell all you need is unscented candles, cinnamon sticks and some twine. Placed single or in group, these will be the highlight of your Diwali Décor.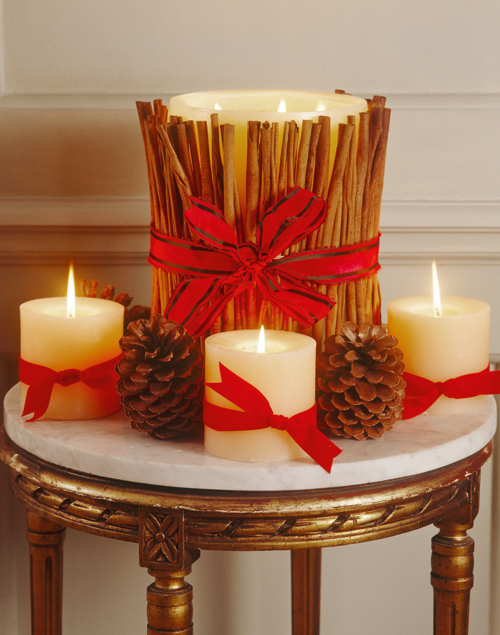 Image Source: diy-enthusiasts.com
Every year you prepare a beautiful rangoli on Diwali using a lot of effort. But, after few days you have to remove it. However, you can make a portable, recycled Rangoli, which, can be used over and over again. It can be made by using cardboard packaging.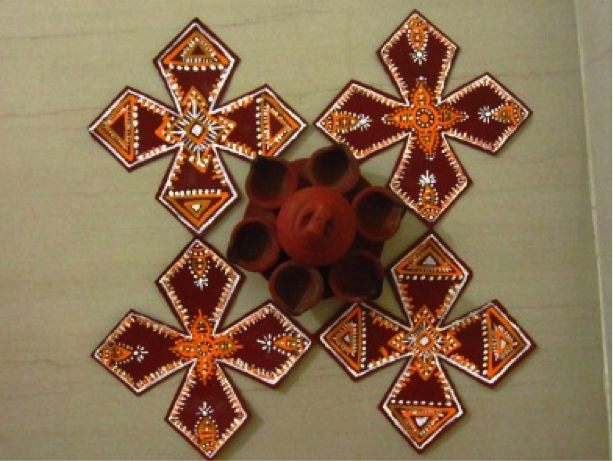 Image Source: themomviews.com

Related Articles:
Why Next 8 Years, I Will Not Celebrate Eco-Friendly Diwali
This Diwali – Go Green To Save The Environment
Photo Gallery: 9 Heartfelt Messages to Awaken You This Diwali