Bangalore is a prominent IT hub, which attracts companies from across the globe. There has been an increasing demand in the construction industry, to meet the growing housing requirements. There are many skilled architects from Bangalore, who have been able to make a mark in the construction industry. They have a profusion of buildings to their credit. These buildings are hot spots for eye-catching architectural innovation with optimal usage of space and resources.
[Image Source: archdaily.net]
There are some rebels out there who, like Howard Roark, try and stand out. The following is a list of such architects.
 Image Source: biome-solutions.com]
buy cenforce 200mg 1. Chitra Vishwanath
Amarpur Featured Projects: 
Residence for Prithvi and Purushotam
Residence for Satish & Prabha Chandra
http://wildbunchbath.co.uk/product/small-wedding-bouquet-buttonhole/ Specialities: Architecture, Consulting, Research
In her designs "mud" is a major component since it is well suited for local conditions, is relatively labour intensive and locally available. Chitra Vishwanath designs homes and commercial buildings with environmentally sound and cost effective materials.
[Image Source: indianarchitects.com]
http://heptonstallclub.co.uk/buy-celexa-no-prescription 2. Gaurav Roy Choudhury
Featured Projects:
Lateral House Bangalore, 2013
Fragment House Bangalore, 2012
Specialities: Architecture, Interior Design, Renovation, Living + Working Concepts, Branding + Graphic Design, Renovation
Spearheading GRCA a firm under his name. He is located in Bangalore with more than three years of industry experience in architecture. He has wide variety of experience in Interior design, Graphic design, urban design, and housing projects. Gaurav has a unique view, his vision "has always been to articulate the various movements that assimilate context, taking the project brief from the said to the unsaid."
[Image Source: howarchitectworks.com]
3. Girish Dariyav Karnawat
Featured Projects:
Memorial for Bhopal Gas Tragedy Victims, Bhopal
Mobius House, Anjuna, 2007
Specialities: Architecture, Interior Design, Landscape, Architecture, Lighting Design
Girish operates from Mangalore. He likes travelling, calls himself a 'one-man itinerant firm'. His firm offers 'comprehensive design & build' services, carrying out complete project management for executing commissioned works. We've learnt that Girish takes on a limited number of projects. The reason behind which is to provide uncompromised commitment and quality.
[Image Source: indianarchitects.com]
4. Rajesh Renganathan
Featured Projects:
Pavilion, Bangalore, 2012
International Institute of Information Technology – Bangalore, Bangalore, 2010
Specialities: Architecture, Interior Design, Landscape Architecture, Urban Planning
Rajesh Renganathan is currently the partner of Flying Elephant Studio. His strength- he says, lies in innovative conceptual thinking. He believes apart from these qualities he is aided with demonstrated experiences, skills and technical expertise to translate ideas into reality.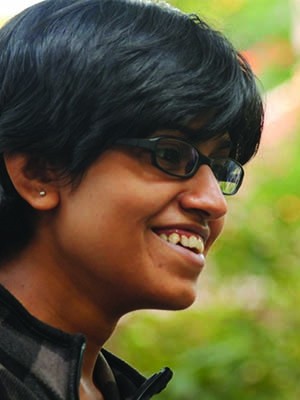 [Image Source: in-ch-architects.com]
5. Zahabia Gandhi
Featured Projects:
Andblack studio
Specialities: Design and Architecture
Zahabia Gandhi graduated from BMSCE Bangalore, and started work in Ahmedabad at Andblack design studio. She believes that 'Architecture can truly change the way people live'.
It is undoubted that South India is filled with huge cultural heritage and artistic elements. Though, the modern architecture landscape is still at its infancy. But, with architects like these we can be sure of some revolution spiking up so soon. Let's hope the visionary geniuses bring exciting new ideas and shape our world.
We also share the belief of Zahabia Gandhi, that 'Architecture can truly change the way people live'.
Authored by a Building Expert from Wienerberger
Connect with us: gosmartbricks@gmail.com