Skyscraper building, for a layman – Very tall, multistoried building. An elaborative definition could be a livable high-rise building which has over 40 floors and is taller than approximately 492 ft. This name first came into use during the 1880s, soon after the first skyscrapers were built, in the United States. Rising out of frames made of steel, iron, and glass, these skyscraper building display a new landscape and ecosystem to the world. Today urban cities are practically incomplete if there are no skyscrapers.
With 143 buildings 660 ft. or higher constructed across the globe, the year 2018 was a hugely impressive year for skyscraper construction. According to The Council on Tall Buildings and Urban Habitat, the total height of those buildings comes to 35,246 meters – which is beyond the length of Manhattan Island if they were placed end-to-end. Cities like Hong Kong and New York City have gone full in on buildings 150 feet or taller, with 355 and 280, respectively.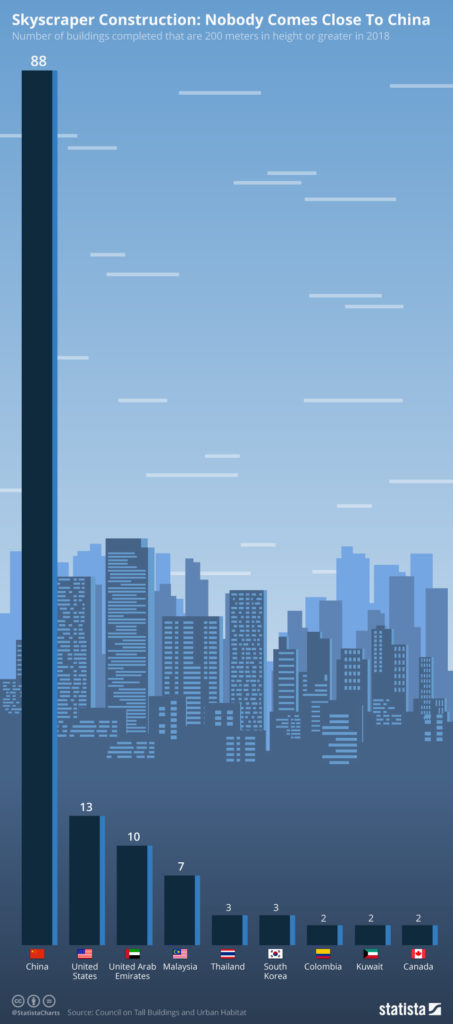 Unquestionably, skyscraper buildings form and continue to be one of the most important parts of urban development and the construction industry. Urbanist suggests cities need more skyscrapers, but what remains unanswered is – How are we addressing the limits of these skyscrapers?
Skyscrapers may be a defining factor of the 20th century, but climate change defines the 21st century and skyscrapers are huge contributors. This is because skyscrapers take up a tremendous amount of resources. The amount of steel, concrete, and glass required to construct a single skyscraper is huge, and all these materials represent a great deal of embodied energy making them energy-intensive. Hence, skyscrapers are one of the first target urban developers need to fine-tune.
This may sound like a challenge, but some builders are breaking the stereotypes around skyscraper buildings making them incredibly green and sustainable. Today we look at some iconic green and sustainable skyscrapers pointing the way to a more sustainable future. These buildings have earned their green status through the LEED (Leadership in Energy and Environmental Design) certification program, which is managed by the USGBC (U.S. Green Building Council).
5 Skyscraper Building In The World Leading The Green Quotient
1. Empire State Building – New York City
Located in NYC, the empire state building is one of the most eminent LEED-certified buildings in the world. Originally the construction of this building was completed in the year 1931 and was the tallest building in the world for nearly 40 years. It qualified for LEED Gold certification in 2011 and since then it has been able to save millions in energy cost.
2. KK100 – Shenzhen, China
At 1,449 ft, KK100 is the 2nd tallest building in tech epicenter Shenzhen. The construction of KK100 was completed in 2011, it is known for its signature curved shape which suggests a fountain of water representing the city's massive growth. As a pace-setter for the Shenzhen, it earned LEED gold rating for its green efforts. This building is a great example in sustainability, according to LEED it has done amazing in water conservation.
3. Two International Finance Center – Hong Kong, China
Split into 2 distinct towers, the International Finance Centre located in Hong Kong is 1,352 ft tall. The constriction of this 84-story building was completed in the year 2003. Currently, it is the 27th tallest building in the world and the 2nd tallest in its home city, i.e. Hong Kong. The building was accredited with LEED Gold certification for its incredible efforts to minimize solar heat gain, maximize natural light, and lower noise invasion.
4. Jin Mao Tower – Shanghai, China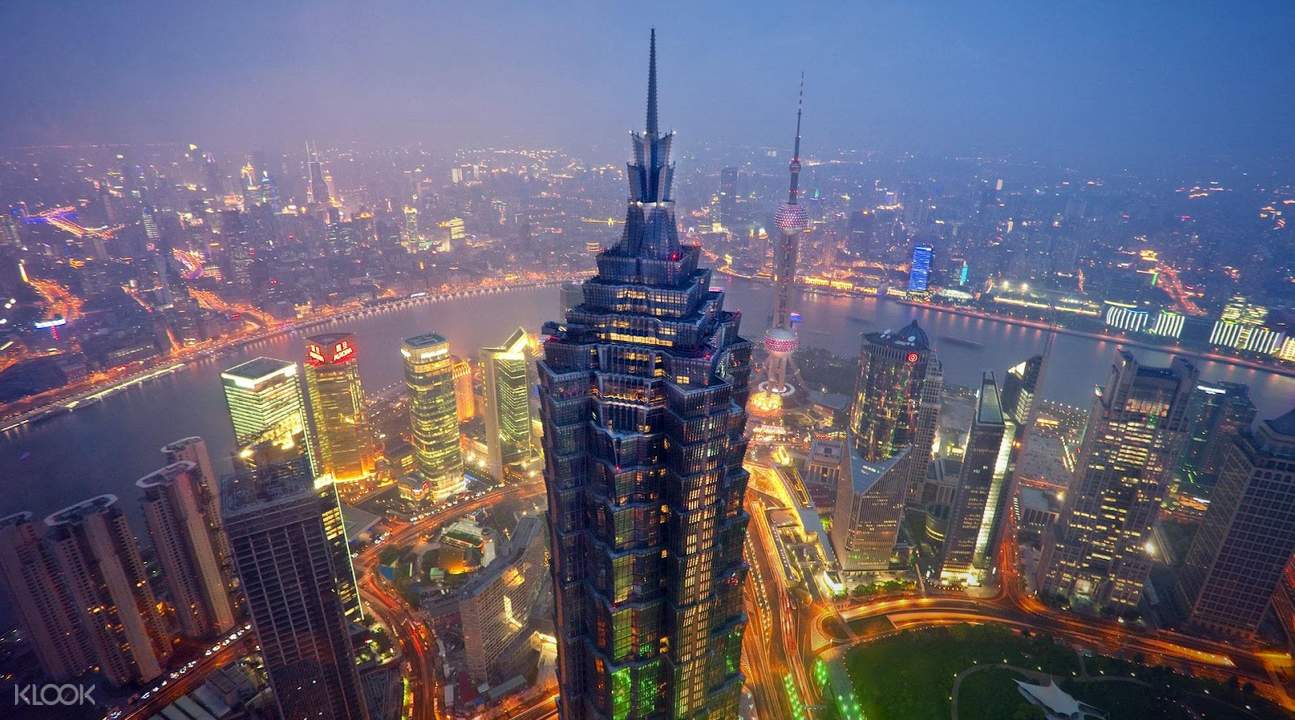 With its traditional Chinese architectural style, the Jin Mao Tower sets this perfect example that even historic styles can integrate green elements beautifully. In 2013, this building was certified with LEED Gold, it is 1,380 ft tall and has 61 elevators. The construction of Jin Mao Tower was completed in 1999, it is 12th tallest building in China and the 24th tallest building in the world.
5. Manitoba Hydro Place – Winnipeg, Canada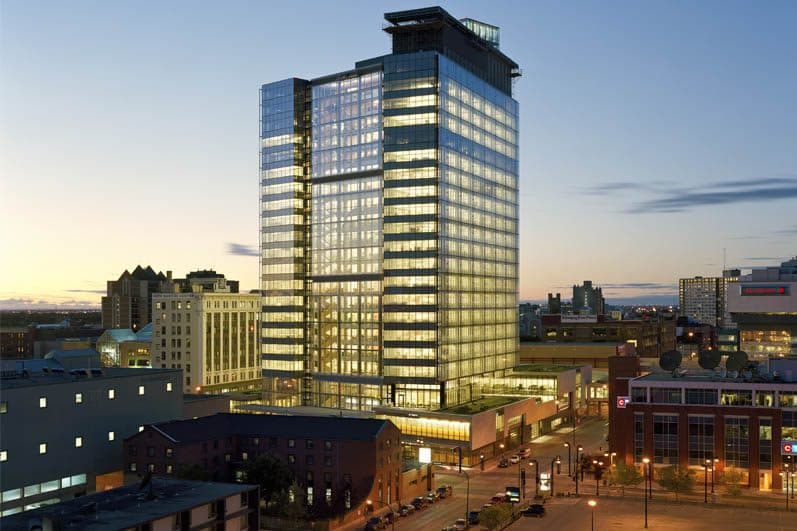 Manitoba Hydro Place proves that one building can in chorus create a fusion of design excellence, integrated high-performance sustainability, air quality, healthy work environment, and city revitalization. Completed in 2011, this skyscraper building is 377 feet, it earned the tough-to-achieve LEED Platinum status by including drastic reductions in energy consumption, i.e. over 70 percent.
Taipei 101 located in Taipei and Mexico's Torre Reforma are other great examples of Green Skyscrapers which deserve a mention.
In The End ….
As the population density of urban areas has increased, so has the need for buildings that rise rather than spread. Today the design and construction of skyscrapers have passed through several stages, and define construction technologies at its peak. While the world witnesses more and more skyscraper buildings, it is important that we do not ignore the green and sustainable quotient.
Hope these green skyscrapers did inspire you 😊.
http://thebeginningfarmer.com/page/40/ You May Like http://thehistoryhacker.com/2012/07/18/in-the-good-old-days-they-made-us-analyze-a-shakespeare-sonnet-before-every-meal/ :
7 Most Popular Green Buildings In Tamil Nadu
20 Most Sustainable and Green Building Examples From Across the Globe
Green Building Design – 5 Green Buildings Innovations To Take You By Surprise
Curated by a building expert from Wienerberger India