COVID-19 pandemic effects have unnerved the entire world. Yet we human beings need to survive and fight out the uncertainties that have gripped our lives. Among the innumerable safety measures being undertaken, healthy building designs are one of the prominent developments in the field of construction and engineering. The fact that now, people are confined mainly indoors; the importance of indoor air quality, smooth air circulation, air purification are constantly on the rise. In this article, we will deep dive into the healthy building design trends and how those are beneficial to the residents.
Interesting Facts On Healthy Building Design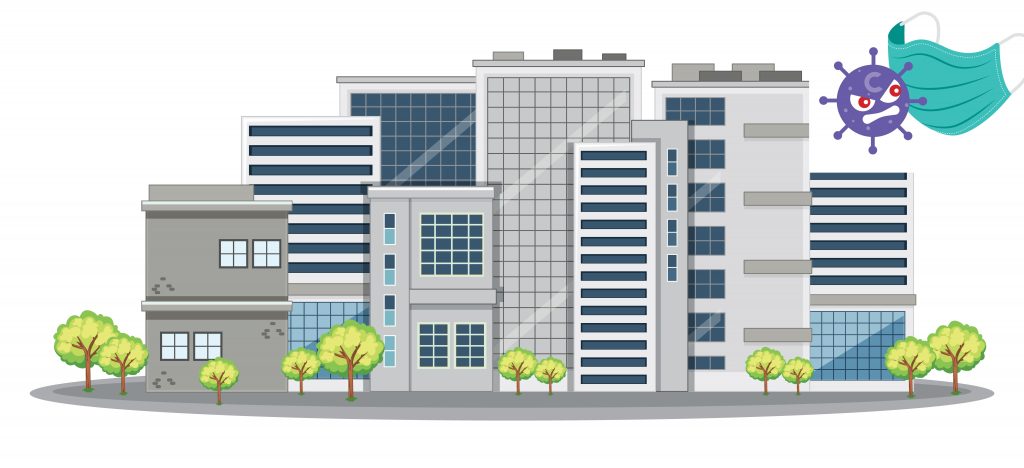 Architects, designers, and engineers are now focusing on introducing innovative technologies to step up the measures needed for protection against COVID-19 spikes. Artificial intelligence and robotics have gained prominence in improvising the technology leveraged in the construction sector.
The emergence of pathogens, allergens, and other transmitted diseases needs to be controlled in every household. Respiratory diseases, cold, and flu are some of the ailments to be prevented in each residential apartment or office buildings. The spacious accommodation is the need of the hour to prevent crowds and further spread of the infections.
Let us now focus on the strategies and techniques that builders, architects, and engineers can adopt for a healthy building design.
1. Spatial Planning
Spatial planning is crucial while curating building design and architecture. Overcrowded buildings with cramped spaces are avoided. Sufficient spacing between the buildings and the car parking areas is being followed as the new norms and guidelines. Multiple elevator arrangements are suggested to prevent unnecessary crowding. Swimming pools are being planned in a big area to maintain social distance. Pathways and walking trails that circumference buildings are now being planned with focused attention. Sufficient space is allocated to them to allow free movement of the residents, without having to bump against each other.
2. Improving air quality
Improvement of air quality is essential for protection against the attack of harmful diseases and illnesses. Besides, it is important to keep the air clean inside the buildings for intake of fresh air. Therefore, you need to bring in air filtration. Weatherization is the best methodology to prevent the entry of dust, microorganisms, pollen, and other allergens.
Roofing membranes built with vinyl and other single-ply technologies act as a barrier to the direct heat of the sun. They help in keeping the buildings cool, eliminated the need for air-conditioning, and are energy efficient. Housewrap is another method wherein a synthetic lightweight material is used to protect residential and commercial buildings from filtration of moisture, water, and any air leakage. Also spray polyurethane foam (SPF) and rigid foams made with polyurethane (Polyiso), extruded polystyrene (XPS), and expanded polystyrene (EPS) are some of the key advanced insulation materials that reduced global warming, utilizes reduced energy, and creates fewer greenhouse gases. It's essential to maintain fresh airflow and effective ventilation for better air quality.
Read: WHO Says, 600,000 Children Die Due To Air Pollution…
Green Walls Can Help
So how does this all connect to green walls, you may ask? With respect to human health, it has been studied those harmful chemical substances in the indoor air, such as dust and mould spores, high levels of carbon dioxide, can lead to long term health hitches. Research of materials and their impacts on indoor air quality has shown that Clay bricks and blocks are one of the few man-made building materials whose mineral properties meet 'all necessary requirements for healthy living'.
Since we spent close to 90% of our time indoors. Due to increasingly tight building envelopes, which stop air from entering the interior through leaking windows and are thus enhancing the energy efficiency of a building but also affecting the indoor climate, the importance of selecting the right building material becomes imperative. Natural building materials like Clay, ideally incorporates sustainable design practices to integrate the building into its immediate environment. Choosing building materials right for your climate is also important.
Porotherm Bricks are pollutant-free, and a Green building material certified by international environment authorities GRIHA & IGBC. They are a permeable building material, which allows better air circulation and provides for healthy indoor air quality.
3. Leverage the HVAC Concept
HVAC (Heating Ventilation Air Conditioning) methodology is now being widely accepted in the construction sector, be it residential or commercial buildings and the spaces around them. It is super-efficient in controlling the humidity and temperature inside the buildings and the rooms. 40% to 60% relative humidity is the accepted level that needs to be maintained to prevent the growth of bacteria and mold and to eliminate viruses.
HVAC aids in pumping in fresh air from outside and replacing the air inside continually. The intake of fresh air is good for our lungs and the entire respiratory system. Our immunity and resistance power are boosted. It prevents the formation of contagious and harmful particles in the air. Besides, you must be careful in pulling in fresh air from safe places; not from areas where there is a presence of stale or polluted air. Then the whole purpose stands defeated. The exhaust vents and the air ducts must be constructed in such a way as to circulate fresh air inside the building.
4. Sufficient Lighting
Sunlight is vital to prevent the growth of bacteria, fungi, and viruses that disturb our health leading to innumerable harmful diseases and ailments. Buildings are now being designed to have spacious window areas to bring in more sunlight into the interiors. Special lamps called Ultraviolet germicidal irradiation (UVGI) lamps are now being recommended to be installed in commercial buildings. The lamps scan the air to check the presence of microbes in the air and sanitize the air and all other surfaces through its antimicrobial scanning methodology. Workstations are undergoing renovation to ensure they face direct daylight from the windows. Natural daylight is now planned to illuminate buildings other than artificial ones.
5. Prevent moisture accumulation
Moisture accumulation is a big factor that contributes to dampness, increases chances of respiratory diseases, and hampers the air quality inside the buildings. It is crucial to conduct regular checks of any leaks or cracks in the roof, walls, ducts, doors, and windows. Fix them as soon as possible to prevent further damage. Condensation spots and leakages must be monitored regularly to prevent the recurrence of seepage. Dampness inside buildings and rooms not only damages the buildings but seriously affects the health of the residents.
6. Maintain water quality
Water must be purified leveraging the best of technologies and purifying machines. Protocols and standards set forth for maintaining and preserving drinking water must be strictly followed and adhered to. Check the water quality regularly to prevent contamination. Avoid stagnant water inside the drainage system and pipes. Clear them immediately, else it may lead to the formation of bacteria or viruses and even water leakage and moisture accumulation.
Read: "Indoor Air Quality" – Know The Common Indoor…
And the Final Thoughts…
COVID-19 has served as an eye-opener in maintaining appropriate health standards in the construction industry. Buildings with broad ventilation, convenient spacious areas internal as well as the external and free flow of air are essential to stand strong against the contagious elements. Work from home and online academic classes are forcing people to stay indoors. Hence it is vital to control the health and hygiene of the buildings for a safe place of haven for the residents.
You May Like:
Bad Indoor Air? Know The Top 5 Diseases Caused By Air Pollution
7 Top Polluted City In India With The Worst Air Pollution
cenforce 100 mg centurion laboratories Curated by a building expert from where can i buy gabapentin uk Wienerberger India