Haworth's showroom in Beijing's Parkview Green building has been recognized as the world's first LEED v4 certified project, under the United States Green Building Council's (USGBC) new LEED version 4 beta program. Parkview Green is located in the Chaoyang District of Beijing.
LEED v4 is the latest, and the most stringent of environment-focussed certification standards created by the USGBC. LEED v4 takes a strong stance against chemical-based building materials, including some vinyls and plastics. Fulfilling strict standards, the world's first LEED v4 certified project proves that it's still possible to create beautiful, functional spaces, while following the new rules.
Haworth's Showroom inside the Parkview Green (a massive LEED Platinum pyramid made of glass) has been recognized as the first successful project completed under the LEED version 4 beta program. The furniture and office space designer was awarded LEED Gold status after the showroom project earned 71 out of the possible 110 points.
A little 'flash back'
While the design of the building was said to be completed by Winston Shu of Integrated Design Associates, in December 2009, the construction was completed and opened to the world in mid-2010, making a landmark in Beijing. It is a spectacular piece of modern architecture, with office towers, shopping mall, art centre and a boutique hotel.
Parkview Green became the first integrated commercial project to be awarded LEED v4 Green Building Rating System Platinum certification. In a short period after the inauguration of the building it also attained the honour of 'Best Green building in Asia' by MIPIM Asia.
Awards received by Haworth Inc.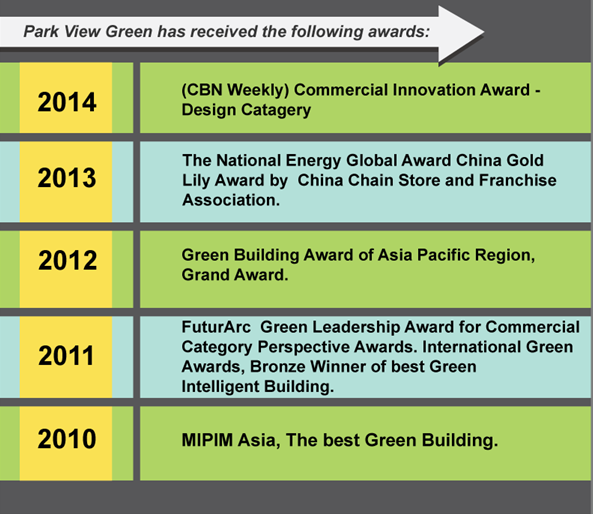 "Achieving the first-ever LEED version 4 certification, speaks volumes about the Haworth's global commitment to sustainability," said Steve Kooy, Haworth's global sustainability manager.
The project's score based on USGBC criteria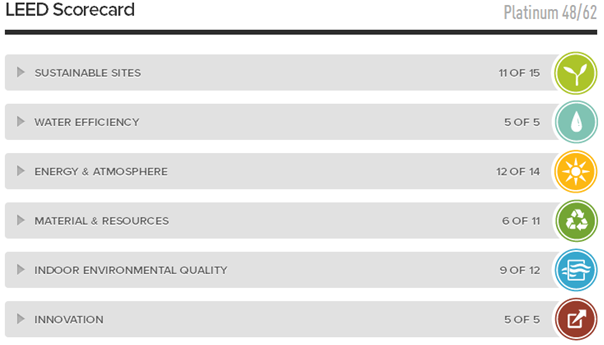 [Image Source: usgbc.org]
Features of the stunning piece
Parkview Green is a stunningly designed and environment friendly structure that is set to become an iconic landmark of the capital city.
Sustainable Building Materials:
Use of innovative environment technologies and building materials results in energy usage approximately 35.7% lower than the ASHRAE 90.1 2004 Baseline Case.
With an Ethylene tetrafluoroethylene ETFE film roofing and transparent glass wall and steel frame structure, this project meets the goals of energy conservation and environmental protection primarily in its external appearance.
A stable internal micro-circulation system combined with the complex's chilled water systems and intelligent building management system achieve energy usage savings.
Flexible, high-compatibility modular office design enables tenants to save 10-15%of renovation costs.
The widespread use of water conservation fixtures, including electronic taps, water-saving sanitary fittings and low-flow shower facilities. Rain water is filtered and recycled for irrigation while the facility uses grey-water for flushing.
Parkview Green FangCaoDi achieves a saving of up to 44% energy and 48% of water usage.
Parkview Green was also able to recycle 81% of its construction waste material. Also, 25% of the construction materials used in the building is made up of recycled content.
We understand that the eco-friendly features have led to the accolades of 'best green building' and LEED 4 certification. Thus, if one needs to get these recognitions it is prominently visible that they need to incorporate such innovative and green technologies.
Here's why LEED v4 is better
A sharper focus on materials used and the effect of their components on human health as well as on the environment.
Takes a more performance based approach towards indoor environmental quality to ensure improved comfort for the occupants.
Brings the benefits of smart grid thinking to the forefront, with a credit that rewards the projects for participating in demand response programs.
Provides a clearer picture of the water efficiency, by evaluating the total usage of water in the building.
If you're more interested in learning about LEED certification click here, or watch the video below.