Image Courtesy: http://architectureideas.info/2014/09/flooring-linoleum/
For a while what looked aesthetic and efficient was best when it came to picking construction material for houses. The concept of eco-friendly material was not unheard of but it wasn't being taken as seriously as it should have been. Now, the world is sitting up and taking up notice of the impending global warming doom that might descend on the planet, owing to our ignorance. Builders as well as homeowners are gravitating towards sustainable raw material be it in energy generation, in bricks, or even the flooring material. We have here some sustainable floor ideas that you might want to consider for your green abode.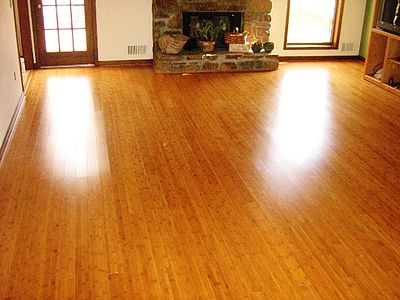 Eco-friendly bamboo flooring is one of the most durable flooring options that you are going to find in the sustainable material market. It looks unique and gives your house a natural and earthy vibe. Bamboo grows quickly, is easily available in abundance, and gives you the satisfaction of contributing to the eco-friendly cause. Since it is available in many shades and colors, it can be used cohesively with any kind of interiors.  Its varied grains allow for customization which is not often found in other wood options. Bamboo flooring can be used in living rooms, bedrooms, living rooms, kitchen, and even in office flooring. We would not suggest using bamboo in bathrooms because humidity doesn't do well with bamboo.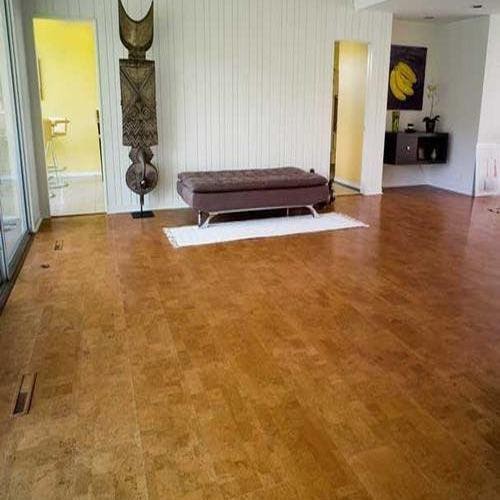 Pic Credits: https://www.indiamart.com/proddetail/cork-flooring
Cork Flooring is another sustainable flooring material that is known for its durability (it can last for anywhere between 10-30 years), comfort, durability, and gorgeous look. Contrary to the popular belief that cork flooring will feel like you are walking on a corkboard, it looks extremely chic. This flooring uses the thin bark of cork trees for flooring and it is a process that does not damage the tree. The bark is used to first make wine corks, and the leftover scraps are then ground and pressed into flooring material and also bulletin boards. Cork flooring is great for any area where you spend a lot of time standing as it has natural anti-fatigue properties. It also has anti-microbial properties that reduce allergens in the home and acts as a natural insect repellent. Cork flooring is fire retardant and easy to maintain but like bamboo, it is prone to water damage, hence not an ideal pick for bathrooms. 
Linoleum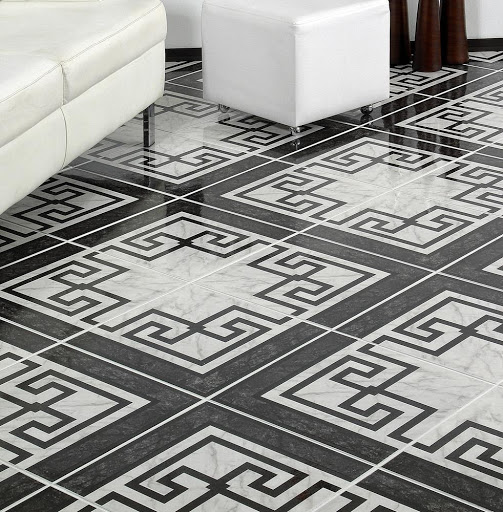 Pic Credits: https://floorcoveringsinternational.com/blog/the-new-linoleum-5-reasons-its-making-a-comeback/
Linoleum is made from natural materials like linseed oil, tree resin, cork dust, ground limestone and broken down wood. It is not a very popular flooring material as it is often confused with vinyl and also because not many people are aware of its eco-friendly properties and durability. Linoleum is great for air quality, as it doesn't emit any harmful chemicals into the air. This kind of flooring can be used in the kitchen, bedrooms, hallways, living rooms, and offices. It is a long-lasting flooring option but although it is water-resistant it is not waterproof. Linoleum is available in bright vibrant colors and a sealer that protects it from stains. 
Reclaimed wood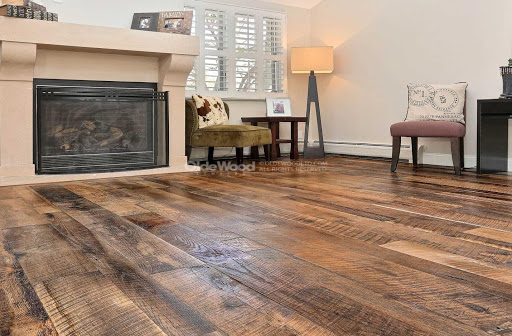 Pic Credits: https://www.oldewoodltd.com/products/reclaimed-flooring
Reclaimed wood flooring is not only sustainable but it is also super trendy. It is a strong and durable flooring option that does not involve cutting down trees. Like all other kinds of wood flooring, reclaimed wood is not suitable for water prone areas in the house like bathrooms and in extremely humid environments.
Recycled glass tiles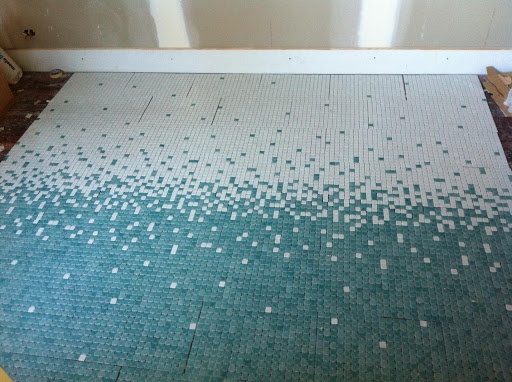 Pic Credits: https://northsydneyecohouse.wordpress.com/2013/08/13/bathroom-recycled-glass-tiles/
Recycled glass tiles are a sustainable flooring option that is increasingly becoming popular. They were more commonly used for a backsplash, but off-late they have also started gaining popularity as floor tiles as well. They are available in a wide array of colors and they add an oomph factor to your house. , Recycled glass tiles come in an endless variety of colors, making them a fun and stylish addition to your home. You can use these tiles in any room where you wish to add a splash of color. 
Glass tiles are durable and long-lasting and can be used in bathrooms and kitchen as they are not affected by water. These tiles are non-absorptive and are not affected by mold or mildew or even in damp environments. Easy to maintain, these tiles don't stain and they reflect light unlike the ceramic ones, which adds additional light to the room.
 Some other options that you can also consider are recycled metal tiles, recycled carpet, wool carpet, rubber flooring, and stained concrete. Eco-friendly houses that use sustainable raw material is a small step that will go a long way in taking steps towards a greener world.