First came the smartphones, then the smart cities. And now, the trend has caught on with homes. Anasua Mitra explains the concept of a smart home and how you can turn yours into one
The word 'smart' is often very subjective. In today's age, smart usually refers to multi-tasking, or faster completion of any activity. In general, any object which does more than what it was thought to do earlier is smart. So when your phone can become smart, why stop there?
Creating an intelligent home is actually no longer a figment from science-fiction movies. More and more smart concepts are being imbibed into daily living within the boundaries of your own dwelling.So what is a smart home? There are more than one attributes that, when fulfilled, can turn a home or a building smart.
Connecting multiple devices in your house to your smartphone
Any device in your home that uses electricity can be put on your home network and at your command. Whether you give that command by voice, remote control, tablet or smartphone, the home reacts. Most applications relate to lighting, home security, home theatre and entertainment, and thermostat regulation.
For example, you can turn on the air conditioning of your living room from the comfort of your car, five kilometres away, ensuring a cool home by the time you reach. Some of these concepts have become quite common in the West already and are fast approaching India as well. Switching on lights with the clap of your hand, turning TV channels with just the movement of your palm, night vision cameras that can give you a view outside your doorstep at night.
"The Internet of Things" is a phrase that refers to the objects and products that are interconnected and identifiable through digital networks. This web-like sprawl of products is getting bigger and better every day. All of the electronics in your home are fair game for this tech revolution – from your fridge to your cooking stove.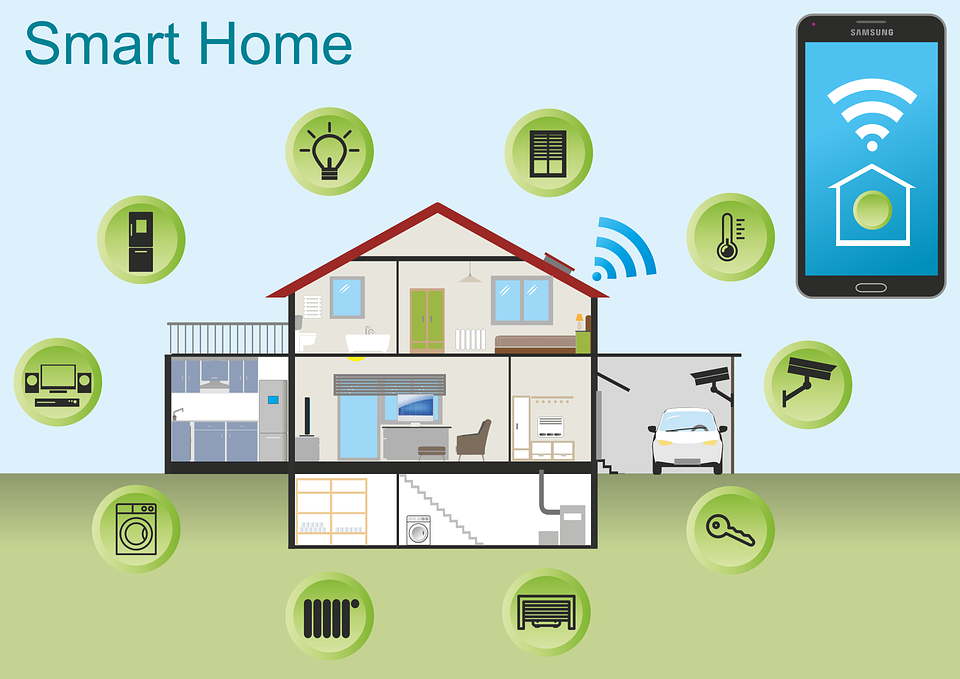 Here are some more cool examples of smart home tricks:
Light a pathway for night-time bathroom trips.
Unlock your door automatically as you approach.
Feed your pets on a schedule with a preset amount of food.
Instantly create mood lighting for any occasion.
Program your television so that your children can watch only at certain times.
Warm the bedroom before you get out of bed so that it's nice and toasty when you get up.
Turn on the coffee maker from bed.
But a smart home does not necessarily mean piling your house with gizmos and motion sensors and rest assured, any gadget with the above functions can cut a hole in your wallet in no time.
The Building Layout
Architects will tell you that the design of the building itself can contribute to the "smartness" of the house. Intelligent planning of placing windows can ensure that your home has enough natural lighting that can help you save on electricity.
Proper cross ventilation through carefully-positioned windows can ensure healthy cross ventilation of fresh air. Garbage chutes (a centralised garbage collection system usually made of steel) is a very common feature in buildings in the West. If used especially in apartment buildings, it can go a long way in making your life so much easier and cleaner.
Sensible inclusions, right in the design phase, can ensure a comfortable lifestyle later for the building occupants. Having a provision for a wheelchair ramp can help both the elderly and the differently- abled inhabitants of the apartment;having a back gate large enough for easy entry of firefighting trucks during emergencies can increase the appeal quotient of your building. Efficient use of space and innovative storage facilities like wall beds and hollow staircases can make your home truly smart.
"Smart Buildings are responsive to an individual customer's needs and aspirations. Active engagement with clients helps us to customise each aspect of our projects with respect to lifestyle requirements, age, functional features and usage of space, thus reinventing comfort living with individualised solutions," says Sandeep Devgan, partner and director, Inner Spaces, a realty company that specialises in boutique projects.
"Efficient space management is the key to a winning project. Identifying where your occupant will spend more time in a day will determine the size of the space. If the living room is more spacious than the bedroom, you will have a tendency to spend more time in the living room.
Understanding your comfort level with respect to space and accordingly designing the space can convert an ordinary home to a smart home," explains a Bengaluru-based builder.
Conserving Energy
The more a building develops the innate ability to conserve energy, the smarter it is. In the United States alone, the annual energy costs for buildings add up to atotal of about $202.3 billion, and Department of Environment estimates that a good 30 per cent of that energy is used "inefficiently or unnecessarily."
Conscious use of appropriate, cost-effective and safe building materials, right at the construction stage can ensure comfortable living spaces for the occupants. Use of smart walling technology, which naturally insulates your home and keeps it cool, can help you save on a lifetime of energy and electricity costs – which you would have otherwise invested in air-conditioning/HVAC systems.
Installing solar panels on the roof may require an initial investment, but the corresponding year-on-year saving of electricity more than compensates the investment.
According to Leed consultant Selverasu, "When a building is in sync with the occupant's requirement, it becomes a smart building."
It is always a good option to explore building materials closer to nature and less dependent on chemicals or synthetic substances. Roof tiles made of clay have been used for generations; they have reflective properties that help increase the efficiency of heating and cooling systems. This type of material is not susceptible to mold or rot, can withstand hurricane-force winds and does not shrink or expand with variations in temperature.
Automation for homes or smart homes has taken off well in the West and is fast catching up with us, too. But before you get hold of gadgets, adopt basic principles of design and turn your home smarter!
Authored By A Wienerberger Building Expert.
The article was originally published on Deccan Herald