With civilization advancing at an unprecedented rate there is immense infrastructural development going on all over the world. This rapid rate of construction, from the past couple of centuries, using modern construction materials has also started to have an impact on our environment.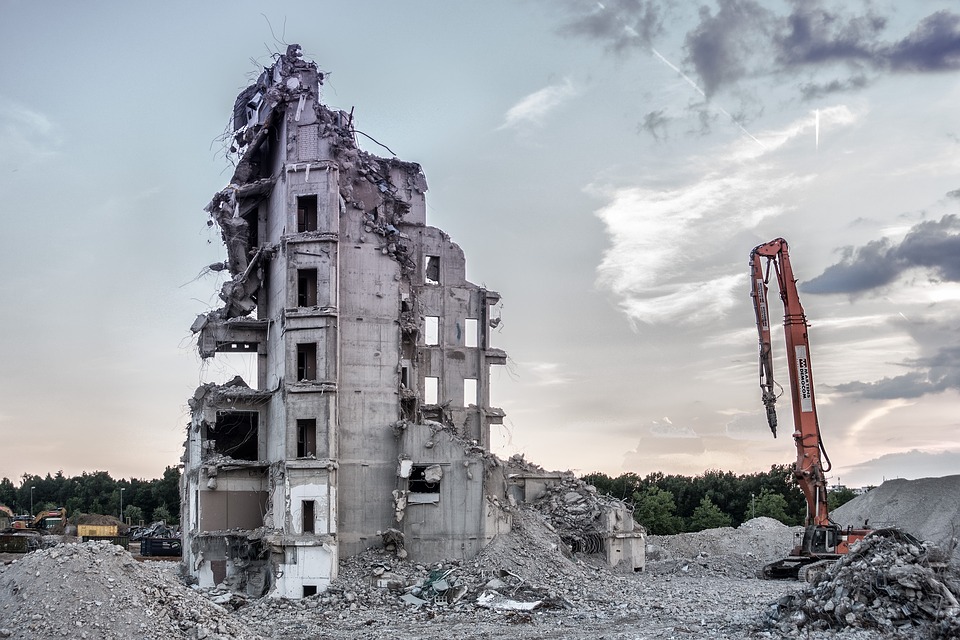 Today's construction materials are mainly focused on providing quick building solutions. The use of cement mainly resulted in the decline in the use of traditional building materials and increased the use of modern construction materials.
This has had multiple negative impacts on our surroundings. Here are EERRDthe negative effects of increasing use of conventional building construction materials:
Conventional building design and construction materials are largely focused on providing comfort and convenience to the occupants, rather than being efficient in the use of resources.
According to findings by the USGBC (US Green Building Council) buildings alone consist of around 41% of the global energy use. There is a huge difference between this and the next biggest energy user, which is the industrial sector that accounts for about 30% while the transportation sector, takes around 29% of the total world energy. The main reason for the immense use of energy in buildings is the larger numbers of electricity required in them.
Qormi Greenhouse Emission Increases
A large part of the total greenhouse gases is emitted from constructed buildings. This is having a severe effect on the environment and contributing adversely to climate change.
Apart from using massive quantities of water, buildings are also responsible for creating the maximum amount of wastewater as well. An estimated 13.6% of total potable water is used by buildings, which is nearly 15 trillion gallons of water, or more, every year.
Evils of Construction Materials
According to the report by USGBC, around 40% of the world's raw materials are being extracted and mined for manufacturing of construction materials.
A majority of construction materials currently in use are produced using non-sustainable methods. Their manufacturing process itself is responsible for a large volume of CO2 emissions. Also, the effects and cost of global transporting of the manufactured construction material result in increased air pollution again.
Effects of Construction and Demolition of Buildings
There is always renovation, or even demolition, required for buildings. This results in immense amounts of waste material to be generated. Apart from concrete and metal, it also includes plastic, glass, asphalt, wood, bricks, etc. which further contribute to rising land pollution levels.
Apart from the land pollution created in landfills from discarded or demolished buildings, the transporting of these materials to such sites also results in increased air pollution.
Rise of Green Construction in India
Thanks to increasing awareness in India, people slowly realize the harms of using conventional building materials and design and choosing to go with sustainable buildings designs in India.
According to USGBC, there is a dramatic rise in India in practice of sustainable development in India. The Dodge Data and Analytics' 'World Green Building Trends report 2016' proves that India now stands third in the global listing for the Top Ten Countries for LEED. The report explains that stricter environmental regulation, client demand and improving awareness amongst the general population are the main factors for this growth in the construction of sustainable buildings in India. The report shows that there were around 650 green building projects in India, in 2016.
A recent survey by the USGBC shows that around 87% of professionals in the green building industry are expecting to see increased use of eco-friendly building construction. The next several years are being anticipated to show increased LEED-related work in the country.
Top 7 Green and Sustainable Buildings in India
These are the top 7 green and sustainable buildings in India which are proof of the benefits that sustainable construction provides in terms of lowering the impact on the overall environment.
Infinity Benchmark, Kolkata
The Infinity Benchmark is one of the prominent green buildings in India today. It is located in Salt Lake area of Kolkata and is spread over an acre of land. There are 18+ floors in the tower with the individual floor area being around 30,000 sq. ft.
ITC Green Center, Gurugram
The ITC Green Center is another popular breakthrough in sustainable development in India. It is located near the national capital, in Gurugram (formerly known as Gurgaon) and covers an expansive 1, 70,000 sq. ft of total floor area. It has a Platinum Green Building rating, making it energy-efficient.
Patni (i-GATE) Knowledge Center, Noida
Located in Noida, Patni (i-GATE) Knowledge Center is quite close to New Delhi, it is one of the most advanced green buildings in India. It is spread over an immense built-up area of 4, 60,000 sq. ft and houses the prominent Patni Campus within. This eco-friendly infrastructure has been awarded the Second Largest Platinum-rated LEED Certified Green Building by the IGBC.
Infosys, Hyderabad
The leading Indian IT giant is also one of the major CSR players in the country too. Its Hyderabad-based headquarters has been awarded a LEED India Platinum rating from the IGBC.
CRISIL House, Bangalore
CRISIL House in Bangalore is one of the most renowned green buildings in India. It has some of the most advanced energy-saving features integrated to make it optimum eco-friendly.
CISCO, Bangalore
The Cisco Smart Campus in Bangalore is spread over an immense 2.18 million sq. ft of built-up area. It has 8 buildings with some of the most advanced sustainable systems integrated into it.
CII – Sohrabji Godrej Green Business Center, Hyderabad
The Sohrabji Godrej Green Business Center of the Confederation of Indian Industry (CII) in Hyderabad is designed to provide optimum sustainable solutions for occupants of this advanced green building.
The Need for Green Buildings in India
Our country, with its population ever increasing, needs to focus on sustainable development in India. The increasing use of conventional building materials in the country is increasing the risk of the catastrophic level of pollution. This needs to be halted at all costs to ensure that future generations are able to live a clean and healthy life in the country.
The Way Ahead
Indians need to become aware of the harm of using conventional building materials, while at the same time need to be educated on the massive benefits awarded by constructing green buildings in India.
Although the government is motivating clean construction practices through stricter building norms, the construction industry, along with the consumer, need to contribute in halting the progressive increase of pollution levels in the country.
Curated by editor at  Wienerberger India
Like this story? Or have something to share? Write to us: gosmartbricks@gmail.com or connect with us on Facebook and Twitter.