There are so many ways to compare buildings, whether it's their height, styles of architecture or exploring their histories. But, as the environment is taking its course, more and more importance is being placed on a building's "green" badges. In the era of climate change the decisions around a building's design, construction and operations is moving towards increasing the overall green quotient of the structure.
Let's face it, the concrete jungles are slowly but surely downing nature's way of sustaining – naturally. And architects and designers, are one of the main players behind the creation of these jungles have now stared to realise the impact each structure on the environment. This is exactly why, 'green buildings' have become the new norm. Green building reduces depression in humans and the environment. Today, we look through 7 remarkable green buildings from around the world, that may enthuse more smart cities to replicate more of these.
7 Phenomenal Green Buildings Across The Planet
You can call it sustainable or green, these buildings are a spectacle on their own. Either through adoption of eco-friendly materials or reliance on renewable energy or both – every single structure is positively impacting to a greener future.
1. Suzlon One Earth |Pune, India | Design- Christopher Benninger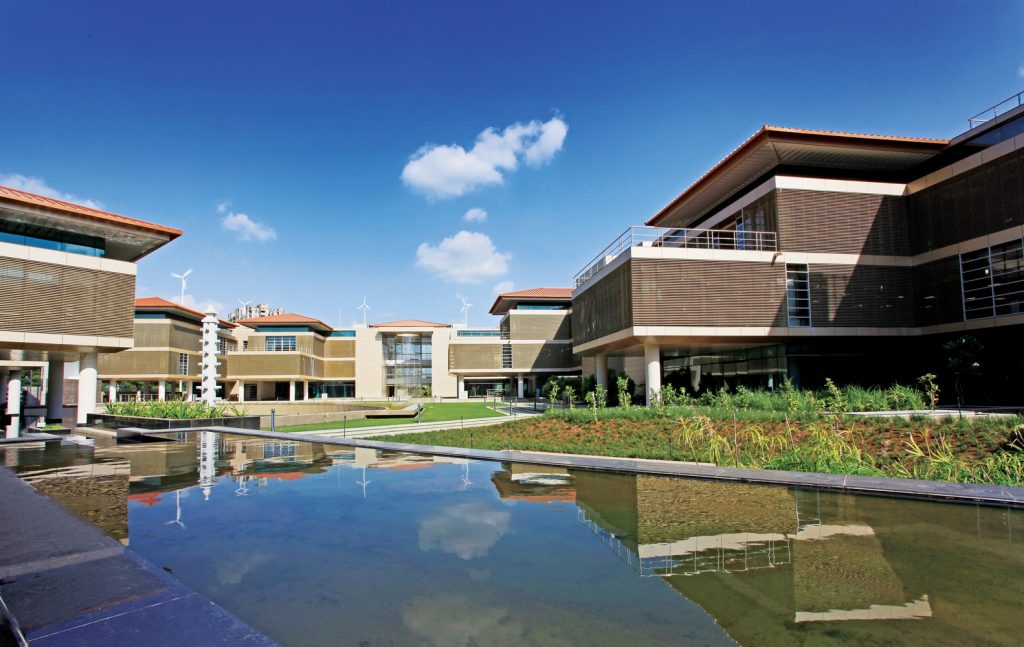 Largest and one of the first green offices in India to receive a LEED Platinum rating in 2010. Spread over 10-acres of land, the office is 100 percent powered by offsite and onsite renewable sources. The building is designed in such a way that 90 percent of the interior receives natural light, 80 percent of its power comes from wind and 20 percent from solar. The rest of its electricity comes from its off-site windmill farms, making it a net zero energy building. Adding further is a water percolation system which is another outstanding feature of this structure as it controls stormwater runoff, that adds to an upsurge in the water table.
2. One Central Park | Sydney, Australia| Design – Ateliers Jean Nouvel with PTW Architects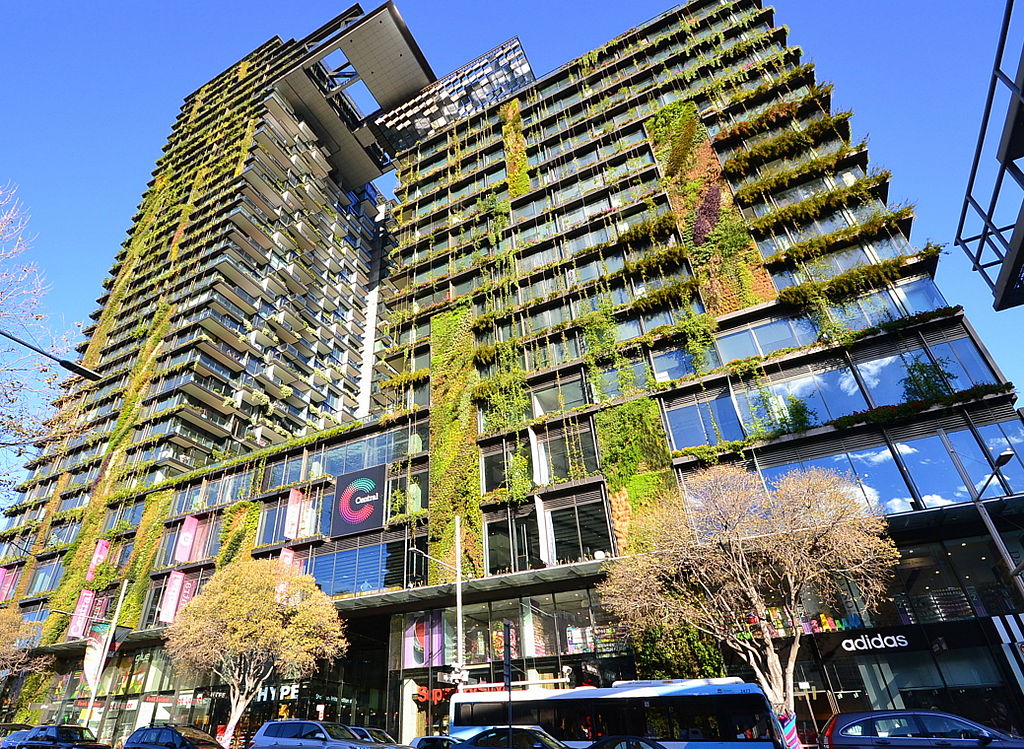 The public park at the heart of the precinct climbs the side of the floor-to-ceiling glass towers to form a lush 21st century canopy. Using 250 species of Australian flowers and plants, the buds and blooms of the vegetation form a musical composition on the façade. Vines and leafy foliage spring out between floors and provide the perfect frame for Sydney's skyline, according to archdaily.com. They look incredibly pretty and send an unquestionable 'GREEN' statement.
One Central Park comprises 2 residential apartment towers, an east and west tower, in addition to a six-level retail shopping centre at the base of the towers. This structure was awarded a 5-star Green Star – 'Multi-Unit Residential Design v1' Certified Rating by the Green Building Council of Australia, making it the largest multi-residential building in the country to receive such a designation.
3. Museum of Tomorrow |Rio de Janeiro, Brazil | Design – Santiago Calatrava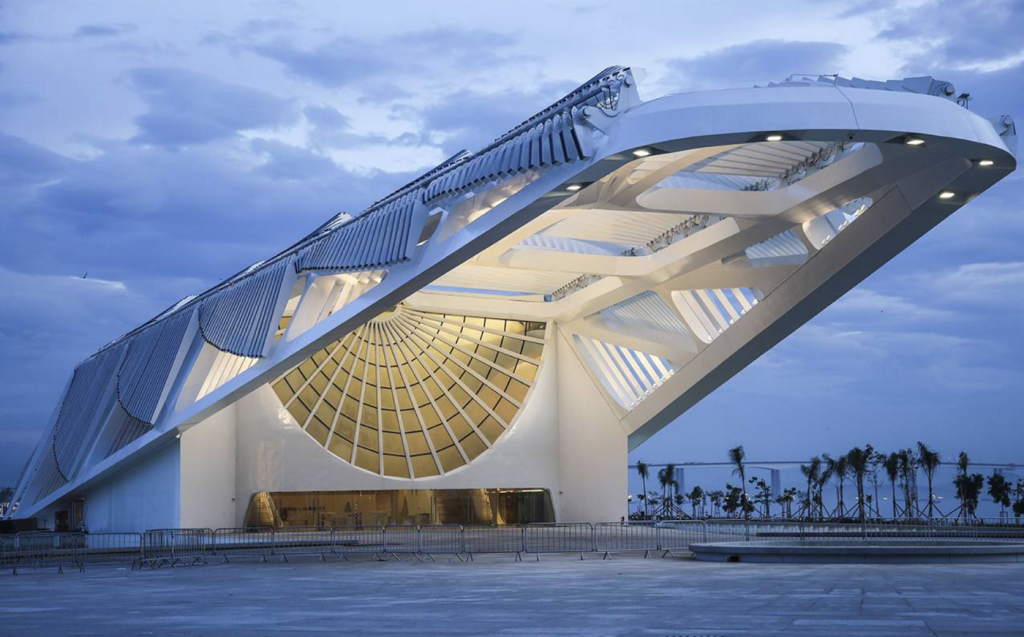 With its distinctive cantilevered roof, reflective pools and skeletal structure Museum of Tomorrow located in Rio is truly a testament to imminent possibilities. The sustainable sustainable design of this structure features includes adjustable, fin-like solar panels that add to the structures neofuturist aesthetic. Its effective pumping system takes cold water from the bottom of nearby Guanabara Bay for use in its air-conditioning system.
4. Shanghai Tower | Shanghai, China | Design – Gensler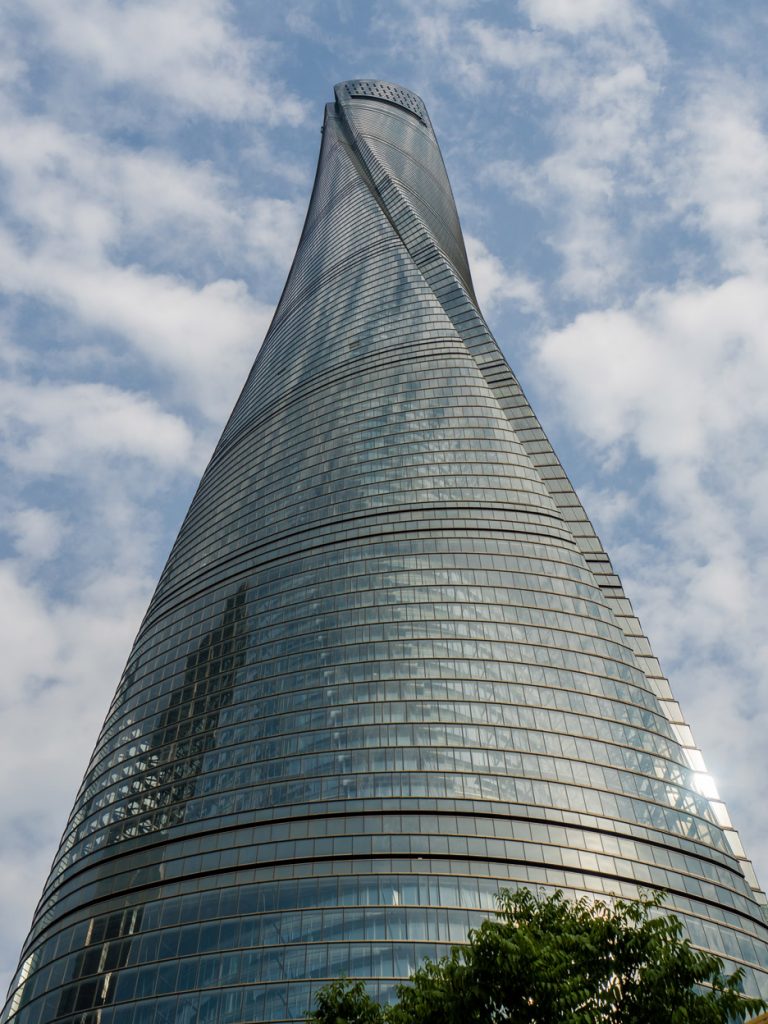 Shanghai Tower is the world's 2nd tallest building and an architectural wonder that is stands exceptionally great on the sustainability meter. The structure has a transparent skin wrapped around it that creates a cushion of captured air which works a natural ventilator reducing energy costs. Also, the 270 wind turbines integrated into the facade power its exterior lights. Shanghai tower uses significantly less power than other skyscrapers and also holds a platinum LEED certification.
5. The Edge | Amsterdam, Netherlands | Design – PLP Architecture
The Edge, a 40,000m² office building located in the Zuidas business district in Amsterdam. What makes the Edge exception? it's the fact that it bagged 98 out of 100 points from BREEAM (Building Research Establishment Environmental Assessment Methodology). Yes, The Edge worlds greenest office building and has been inspiring the world since it opened its doors to the public in 2015.
6. PARKROYAL Collection Pickering | Singapore | Design – WOHA Architects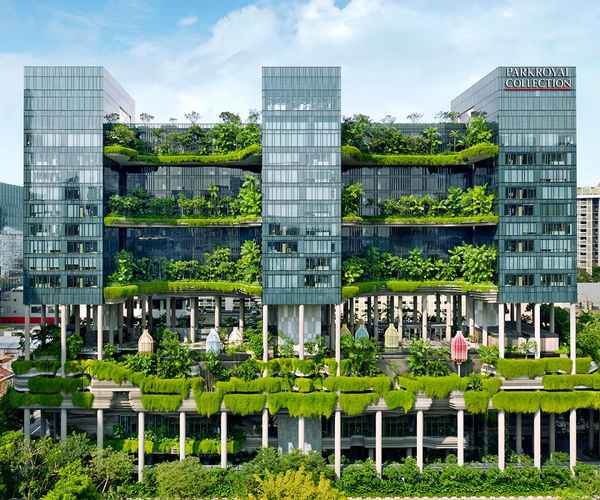 The design of PARKROYAL Collection Pickering is inspired by terraformed rice paddies. It has numerous sky gardens inserted along the building's façade which delivers luxuriant greenery, including palm trees to public areas and room balconies. This natural feature also provides a natural cooling effect for the structure. The crevasses, waterfalls and gullies features are designed to be self-sustaining; these take advantage of Singapore's abundant rainfall to irrigate all those plants through a drip system.
7. The Whitepod Eco Resort | Switzerland | Design – Montalba Architects
The Whitepod Eco Resort nestled amidst the snow-covered mountains in Switzerland was awarded the World Prize for Sustainable Tourism. The highlight of the hotel is the innovative low-impact pods. These accommodation spaces are built with a self-sustaining frame and heated with a wood stove. Other eco-friendly features are water-saving devices, timeouts for boilers, LED lighting, and natural spring water for drinking. The resort uses solar energy in areas possible and keeps lighting at night to a minimum. Considering the green features, this can be regarded as the most eco-conscious yet beautiful green hotel on Earth.
Buildings are responsible for 40% of energy usage – contributing to GHG emissions. Unquestionably, green buildings are the most sustainable way of diminishing the possibility of cities becoming storehouses of GHG.  Hence do not forget to implement the concept Green Building in your project – starting from the design process!
Curated by editor at Wienerberger India

Like this story? Or have something to share?
Write to us at: gosmartbricks@gmail.com or connect with us on Facebook and Twitter.construction quality