There's so much to learn about architecture, isn't it? With architectural revolutions happening every single second it is important to be updated – or be left behind. Today smart architects need to learn from a variety of sources to enhance and upgrade their architectural knowledge. One needs to keep a close watch on the best architecture videos, sketching and rendering skills, tips, and tricks and sometimes even watch architecture documentaries. There are many great architecture-related YouTube channels, hence it may look baffling for you to single out the best one. If architecture is your area of interest and passion, here are 7 great YouTube channels you might want to consider checking out.
That being said, today we suggest some of the very best around:
1. Dezeen
Many recognize Deezen as one amazing online magazine for architecture and design; but did you know they have a specialized YouTube channel? This channel offers a wide variety of videos linked to their online magazine. You can find a large number of interviews, videos on major architecture and design projects, and even talks of all kinds. Unquestionably, Dezeen YouTube channel is one great way to make a total immersion into the big wide world of architecture.
Link – https://www.youtube.com/user/dezeenmagazine/
2. How to Architect
If you are inclined towards learning about architecture, hop into this YouTube channel to see 100s of tutorials around architectural terms, styles, lettering, and tutorials on models and from other professional architects. This channel is great for those who are just breaking into the field of architecture or those who wish to increase their knowledge.
Link – https://www.youtube.com/user/howtoarchitect/
3. ArchDaily
Apparently, ArchDaily doesn't need a formal introduction. It is the world's most visited architecture website providing inspiration, knowledge, and tools for millions and billions of architects around the world. Here you can find interviews with your favorite architects and coverage of major architectural events and projects from practically every corner of the world.
Link – https://www.youtube.com/user/archdaily/
4. Architectural Digest
AD or architectural digest is one definitive design magazine, traveling the world to report on the best in design for its audience. This international authority on design and architecture provides exclusive access to the world's most amazing homes and also those who live inside them. It brings for its audience a wealth of information on architecture and interior design, art and antiques, travel destinations, and extraordinary products.
Link – https://www.youtube.com/user/ArchitecturalDigest
5. Sam-E Studio
Created for the beginners, this YouTube channel is perfect for those looking to learn about architecture drawings, model making, 3d art, optical illusion, architecture design software, interior design, and exterior design tutorials, etc. That's not all it offers an assortment of tips and tricks which lets you learn how to make amazing things all by yourself in just a few steps.
Link – https://www.youtube.com/channel/UC-vj_VKn5iffTtUnAUOKTOg
6. ARQUI9 Visualisation
This YouTube channel is an extension of the award-winning architectural visualization studio ARQUI9. For those looking to advance their Photoshop skills, ARQUI9 Visualisation is dedicated to 3D architectural visualization.
Link – https://www.youtube.com/channel/UCBzPV2uSji-Z5-x_svnZV1w/
7. WienerBerger India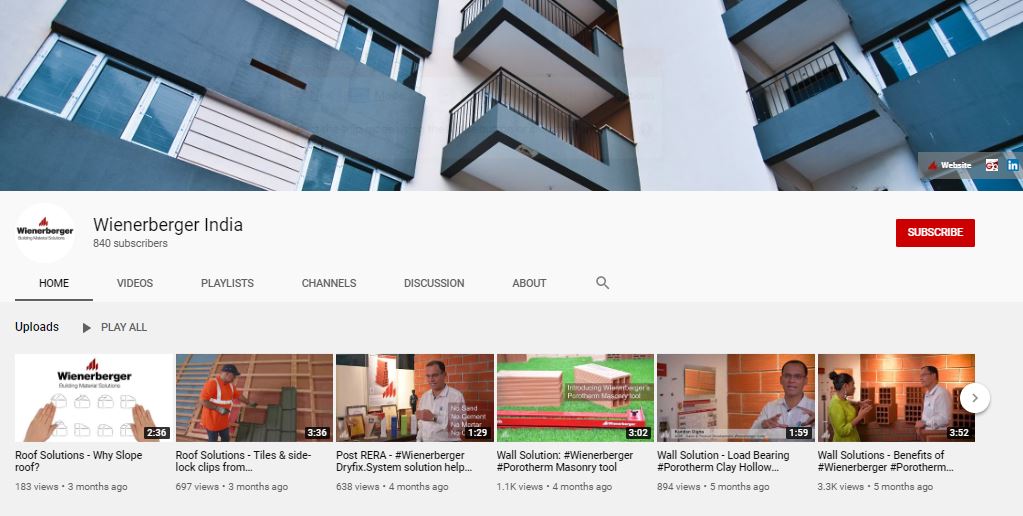 Wienerberger group is the world's largest producer of clay (terracotta) building bricks and No.1 in the clay roof market in Europe. If you are interested to learn about Green Building Solutions hop into their YouTube channel.
Link – https://www.youtube.com/channel/UCWe0d4qUVgUAlWshzBbSOXQ
I hope you liked the video repository in the above YouTube Channels. But again, this isn't an all-inclusive list as there are many more amazing YouTube Channels with amazing video content waiting to be explored.
Interesting Read: Sneak Peek To Marie-France Roy's 400-Sq.ft Sustainable 'Cob House'
Curated by a building expert from Wienerberger India