We come across countless numbers of buildings every single day, don't we? So, how many did grab your attention? Which one of them looked welcoming, imposing, or dramatic to you?
Well, we come across different kinds of buildings, and of course, we do have different reactions for each one of them. Few are tall with massive arched doorways and gigantic spires, while others are with wide windows and huge porches. Every building has a distinct character, and this is no accident, someone did design it with a lot of attention to their Façade.
But what is a Façade? A building façade system in most cases refers to one side i.e. the front side of a building structure. It is one of the most integral pieces to the overall design of the structure, as it adds a unique personality and character to it. From conventional to contemporary, facades are of many types and empower the architects to literally play around and bring to life an extraordinary look to the building structure. But aesthetics solely is not the only functionality of a façade system, there are paybacks beyond beauty.
Let's explore what are the additional benefits a façade system can provide for your building:
Facade System
5 Top Advantages Of A Building Facade System
Exterior Facade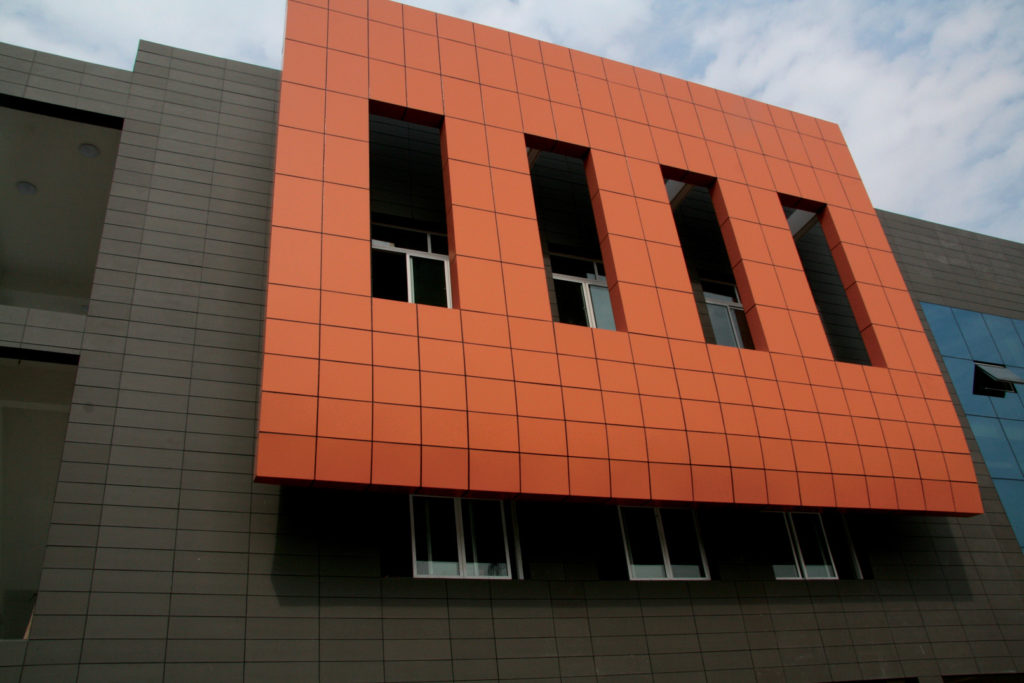 Facades are the face of a building and they provide several advantages. Here are the 5 most prominent ones.
1. Protection From Natural Elements
High wind speeds connected with severe storms are the commonly recognized risk to the building skin. A façade system shields against the damage resulting from high-winds and rains and even protects against extreme temperatures and humidity. Simply put, resistance to temperature, weathering, and corrosion over decades is a valuable characteristic of the facade.
2. Improved Energy Efficiency
A façade system plays a huge role in improving energy efficiency in a building structure. By smartly linking the exterior to the interiors of the building, a façade controls light penetration or filtration, regulates heat, minimizes solar gain; all this, in turn, leads to more energy-efficient buildings which achieve solar shading and passive cooling automatically.
3. Light Penetration And Filtration
Several studies have proved, natural light bears significant paybacks to human health and increases productivity. Façade is often called the external skin of the building, and the protection provided by the external skin ensures natural ventilation. A building façade ensures the occupants comfort isn't lost or compromised while giving a whole lot of value to the design and aesthetic factors.
4. More Fresh Air
Façade system plays the function of introducing fresh outdoor air into the building zones. The façade consists of various components like roof, walls and other openings, like doors and windows. Together all these components control the air inflow and outflow, and significantly reduce dust & other airborne particles ensuring a much fresher indoor environment.
5. Noise Control
External noises like construction activities, rail, traffic, aircraft, etc. can be quite disturbing for the building occupants. A building façade can control the noise impact on the surrounding area of the building.
Sustainable Facade
Sustainable Materials For Façade
Facade Materials
When it comes to sustainable material solutions for facades, metal and glass often pop up our minds. Yes, both these are sustainable and recyclable materials offering multitude of options with environmental, functional and aesthetic benefits. But, did you hear of Clay Facades?
Clay Facades are nothing, but the panels made of terracotta which can be cladded on the exterior walls or facade of any building. These are environmentally friendly and tough modern facade which enhance the value and the design aspect of the building structure. Clay façades are not only beautiful to look at but also have many advantages over the other facade materials (like glass and metal), here is a quick rundown:
Durability – Terracotta tiles are tested for high strength and safety and hence perfect for exterior walls of homes, offices and even public buildings. With weather resistance properties, these tiles can last for nearly decades.
Sustainable – Made of natural resources like clay which make them best fit for building sustainable structures.
Provide Insulation – Clay is a natural thermal insulator and along with that, a combined benefit of ventilated façade increases the insulation further.
Maintenance Free – Once installed, these are very easy on maintenance. They can easily prevent rattling of the panels, and their indigenous system provided for rainwater drainage helps in preventing soiling, which results in low maintenance.
Easy Installation – Very easy to fix as there is no use of sealants or rout. In addition to that, it also helps in overcoming uneven surfaces and appearance of cracks on the walls.
Fireproof – This is one of the major benefits of using clay facades as these are fired at exceptionally high temperatures which make them fire resistant.
Colour Fast – The façade plates are colour fast and will not deteriorate.
Aesthetic Appeal – Clay facades provide a contemporary look to the building, they come in a variety of colors to suit the overall design concept of the building.
Clay façade are becoming the first choice of modern architects who want to leave their environment-friendly thumbprint in the world.
Read: Choosing The Right Façade Material
Clay Facade
It's What's Outside That Counts
Facade
A killer look or an awe-inspiring design should be augmented by functionality – i.e. energy efficiency, insulation capabilities, durability, strength, stability, easy installation, low maintenance, resistance to chemicals, fire, moisture, pests, competitive cost, and so on.
In sum, a façade system with terracotta tiles is an ideal choice because of its guaranteed advantages. Clay façade tiles are the best way to make that first impression and make your building stand out amidst the concrete clutter.
To know more Get In Touch with us.
Related – Different Types Of Building Façade Cladding Systems To Know About
Authored by a building expert from Wienerberger India
For any kind of assistance or tips on green building materials – drop us a word at gosmartbricks@gmail.com