Facades, which literally means frontage, can also imply any side of the exterior part of the building. Typically, for any building, big or small, commercial or residential, the exterior elevation speaks volumes when it comes to forming a perception of that building's aesthetic value. No wonder, Architects and builders lay very high emphasis on the design of the clay facades as this forms the first basis of evaluating a building's potential "attraction quotient".
But a building's façade functionality is not just limited to uplifting external beauty but has a much more varied role to play. It multi-tasks in keeping harsh weather and pollution out while admitting natural light in the house. It promotes comfortable indoor temperatures and well-processed air while making a statement to the outside world.
The three main fundamental principles of a good building are:
Design & Engineering
Performance and Functionality
Durability or long-lasting
However, there is the 4th addition to this list… Sustainability or minimal impact on the environment.
Architects have a plethora of choices when it comes to designing the exterior walls of a building… painting directly over the plaster, installation of glass, aluminum cladding facades over exterior walls, and more. Though glass and aluminum-based facades have been recent additions to Indian cityscapes, borrowed largely from the west, clay facades like facing bricks or clay facade tiles have been in use for many years.
In an age where global warming is no longer a myth, and ever-expanding city limits result in depleting natural resources to life-threatening consequences, it becomes a necessity to explore environmentally friendly options for any building material whether it's a facade, or walling or roof.
Clay facades have numerous benefits over others and also bring timeless elegance to your building. But before we get into that, let's see some of the disadvantages of more conventionally used façade materials like glass or aluminum.
Glass facades, for example, were developed in the west where climates are predominantly cold, or even freezing during winter. The idea was to trap heat and throw it back to its immediate environment. Unfortunately, in a tropical country like India, where temperatures during the summers can soar up to 40 to 42 degrees Celsius, and pollution levels are at an all-time high, one of the highest in the world, having glass facades could become extremely uncomfortable for the building's inhabitants and contribute to rising costs of air conditioning.
In the year 2012, the National Environmental Engineering Institute (NEERI) said that the temperature around a glass-facade building can go up by 17 degrees Celsius.
A common feature of the glass façade is the double glazed glass designed to be stronger. Once the outer pane gets hot, it heats the air between them and transfers the same heat inside the building thereby raising the indoor temperatures. It also locks the heat, preventing it from getting out again. The increased energy consumption due to continuous use of air conditioning and other related environmental consequences has led many futuristic architects to reconsider the contemporary infatuation with glass buildings.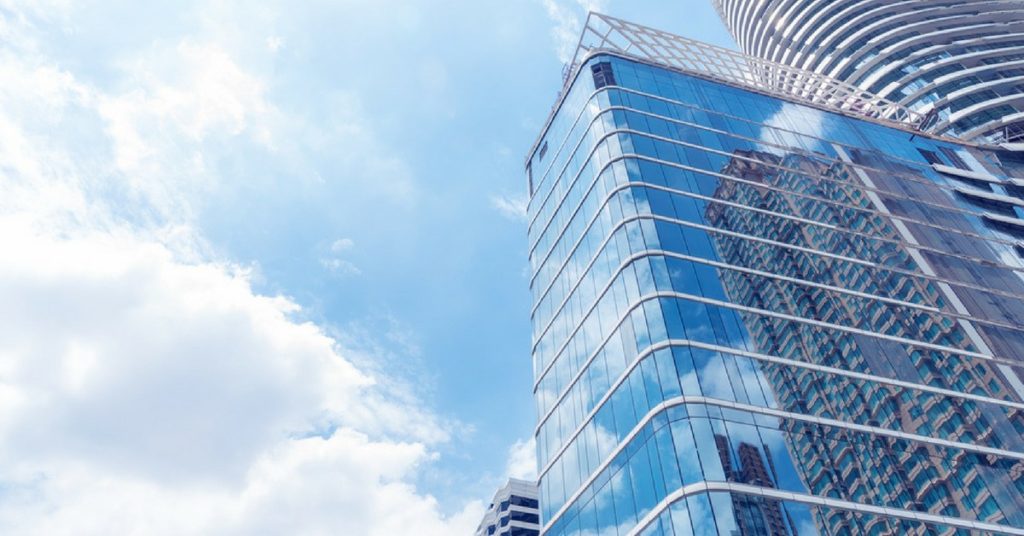 But glass facades are not responsible for raising indoor temperatures alone, but also bounce back the heat back into the atmosphere, which results in a rise in temperature in the area around the buildings. In cities like Bangalore, glass facades, are attributed to some extent, for this sudden rise in temperature.
As per Chandrashekhar Hariharan, CEO, Biodiversity Conservation India Limited, "if Bangalore is home to more buildings with glass facades, the temperature of the city could increase by 2°C to 3°C when compared with outskirts". This phenomenon is called the urban heat island effect.
Another very interesting aspect of glass building is its propensity of rapidly spreading fire, in case of an unfortunate fire in the building. Moreover, the eruption of fire in buildings with glass facades can cause more harm than in the conventional type of buildings due to lack of adequate ventilation. According to Mr. Amarjit Singh Jhandwal, former chief fire officer (CFO) of the Brihan, Mumbai Municipal Corporation (BMC), buildings with toughened glass facades lack adequate ventilation and when a fire breaks out, hot gases are not able to emit out leading to an explosion and a bigger threat.
In the range of building facade cladding systems, metal is one of the most popular options because it lasts longer and requires little or no maintenance. Its smooth surface gives a year-round new and shiny look to the building. It is also easy to clean. Generally, aluminum or steel is used for this purpose. However, builders in India rarely invest in continuous maintenance of aluminum facades, and within a short period of time, dust, pollution, and weather, tend to make the façade lose its sheen and appear lackluster… A far cry from the look of the building it was originally designed for.
The other issues noticed include:
Limited geometric features for the architect
Abrasive to tooling, aluminum oxide is very abrasive
Difficult to weld
Prone to severe spring back
Low composite strength, easy to break when the surface bends
Vulnerable to high-voltage lightning attack;
Advantages of using Clay facades/terracotta façade over exterior paints and glass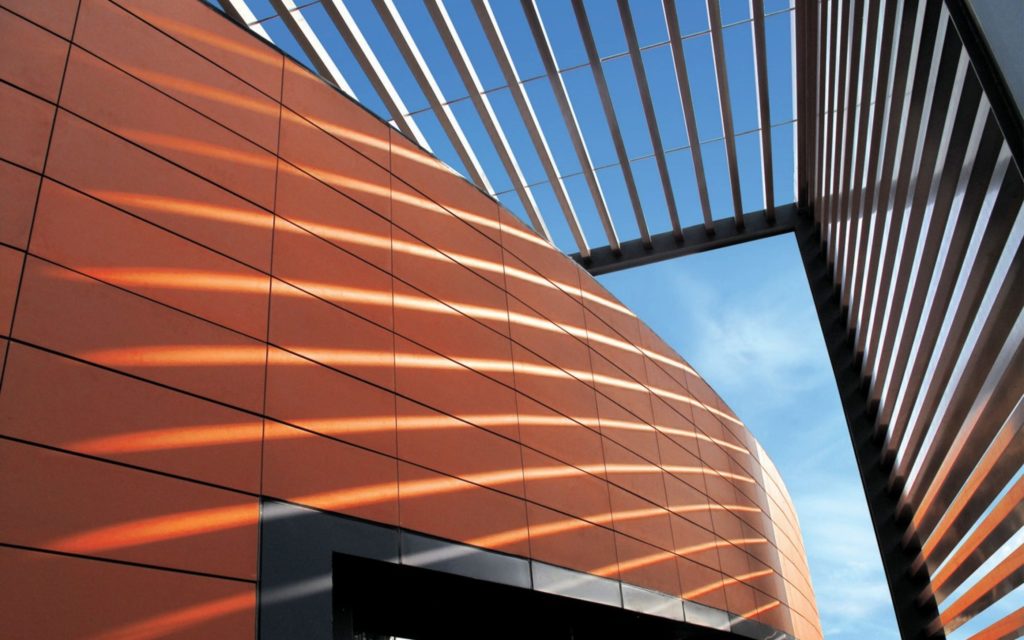 Durability- These terracotta tiles used for exterior walls are tested for high strength and safety and hence are the apt material that can be used for exterior walls of homes, offices, and even public buildings. Their weather resistance power makes them highly durable which lasts for decades. On the other hand, glass can be fragile and may not sustain high impacts.
Long-lasting appeal-Clay facades are the outcome of sophisticated technology and advanced firing processes and hence are highly resistant to the exterior environment. When compared to paint, which can look smudgy with dust and dirt, clay facades, retain the color for a longer period of time. Since they are made of terracotta. These panels, neither have any calcium leakages nor efflorescence effect.
Sustainable-As the green concept building is fast catching up and rightly. So, clay facade panels can be the best fit to build sustainable buildings. Clay facades are made of natural resources such as clay and are highly energy-efficient due to the property of thermal insulation. Whereas paints might contain volatile organic compounds, or VOCs, which releases harmful chemicals in the atmosphere. These compounds are harmful to breathe and one of the causes of ozone depletion.
Provide insulation-Clay is readily a natural thermal insulator and along with that a combined benefit of a ventilated façade increases the insulation further. Clay facades helps to keep the heat away from entering inside the building and helps to maintain a comfortable indoor climate naturally. Whereas, the glass is just the opposite and actually increases the interior temperature by allowing the sunlight directly inside the building.
Maintenance-free– These clay facade panels once installed, with care, then they are totally easy on maintenance unlike painting which needs a coat of paint every now and then. Clay facades are the results of innovation in building materials and hence can easily prevent the rattling of the panels. The indigenous system provided for rainwater drainage helps prevent soiling, which further results in low maintenance.
Easy fixing-Clay facades are easy to fix since there is no usage of rout or sealants. This also helps in overcoming uneven surfaces and the appearance of cracks on the walls.
Fireproof-One of the major benefits of clay facades is that they are fired at an exceptionally high temperature making them fire-resistant.
Aesthetic appeal- Facades provide a contemporary look to the building. They very well compliment steel, glass, wood and other painted parts as they come in a variety of colors to suit the overall design concept of the building.
Clay facades are manufactured with advanced technology bearing ecology in mind and hence Clay facades are environmentally friendly. They're also manufactured to meet international standards and hence go well with your vision and design of the building.
Authored by a Building Expert from Wienerberger India
For expert advice, drop a word at our email id gosmartbricks@gmail.com