Construction waste is any substance, matter, or thing that is produced as a result of construction work and is abandoned. This waste can be a mixture of surplus materials resulting from site clearance, construction, excavation, renovation, refurbishment, demolition, and even road works. Construction waste includes a huge variety of materials. Few of which can be recycled and few cannot, in addition to this there are some waste which are hazardous in nature.
Did you know? According to Construction & Demolition Recycling, by 2020, the overall volume of construction waste generated worldwide annually will nearly double to 2.2 billion tons. Managing waste efficiently is the need of the hour, and to do that effectually it needs to be identified and classified into different types. Building on this, let's know the different types of construction waste.
Types Of Construction Waste – Here Are The Top 8
Based on the kind of material, construction waste can be categorized into the following types: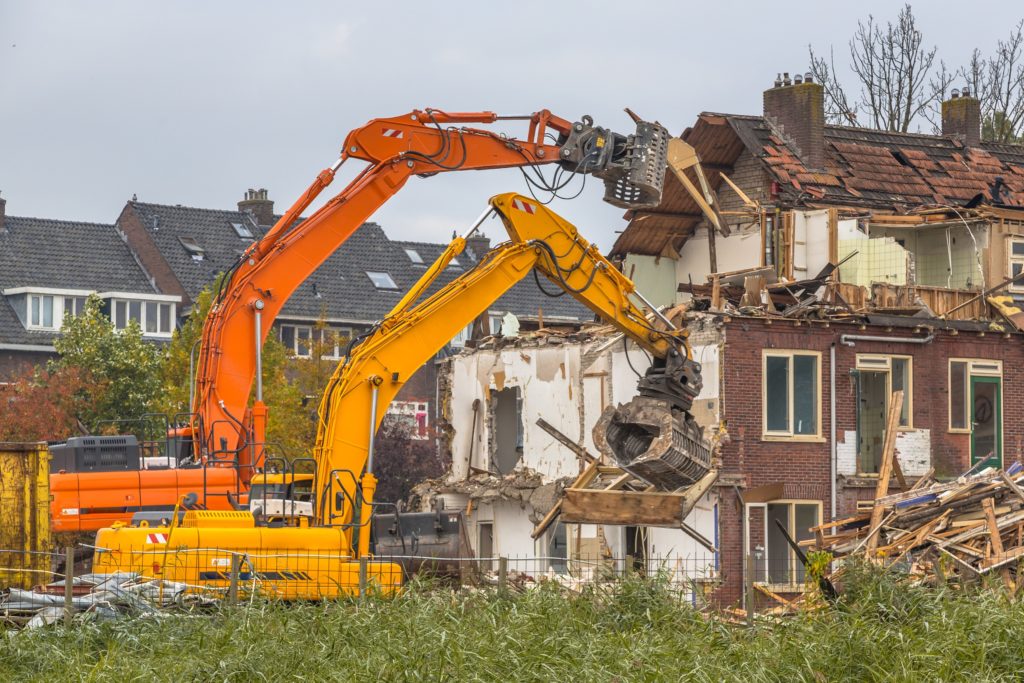 1. Dredging Materials
Dredging materials are those objects or materials which are evacuated during the preparation phase of a construction or demolition site. Trees, tree stumps, dirt, rocks, and stumps are few of the examples of dredging materials.
2. Insulation And Asbestos Materials
In simple terms, Asbestos is a mineral which provides resistance to corrosion and heat. It is because of these properties that asbestos is used in several building materials. Few examples of asbestos-containing materials are floor backing, gaskets, resilient floor tile, asphalt roofing, pipe insulation, ceiling and wall insulation, sprayed-on fireproofing, thermal pipe insulation and boiler coverings, ceiling tiles and damaged material which were originally non-friable. Materials which contain asbestos are highly hazardous and pose a health risk to humans.
3. Concrete, Bricks, Tiles, And Ceramics
The below list excludes asbestos-containing materials –
Concrete – Non-hazardous
Brick – Non-hazardous
Tiles and ceramics – Non-hazardous
Concrete, bricks, tiles, and ceramics (alone or in mixtures) containing hazardous substances – Hazardous
Concrete, bricks, tiles, and ceramics in mixtures, containing no hazardous substances – Non-Hazardous
Concrete and bricks form most of the construction and devolution waste and dumping it in landfills. But again, these can be recycled by crushing it into rubble.
4. Wood, Glass, And Plastic
Demolition of temporary structures and houses generate wood, glass, and plastic waste. These non-inert materials can be recycled or reused and as a last resort disposed of to the landfill.
Waste materials which are predominately new wood from new construction include plywood, chip wood, dimensional lumber, shavings, and sawdust. In addition to this, plastic waste materials used in new construction. This includes PVC, PVC siding, plumbing pipe, plastic sheet, and Styrofoam insulation. Glass materials include waste from glass windows or doors panes, glass from sky lighting or glass shelves. Most of these materials when untreated or uncontaminated are non-hazardous but may sometimes contain hazardous substances.
5. Metallic Waste
Metallic waste in construction includes, copper, bronze, brass, aluminum, lead, iron and steel, tin, mixed metals; all of these are non-hazardous and can be easily recycled. However, metals containing hazardous substances, cables containing oil, coal tar, are highly hazardous substances and demand careful handling.
6. Drywall
A construction site can contain huge amounts of masonry and drywall waste. Typically, Drywall is constructed using gypsum wallboard, and mostly excess wallboard is left over after the construction of a new building.
7. Cement
Waste during construction activity also relates to excessive cement mix which is left after the work is over, sometimes rejection/ demolition caused due to change in design or even wrong workmanship. It is important to note, that un-used or un-set cement is always hazardous in nature.
8. Paints, Varnishes, Adhesives & Sealants
Paints, varnishes, adhesives and sealants used in new construction which is left after work or wasted due to an accident. Paints cans, paint removers, varnish remover, organic solvents, adhesive containers, and sealant containers are extremely hazardous waste.
According to sources, almost purchase Gabapentin 300 mg ninety percent of construction wastes are inert or non-hazardous. These can be reclaimed, reused and recycled. However, the non-recyclable, non-hazardous and hazardous waste materials comprise the remaining http://nghomes.com/2021/05/31/netherlands-bitcoin-exchange ten percent. The hazardous construction waste materials include contaminated soil, leftover paints, solvent, aerosol cans, asbestos, paint thinners, striping paint, contaminated empty containers and non-inert materials include trees, green vegetation, trash, and other organic materials.
Final Thoughts
With construction waste numbers tipping high, "reduce, reuse and recycle" policies are indispensable to control the amount of construction waste generated. However, inadequate resources, lack of standardization, thin profit margins, policy indifference and a dearth of education on the environmental issues are holding it back.
For you, it is important to remember, sustainable management of construction wastes uses a number of strategies. Most importantly it is based on a typical hierarchy:
AVOID – ELIMINATE – REDUCE – REUSE – RECYCLE – TREAT – and – DISPOSE.
Curated by editor at Wienerberger India
Like this story? Or have something to share? Write to us: gosmartbricks@gmail.com or connect with us on Facebook and Twitter.