Drift towards internet usage for gathering any kind of information has become recurrent in students as well as adults. As the technology is witnessing an update almost every passing day, the number of users is also increasing and at the same time an increase in internet market can be seen.  However, when one thinks of purchasing property or house for settling down or investing, he is not sure about the real estate portals in India is relevant.
Different real estate portals have different Unique Selling Points (USPs) which help the buyers in some or the other way.
Here is the list of Top 15 real estate portals in India, which offer good customer service and provide information on real estate properties so that one can search for property as per his choice:
1. 99 Acres is a web portal in India, which is keen to fulfil needs of every consumer of real estate industry. It was bought in 2005. Through this portal all the information can be interchanged quickly, effectively and inexpensively among buyers, sellers and brokers. It is a complete PAN India portal. On this portal one can search for a property, browse through properties and build his own property microsite.
Alexa rank in India – 132

2. MagicBricks  is a property portal which accommodates to a global market with its new and unique online features. Times Group launched Magic bricks in the year 2006 which has grown to be one of the best Property Portals in India. It hosted 75 domestic and over 15 International property shows around the globe. Magicbricks.com is recorded the no. 1 real estate website in India by getting huge number of unique visitors.
Alexa rank in India – 169

3. Commonfloor simplifies property decisions. Home seekers, sellers and real estate professionals gets a wider online real estate experience on this platform. Commonfloor facilitates Live-In-Tours, which enables visitors to get a 360 degree view of prperties with varied angles. There are comprehensive options to search for renting as well as purchasing property. A tested database of apartments all across India is present on this portal with apartment community management tools. The unique selling point of this portal is presence of a vast source of research on a host of property related matters, from legal issues, maintenance, facility management to home insurance and many others. It was launched in 2007.
Alexa India Rank – 245
4. IndiaProperty is a first and an exclusive online portal for real estate agents. IndiaProperty is among country's leading online real estate portals and was launched in 2006. It provides one stop solution in finding agents and a database of properties across India for buying and selling.
Alexa Rank in India – 347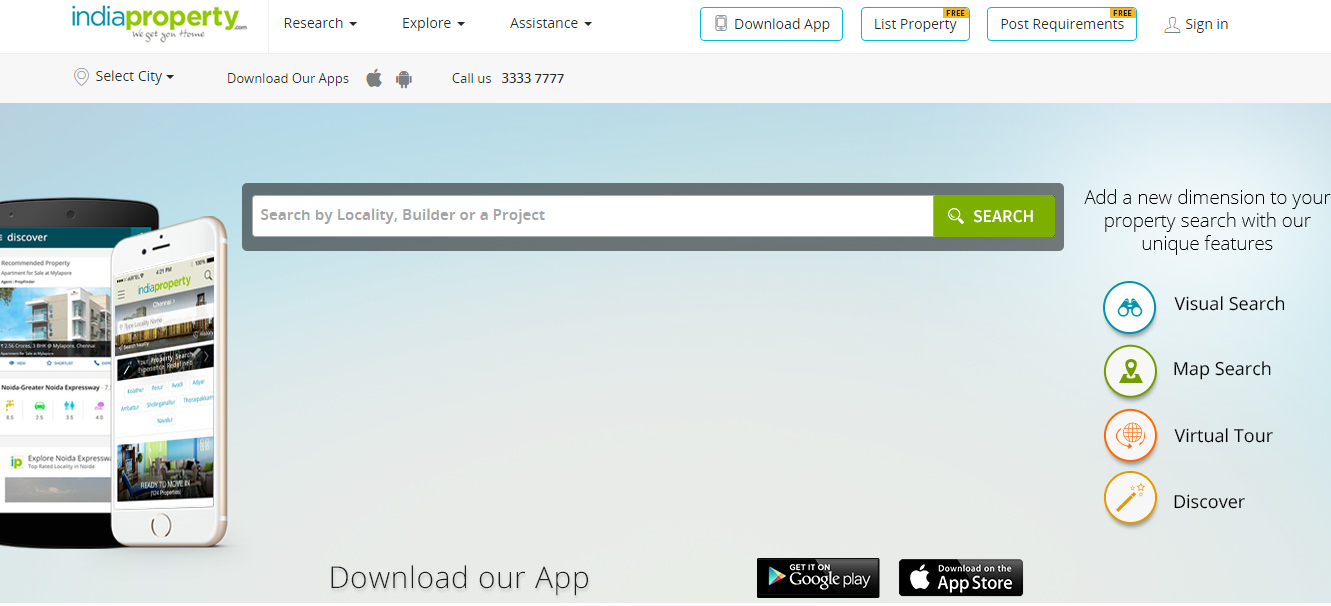 5. Housing is a fast growing online real estate platform. This portal was launched in the year 2012. It works with the objective of giving relief from unending onsite visits, consultation and formalities. It has won 5 awards at the prestigious National Award for marketing Excellence hosted by CMO Asia for its 'Look Up' campaign.
Alexa rank in India-438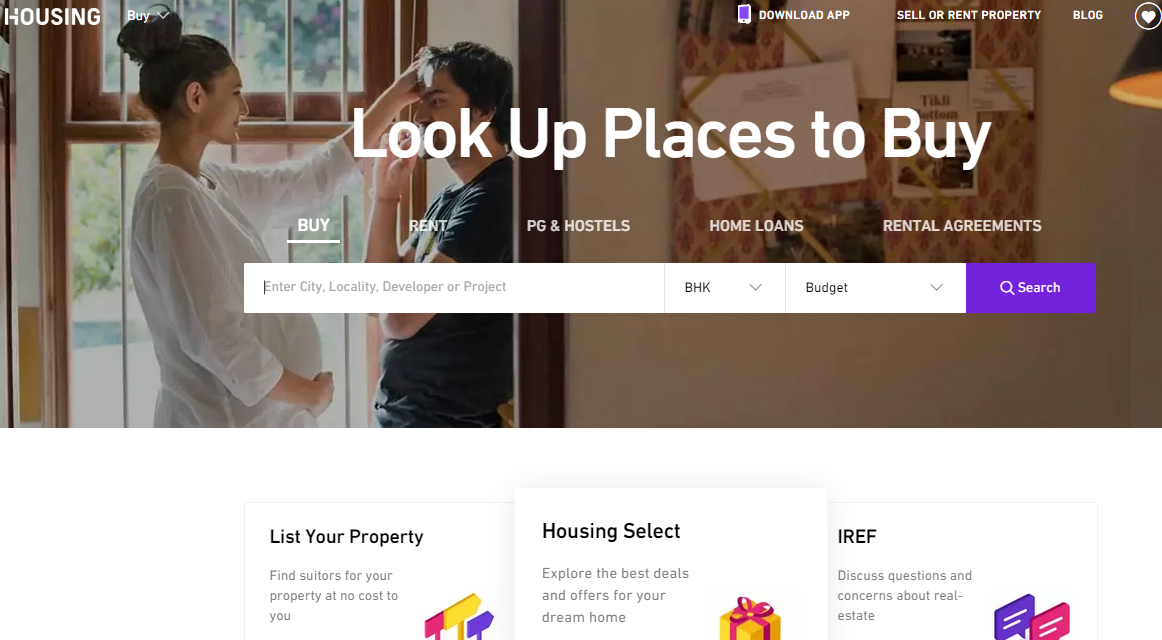 6. GrabHouse is a platform which comprehend house renting problems faced by people. It is a broker free online rental platform which reforms the process of the house search. In contrast to other online real estate portals, Grabhouse concentrates only on rentals for flats, shared accommodations and PG. It saves both time and effort. The customers communicate directly in an efficient and effective way. This makes it a transparent and hassle free deal. It was launched in 2013.
Alexa India Rank – 957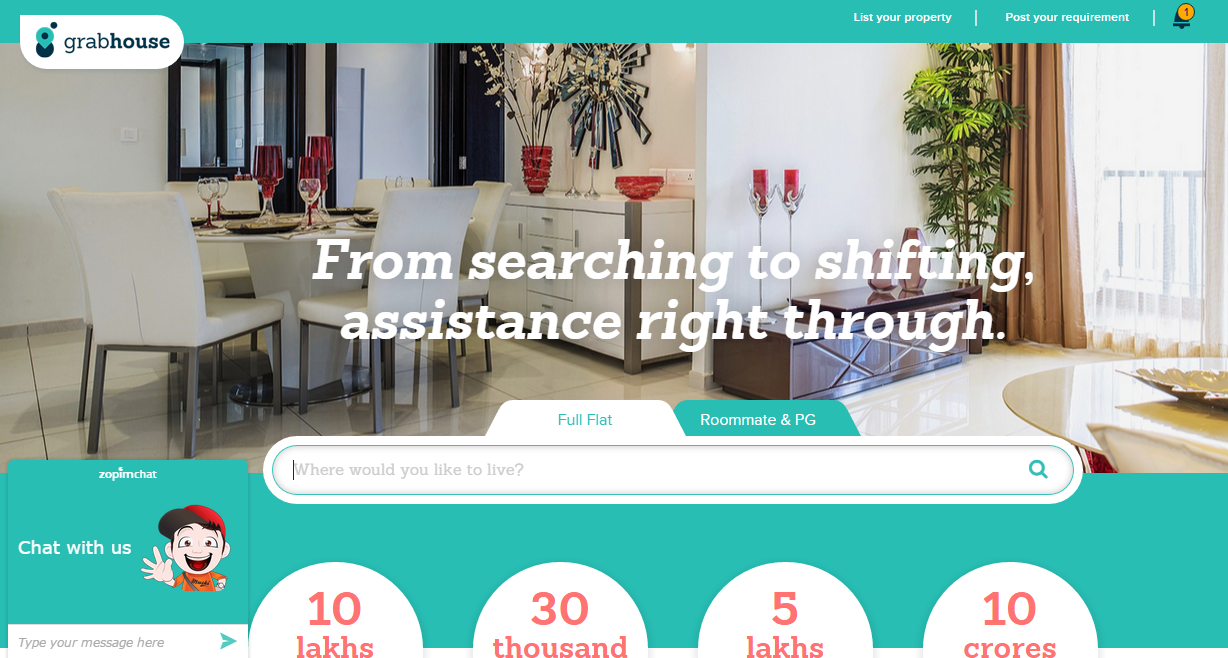 7. QuikrHomes helps its users to search residential, commercial or agricultural properties to either buy or rent in different cities. The customers can search considering locality, project or builder. They can further refine their search by contemplating price range, property type, number of rooms, area or locality, amenities, furnishing, ad posted date and availability of pictures. It was launched in 2015.
India Alexa Rank- 37 (Quikr.com)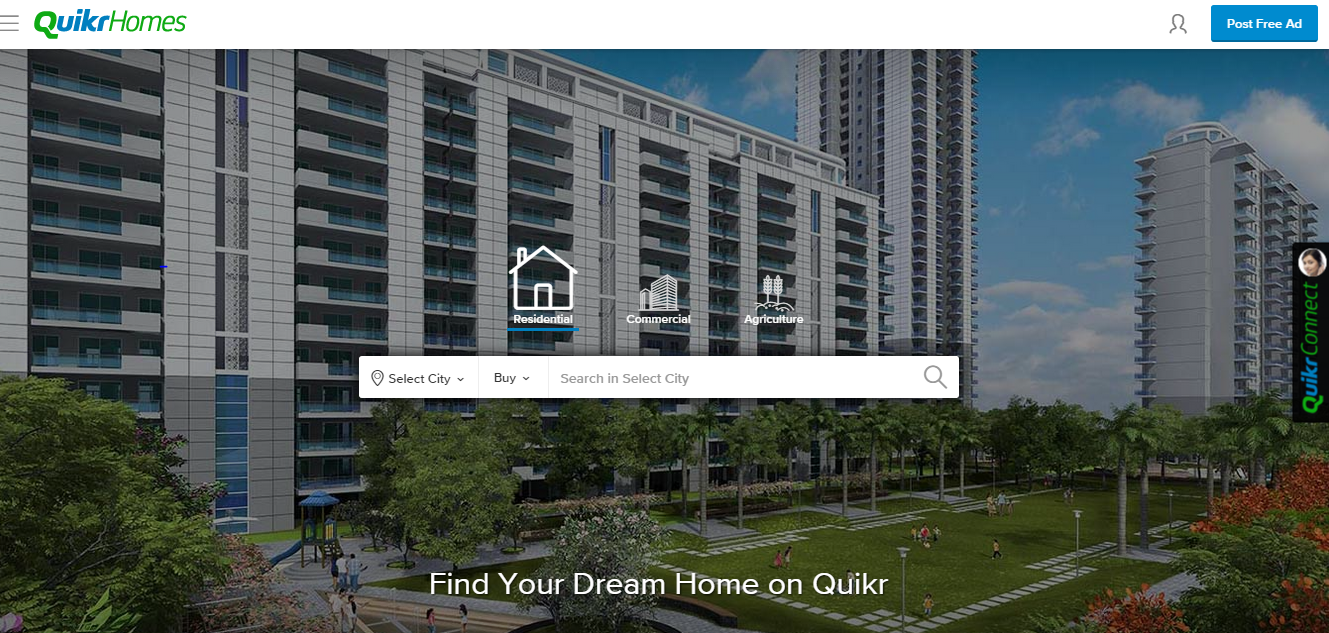 8. Sulekha Properties positioned as a one stop foundation for buying, selling or rental, information on localities, brokers, and others type of property information in all the major cities of the country. The information provided is about big as well as small cities and helps in local property search. It was launched in 2006.
Alexa India Rank – 97 (sulekha.com)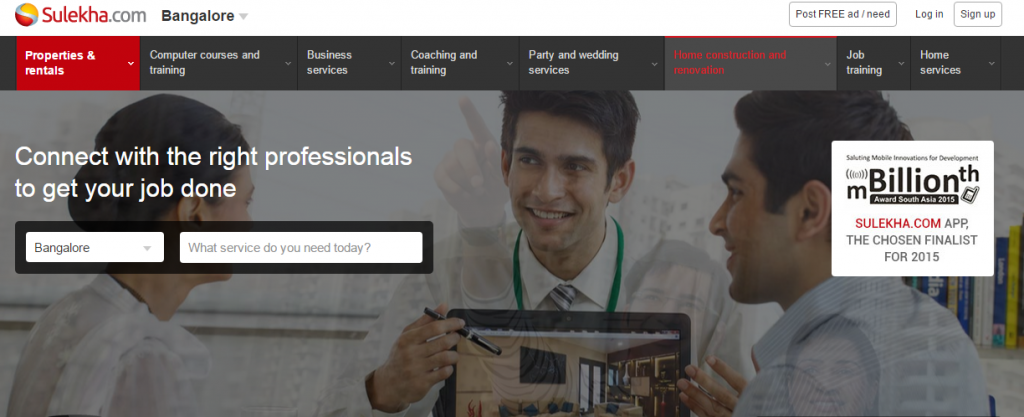 9. Makaan is a real estate portal which acts an expert friend for those who want to rent, buy or sell houses. This portal acts as an effective enabler in taking right decisions. Once they use this portal, they will acknowledge it as a much better way to search for and advertise properties. There are three main factors which are paid attention to strictly. These are user experience, product and analytics. The unique selling point of this portal is that it has incorporated advanced search functionalities which helps in finding the information that you need in a non-intrusive manner and in the least possible time. It was launched in 2007.
Alexa India Rank – 1414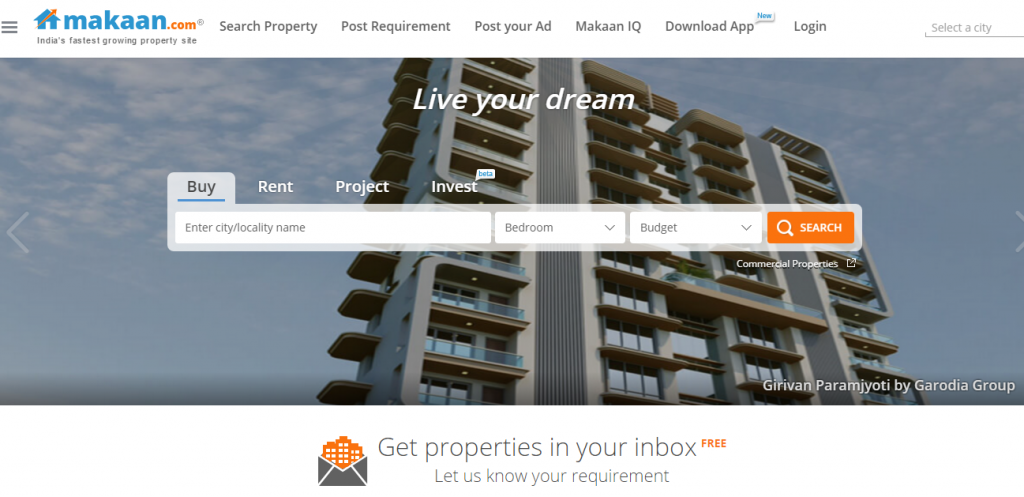 10. PropTiger was launched in 2011. The basic idea of this portal is to help Indian families to get a house of their choice. Unique Selling Point of Prop Tiger is the property listing it provides. There are experienced experts to give advice about the best deals and suitable property available.
Alexa India Rank – 1719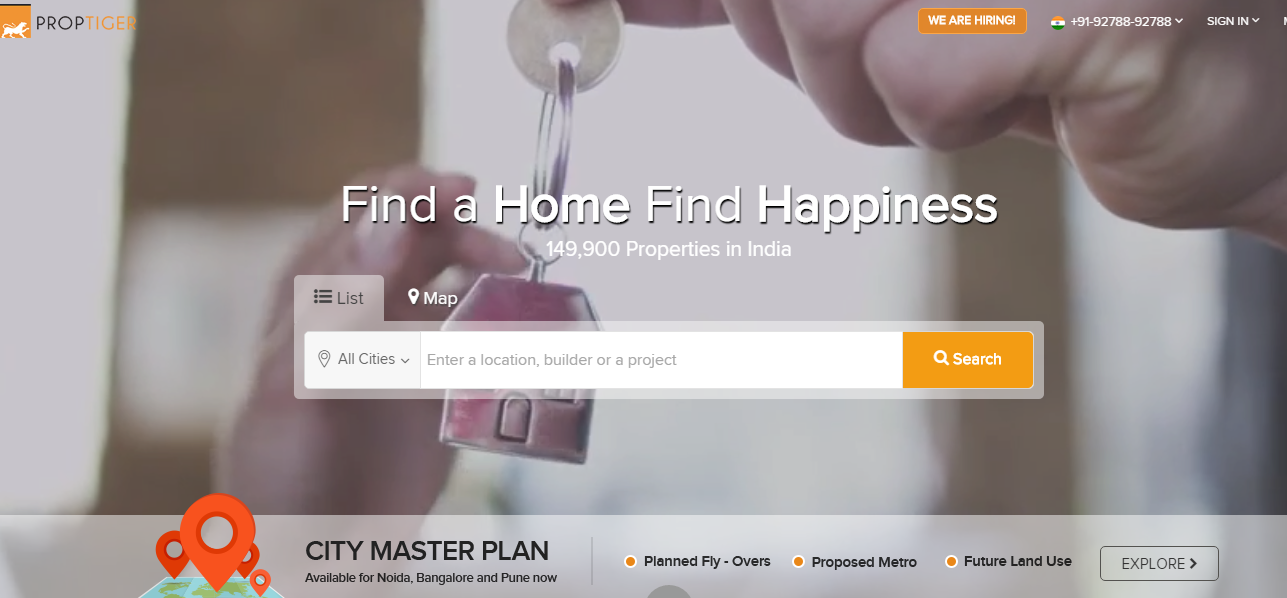 11. PropertyWala is a real estate portal which was created by a team of devoted software professionals. This portal provides offers, innovation and user friendly property advertising services. It was launched in 2008. On this portal the customers can advertise their properties for sale or rent a property and post complete information with details including videos, photographs layout plans etc.
Alexa India rank – 1882

12. Indian Real Estate Forum (IREF)  is an Indian real estate portal which works in the direction of providing information about apartments and gated communities. It also acts as a host to an online community management which extends its part beyond buying, selling or renting properties. It was launched in 2007.
Alexa India Rank – 1965

13. NestAway is another real estate portal which has been created keeping youngsters in mind who have to face problems while searching for house in a new city. This portal aims in removing the hassle in renting house. NestAway was launched in 2015. The portal acts as a blessing in disguise for those moving out of parental house for further studies or job. The Unique Selling Point of NestAway is that it benefits both tenant and house owners. It provides complete details about the tenant and 20% – 30% more income to house owners. At the same time it provides information to tenants, about houses listed in all the localities.
Alexa India Rank – 2102
14. Indiahomes.com was founded in 2009 and was setup with the objective of changing the way Real Estate is transacted. It is a real estate portal which operates in 50 cities located in India, America, Europe and the Middle-East. It is an FDI funded company and its corporate backers include some of world's most prestigious private equity funds Helion Ventures, Foundation Capital (USA) and New Enterprise Associates (USA). This real estate portal has received many awards for its service. Some of these awards are Realty Plus Award for excellence from realty plus, Property Services Company of The Year from The Real Estate Observer, Star Performer Award from Godrej etc.
Alexa India Rank – 6902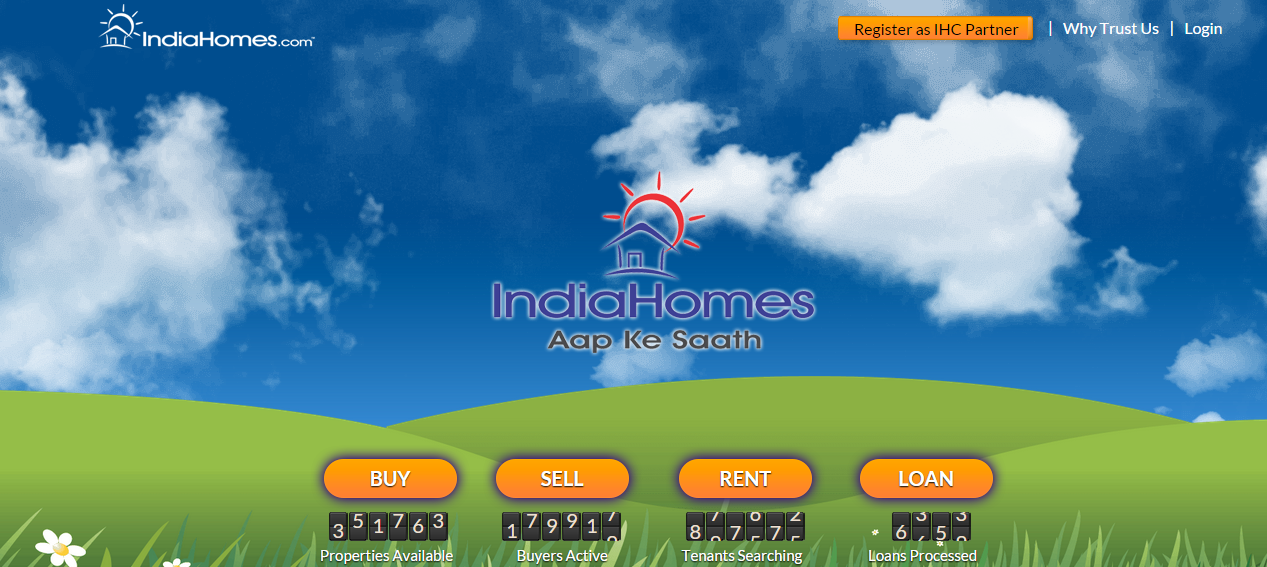 15. Homeshikari.com enables and empowers consumers to make right decisions in the context of hassel free property services. It is a platform that provides transparent and unbiased information and serves as a one point solution for all property needs. It was found in 2011. It works with the aim to bring clarity in the Indian real estate market. Homeshikari is a platform which makes it easy for the consumers to get the right information on property paperwork or other property issues so that they can make the right choice.
Alexa India Rank- 31959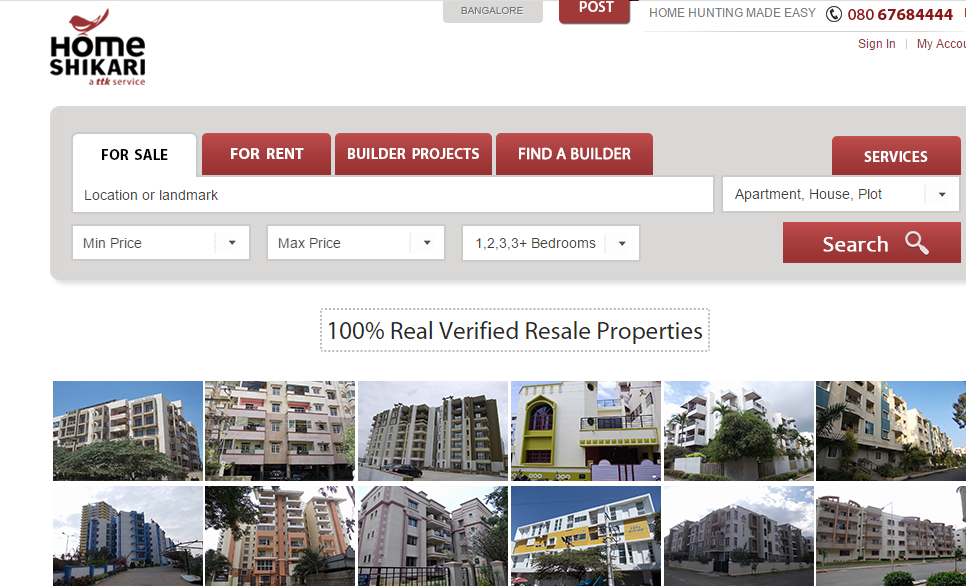 Authored by a Building Expert from Wienerberger India
For an expert advice, drop a word at our email id gosmartbricks@gmail.com