What are pavements? Classically pavement in construction is outdoor flooring or a superficial surface covering. These are actual travel surfaces which are durable and serviceable to tolerate the traffic load shuttling over it. Pavements are part of the hardscape in landscape architecture; they are used on sidewalks, road surfaces, patios, courtyards, etc. The primary role of pavements is to spread loads to the sub-base and underlying soil.Depending on the design considerations, pavements can be of two types, i.e. flexible or rigid.
What Are Pavers?
Thin, flat-stones designed for pavement construction projects like walkways, patios, and driveways are known as "Pavers". There are different types of paving materials, concrete, stone, and bricks are the most common ones. Sometimes flagstone, cobblestone, artificial stone, tiles, and wood are also used to build pavements.
The Three Main Types Of Pavers
Concrete Pavers
Concrete paving are one of the most commonly used paving materials, these are made from crushed stones, cement, and sand. These are ideal for driveways and best for budget projects where mass implementations of pavers are required.
Pros:
Less expensive when compared to bricks
Variety of options in colors and size
Easy installation
Cons:
Prone to fade when exposed to UV rays
Wears away
Less durable due to erosion.
Shorter longevity
Stone Pavers
Generally mined or gathered from a quarry or rock outcrop and also sometimes cut and accumulated for sale as pavers.  Stone pavers are many different types, Granite, Marble, Porphyry, Limestone, Flagstone, Bluestone, Sandstone, and Slate are few to name. Each of these types has its own unique properties and is suitable for specific applications. Stone pavers look very natural and appealing because of its origin. But due to the mining process, they are very expensive.
Pros:
Easy to install
Available in a variety of shapes and size
Look very natural
Cons:
Absorbs extra moisture
Prone to breakage during winters
Limited design and color flexibility
Brick Pavers or Clay Pavers
Clay brick pavers have been used as one perfect surfacing material for centuries now. These are generally made of natural raw materials like clay and shale, and this is what makes them extremely tough and durable. Brick pavers are immensely popular for its classic look and durability factor.This type of pavers is commonly used in the project of gardens, roads, open areas, pavements or pedestrian zones. They come in a variety of colors ranging from light to darker earthy red tones.
Pros:
Excellent life cycle assessment
Very tough and durable
Lasting beauty
Survives in extreme weather conditions
Doesn't fade
Easy water drainage
Cons:
Limited choice of colors and patterns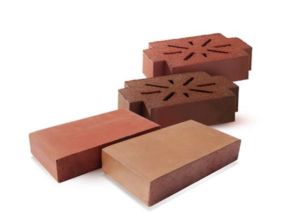 Clay Pavers – A Definite Choice
Without any doubt, clay pavers provide a very special and natural charm to any walkway, road, pedestrian precinct, private garden or patio. Here are few reasons that make them a definite choice:
Timeless & Stunning – laid on any Driveway or patio this material grants a very classic and stunning look which is everlasting.
Never Fades – Clay block paving's are fantastic when it comes to keeping their color intact. Yes, they just won't fade like concrete paving's do.
Excellent anti-slip properties – These paving's do not erode like the concrete paving's do.
Less Maintenance – Clay pavers battle staining and require very less maintenance and cleaning than concrete and stone pavers.
Eco-Friendly –Clay pavers are made from natural materials, also they are frequently salvaged, cleaned, and reused, and this makes them a more sustainable choice.
Wrapping Up
So which one is it? Remember the type of paver you select would have an obvious impact on the appearance of the entire area; but there are many other factors you need to bear in mind, like the cost, design, installation, wear and tear. All of these factors require due attention when choosing the most appropriate pavers for your next project.To know more about pavers, click here.
Authored by a Building Expert from Wienerberger India
For an expert advice , drop a word at our email id gosmartbricks@gmail.com

Also see this –