The architects in today's era make sure that they come up with trendy and updated designs and ideas. When designing a workplace or a living space, windows play an important role in enhancing the look. An architect would never leave a window without treating it to reduce the sun's heat or glare. If the windows are south facing, lots of solar energy would be getting inside.
Could you imagine something that helps to capture this solar energy and lighting the workplace, or a living place? Or helps to run the air conditioners, computers and other electrical appliances?
Here are expanded options to use solar power, other than solar roof panels. A Solar Window would help absorb solar power and convert it into electricity.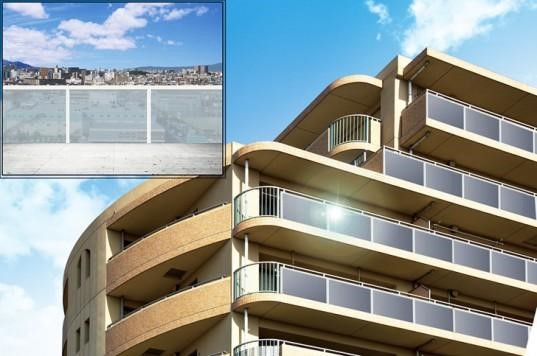 Image Source: inhabitat
How do these solar windows work?
The glass panels are initially treated with a photovoltaic coating which is made of oxygen, nitrogen, carbon and hydrogen. The windows are coated in liquid form and then pressure is compressed and dried at low temperatures. This coating can be given to any conventional glass as a solar panel. These strips are 2.5mm and are sliced between glasses of the window.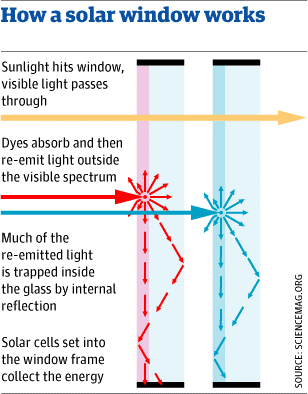 Image Source: guim.co.uk
Following are the features of these trendy windows:
Energy Efficient: The solar windows can efficiently save around 15 percent of energy which can be used for generating electricity for small purposes like charging a phone, lighting the table lamps, etc. A normal window can now be an energy efficient window just with a transparent solar sheet. It will make it a solar powered window which has magnificent benefits.

                                          Image Source: washington.edu/
Cost Effective: These windows work like an investment. Their advantage is that they are energy saving as the solar power absorbed in these windows is in turn used for generating electricity inside a house or a workplace. This renewable source of energy is an investment that would benefit for years. It's a smart option to use solar power to generate electricity and at the same time the electricity consumption would reduce.
Using Solar Power as an Energy Resource: Solar power is usually used as solar panels on the rooftops to generate electricity. However, apartment buildings find it difficult to use. Solar power has now expanded its options and come up with solar windows which would be beneficial on individual house, apartment, villa, office, etc.
Solar windows provide the most unique feature a living space or workplace can have. These panels are still in the making and would take a few years to enter the market. If you are considering to build a home in the near future try considering this option. As this is the best way to use up the sun's energy and save the environment
Authored by a Building Expert from Wienerberger India
For an expert advice , drop a word at our email id gosmartbricks@gmail.com
[huge_it_videogallery id="1″]
Video Link: