This Diwali – Go Green to Save the Environment
The diminutive winter chill, the happy faces, the excitement of shopping, messages, greetings, planning ahead for gifts, decorations, all this and all that. Diwali, a festival of Lights, Customs and Traditions, is around the corner!
Diwali – The "festival of lights", is an ancient festival celebrated in India every year between mid-October and mid-November. It is one of the biggest festivals celebrated across the country with full vigour and enthusiasm. Diwali signifies the victory of light over darkness. For Diwali, people decorate their homes with lights, dress up in new clothes, light up lamps and candles in, offer prayers to God, exchange gifts with family members and close friends.
Diwali, also called Deepavali, is derived from the Sanskrit word Dīpāvali, formed from dipa ("light" or "lamp") and āvalī ("series or row"). Diwali or Deepavali thus meant a "row" or "series of lights". The celebration includes lamps or diyas shining outside doors, windows and terrace.
Earlier earthen lamps made of clay were used and the celebration was eco-friendly. But things got changed with the introduction of firecrackers. Nowadays, burning of firecrackers has become the main attraction of Diwali celebrations. Sparkling fireworks and loud noise firecrackers have become very popular. They make the celebrations look good but actually it is harming the environment drastically, that too on the auspicious day of Diwali.
Let's watch this video before understanding the impact caused on us due to the firecrackers.
 The major impacts of firecrackers are:
1. Air Pollution & Hazards
The air pollution worsens after fireworks celebration is over, with fine particulate matter (

PM2.5

) levels about four times worse than pre-Diwali levels due to fireworks on Diwali festival which remains suspended in the air.

The concentrations of gaseous pollutants such as SO2 and NO2 as well as particulate pollutants such as PM10 and PM2.5 becomes about 6 times higher during the day of festival, because of the use of huge quantity of firecrackers.

The deterioration of ambient air quality due to the use of firecrackers in the cities of India has significant impacts on human health.

Increase in burn injuries in India during Diwali from fireworks.
Inhalation of smoke from fireworks causes cough, fever, eosinophilic pneumonia, asthma attacks, cardiovascular diseases, bronchitis, reproductive and developmental effects such as increased risk of preterm birth, chronic bronchitis, emphysema, chronic obstructive pulmonary diseases, rhinitis, laryngitis, sinusitis, common cold and also burn injuries.
In India, 30% to 40% increased cases of respiratory diseases, bronchial asthma and bronchitis patients have been reported last year, during the Diwali festival.
Firecrackers deteriorate the air quality as well as they cause noise pollution in the society leading to serious health hazards and disturbance in the ecosystem.
Alarming situation is that in many cities this degradation of air quality is increasing every year during Diwali festival, exposing our lives to a greater risk.
Delhi, last year reported very high concentration of PM10 aerosols, which may be due to low night temperature, low mixing height and low wind speed.

Mumbai being a densely populated city showed fair results on the Diwali Day.

Bangalore was the only city in which PM10 concentration was below the permissible limit of PM10.

In almost all the cities, the concentration of PM10 on the day of Diwali is increasing every year which is a challenging issue for the government.
Effect of Dust and Fumes during Diwali
Toxic ash can cause lung cancer, skin infection, etc.

Fumes can irritate respiratory tract of Human beings and animals.

Reproductive hazards and thyroid problems in humans as well as animals.

Developmental danger for kids and unborn babies.

Fumes and dust stay airborne for days which is poisonous to plants and animals.

Can contaminate ground and surface waters.

Can cause Acid rain from sulphuric acid, which would affect water bodies, crops, plants & even cause damage to property
2. Noise Pollution & Hazards
Noise is an unpleasant sound which creates interference in communication and creates health problems. Noisy crackers are a threat to children and pregnant women.
Noise pollution due to fireworks not only distracts our attention but also causes psychological stress.

The most dangerous effect of noise from firecrackers is losing hearing ability, which could be temporary or permanent as well.

Excessive noise levels also cause severe sleep disturbance, fatigue and irritation.

Continuous noise levels increase the cholesterol level, which increases the possibility of heart attacks.

Causes acute disturbances for pets and domestic animals.
Still do you think buying firecrackers is a good idea?
Stopover! Think again…
Say 'No' to Firecrackers and 'Yes' to life!
There are various ways to celebrate Diwali in eco-friendly ways to enrich our living and saving the environment from the impact of these pollutants.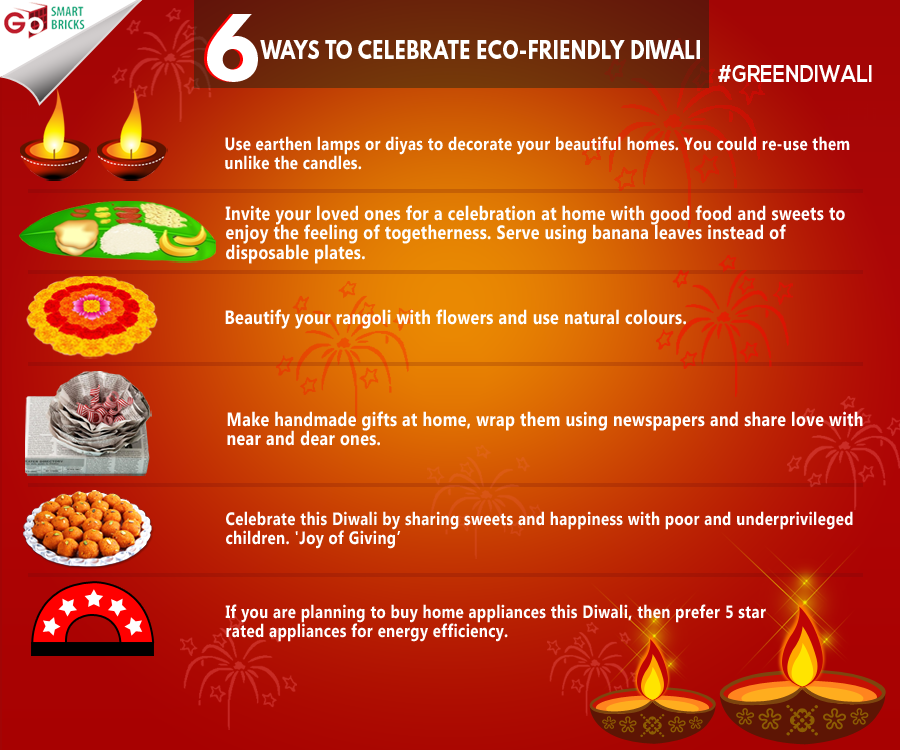 Let's pledge to celebrate with eco-friendly decorative materials, sweets, and good food.
Let's share this thought with our loved ones and collaborate for everyone's well being.
Diwali Pledge
This Diwali let's pledge to follow the Five Principles for Nature conservation.
Reduce

the amount of things we use.

Reuse

the things we have in different forms until we have absolutely no use for them.

Recycle

items that are no longer functional.

Rethink

the choices we make when deciding to buy something.

Refuse

things that we do not need at all. #greendiwali
[socialpoll id="2305391″]
Related Articles:
Why Next 8 Years, I Will Not Celebrate Eco-Friendly Diwali
Home Decoration Ideas For Greener Diwali
Photo Gallery: 12 Heartfelt Messages to Awaken You This Diwali