According to the U.S. Green Building Council [USGBC], Tamil Nadu has the highest number of green building projects in the country. The state ranked #1 in the listing of environment-friendly buildings of the country with 118 projects covering 4.91 crore sq. ft. green space. Following next-in-line is Maharashtra with 205+ projects and a green cover of 3.67 crore sq. ft, further followed by Karnataka, Haryana, and Delhi.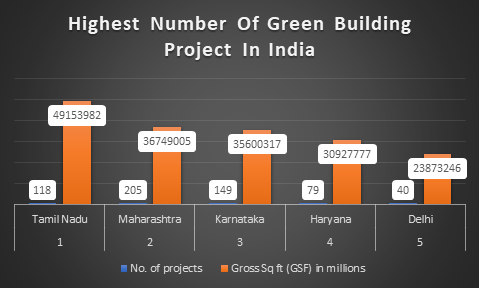 Accrediting the fact that Tamil Nadu is home to a maximum number of green buildings in India lets list down the 7 most popular ones.
Surprising Facts On Green Buildings In Tamil Nadu
Before we unveil the Green Gems of Tamil Nadu, let's know few surprising facts about the state and its Green Buildings. Well, Tamil Nadu is doing incredibly well as a state.
Out of the 164 LEED (Leadership in Energy and Environmental Design) certified buildings in India, Tamil Nadu alone homes 41 of them. This is almost 1/4th of the total LEED-certified green buildings in the country.
Tamil Nadu also homes 4 out of the 11 Indian Green Building Council (IGBC) certified buildings. Adding further to the glory are 5 more green buildings which are pre-certified by Indian Green Building Council and are currently under construction in the state.
8 office buildings in Chennai were rated energy-efficient by BEE (The Bureau of Energy Efficiency), the energy conservation body of the power ministry.
According to an official of Green Business Certification Inc (GBCI), India is leading the green building movement as various states are doing exceptionally well in order to build more of the eco-friendly buildings. Well, Tamil Nadu is surely playing a big role in this achievement.
7 Most Popular Green Buildings In Tamil Nadu
The green building concept comprises various elements like Solar Power Energy, Spacious Green Areas, Rainwater Harvesting and much more. These buildings might look like normal buildings from the outside, but the moment you enter them you will understand what the so-called "Green Building" means and why is it so much talked about.
Well, with 42 green buildings, Chennai leads the pack but Coimbatore, Madhurai and many others are quickly racing to top the list. Here are 7 most popular Green Buildings across Tamil Nadu.
1. SIERRA ODC Building
Has to be number one on this list, with a score of 103 out of 110 under LEED certification, SIERRA ODC has been recognised as the world's second-highest ranking Green Building. Based in Coimbatore, this three-storeyed building has been constructed by laying explicit importance on increasing the efficiency of resource use such as energy, water, and materials.
The building has managed water use efficiency of 89% by using water saving fixtures and decreasing wastage. 100% water is recycled in the building. Also, the building is carbon-neutral and is capable of saving 64% on energy, remaining 36% is renewable energy purchased from the Tamil Nadu Electricity Board. Another few interesting features to highlight are the sensor-based lighting systems and the demand-based air conditioner systems.
2. Raintree Hotel
The Raintree Hotel is an eco-friendly business hotel in Chennai. In fact, it is considered to be one of the first Green Buildings of state of South India. Whether its accommodation, a hi-tech business event or unpretentious Eco-friendly practices, this hotel is known to pay attention to every single thing. Raintree hotel has implemented a set of eco-friendly steps without compromising quality for its customers.
The water from the air-conditioners is processed and recycled through a sewage treatment plant which helps preserve water resources. The heat generated by the air conditioners is also put to good use, i.e. for heating the waters in the washroom. All employees working at this hotel are made to highlight and adopt the eco-sensitive policy!
3. Anna Centenary Library
Named after C.N. Annadurai, Tamil Nadu's ex-chief Minister, the Anna Centenary Library is the largest library in Asia. The building is located at Kotturpuram, Chennai and has been awarded the LEED Gold rating. It features a very modern look as compared to the picture most of us would imagine once someone mentions a library. The building is constructed in an environmentally responsible manner and includes both passive design features and resource efficient active elements to upsurge its sustainability.
The building actively promotes the idea of conservation of trees. On-plant treatment is used to recycle water, the building uses 64% less water than any other building of the same size. Coming to energy conservation, active steps are taken which helps in translating to 17.5 percent savings in energy.
4. World Bank
Located at Tharamani, Chennai, the World Bank building is a certified Green Building. This office has always tried hard to twist environmental issues with a development and operational strategy.
The office is equipped with a water recycling plant, automated lighting, carbon sensors etc.  Also, this branch is the largest one outside of Washington, DC and covers a wide area of 1,28,000 sq.ft. The administrators and the employees showcase a committed dedication towards the conservation of natural resources.
5. Heritage Resorts
Heritage Resorts is Madurai's first luxury spa and resort, located in an expansive 17-acre campus on the fringes of the heart of the temple city. This resort achieved LEED GOLD Award certification under LEED India in June 2011.
Heritage Resorts has many green features which directly contribute to the environment in terms of impact on the local environment, reduced energy consumption, and usage of natural resources.
6. Olympia Tech Park
The Olympia Tech Park is located at the Guindy, Chennai and has achieved LEED Gold rating by the U.S Green Building Council. In the year 2007, this IT Park was recognized as the world's largest Green Building and still stands high among many other Green Buildings across the globe.
The building structure is well equipped with a sewage treatment plant which actively recycles water which is used for urinals and other bathroom needs. The architecture of the structure is such that it allows ample of natural lighting in which reduces the wastage of energy due to heavy lighting equipment's.
7. Shell Business Operations
The Shell Business Operations building located in Perungudi, Chennai is a LEED Platinum rated building. Note, the Platinum rating is the highest rating a green building can receive.
Shell Business Operations in Chennai has integrated sensors in the urinals and also employed low-flow dual flush systems. These systems help in cutting down water consumption by 48.74 percent. Adding to that is the efficient HVAC design and Heat recovery in their base building which helped in reducing energy consumed 24 percent lesser than other buildings.
Final Thoughts
Green spaces use less water and energy, save money for businesses, families, and communities, reduce carbon emissions and make a healthier environment for inhabitants and the community at large. It's just not Tamil Nadu that's active in Green Building, many other governments have taken steps as well to increase the number of green buildings to promote a greener atmosphere.
For India, it surely continues and will continue further to be a leader in the green building movement.
Read More: Major Challenges Facing the Construction Industry in India in 2018
Curated by editor at  Wienerberger India
Like this story? Or have something to share? Write to us: gosmartbricks@gmail.com or connect with us on Facebook and Twitter.