The term 'green building ' is not confined to 'building' only but rather encompasses sustainable construction plans, building design and direction, landscaping, building operations and maintenance. Indian Green Building Council (IGBC) defines the green building as one with optimal water utilization, optimises energy efficiency, conserves natural resources, generates less waste and provides healthier spaces for occupants, as compared to a conventional building. Energy and natural resources like sand and water can be saved during the construction phase and throughout the building's lifespan by adhering to basic green building concepts.
A new study by Dodge Data and Analytics confirms that green design and construction is accelerating as an important global trend.
The ideal green project preserves and restores the habitat that is vital for sustaining life and becomes a net producer and exporter (gives back to the environment more than what it uses) of resources, materials, energy, and water, rather than being a net consumer.
TERI estimates, if all buildings in Indian urban areas were made to adopt green building concepts, India could save more than 8,400 megawatts of power, which is enough to light 550,000 homes a year.
Green building's energy efficiency inhabits us with nature and contributes in improving overall energy efficiency. Energy efficiency helps to reduce consumption and also contributes to supplying of quality energy.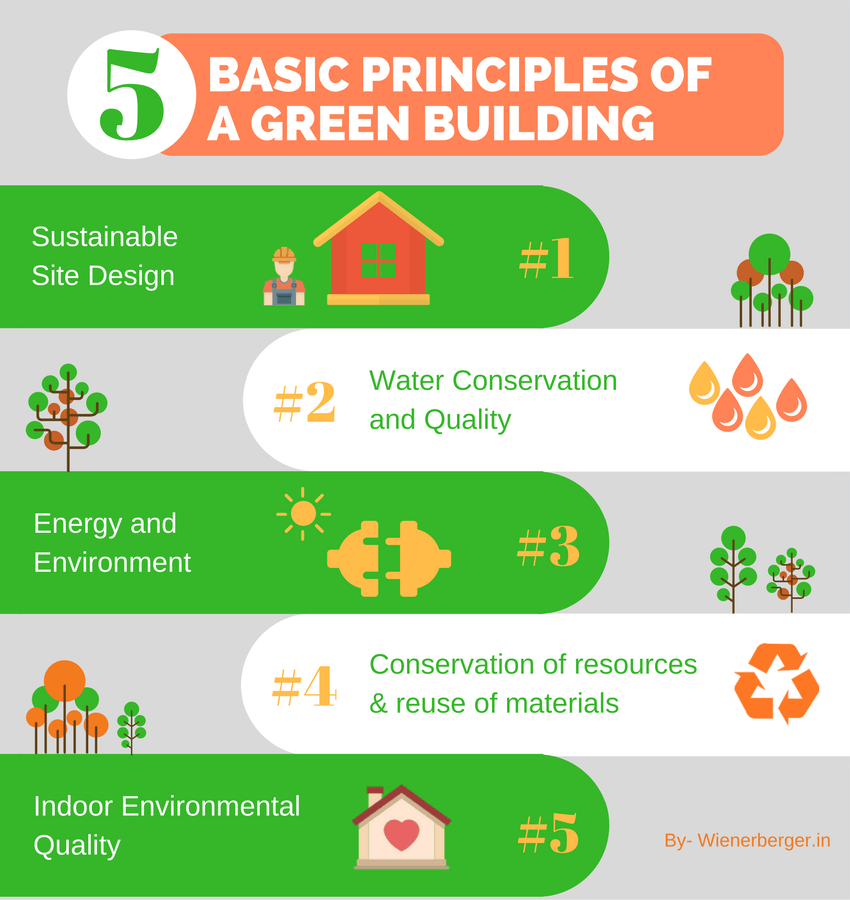 One of the prime reasons that green building is generating interest apart from its environment-friendly attributes is because of its ability of energy consumption. In the residential sphere, reduced wastage of water, conservation natural resources, improved air and water quality, improved occupant productivity while reducing overall operating costs are some of the basic rewarding facilities of a sustainable green building. Vital resources in the form of money and materials are saved by the real estate builders and the homeowners as well because of the long run impact of these buildings. According to the Construction Marketplace SmartMarket Report, commercial green buildings have demonstrated an 8-9% decrease in operating cost, a 7.5% increase in building value and a 6.6% increase on the return on investment. Source
Branded corporate companies are taking a lot of interest in constructing such buildings which are energy and water efficient and use recyclable resources and solar power for continuous power supply.
List of green building design across the world
Heineken (Göss, Austria)
Ever wondered a beer with net-zero carbon footprints? – Certainly not; but this is what Heineken is doing. Heineken is the first large-scale carbon-neutral brewery of the world. It has reduced its carbon emissions from around 3000 tonnes a year to zero.
Heineken produces 1.4 million bottles of beer every day through 100% renewable and reusable energy sources. Their new boiling system uses less electricity and water furthermore 90% of waste heat is re-used. Apart from this, hydropower, biogas generated from spent grain fermentation, solar photovoltaic and waste heat have all contributed in reducing the brand's footprint to zero.
Suzlon One Earth (Pune)
Suzlon One Earth received LEED Platinum rating in 2010. This Pune based office has the concept of 'office in the garden'. It is one of the largest green building projects of the country and is also one of the India's first buildings to be LEED certified.
The office is 100% powered by onsite and offsite renewable sources and has 18 hybrid wind turbines that fulfil 7% of the total energy consumption; the rest of energy demand is met from offsite wind turbines.  The structure is designed in a way to ensure maximum daylight exposure thereby reducing artificial lighting consumption. The infrastructure within the campus is designed to enable water percolation and thereby control storm water runoff thus, contributing towards an increased water table level.
Nike (Belgium)
Nike is one of the known brands of the world that aims at creating a low-carbon and circular supply chain by using every sort of renewable generation sources and innovative construction measures.
The newly constructed Belgium campus runs on solar, biomass, wind and hydroelectric sources and uses autonomous LED lighting systems that react to staff movement. An integrated closed-loop water strategy uses buffering, infiltration and recycling to lower consumption, while 95% of waste is recycled. Innovative canal and biking systems have cut transport emissions to-and-from the building by 30% while sheep and bees have been added to naturally tend to the surrounding environment.
Biodiversity Conservation India Limited (Bangalore)
BCIL was established in 1994, way before the concept of 'green buildings' came into existence in India. The building was established with an aim of creating eco-friendly living habitats, especially in the urban space. It is a wonderful example of smart homes where one can turn lights off using mobile phones.
The building comprises of 44 interconnected rainwater percolation wells that lead to a 400,000 litre water tank. The building makes use of central reverse osmosis system to purify water without the use of chemicals. Grey water is directed to the gardens, toilets and for washing cars.
Amazon (Seattle)
The world's largest e-commerce website has also aimed at becoming the one of the largest green building offices located in Seattle. Estimated to be completed by 2018, Amazon's 100ft tall domes will bring together more than 300 endangered plants to act as a carbon sink and a conservation dome.
The vision is to 'link to the natural world' – Amazon will also construct walkways and encourage staff to walk around the domes during periods of downtime. Suspension bridges and meeting spaces that resemble "bird nests perched in mature trees" will be added to allow staff to interact with nature more intimately.
Studies also reveal that working in a green building makes employee healthier and brainier. It doesn't only increase the individual's productivity but also reduces instances of sick building syndrome.
Curated by editor at  Wienerberger India
Like this story? Or have something to share? Write to us: gosmartbricks@gmail.com or connect with us on Facebook and Twitter.
Information sources – Lokaa, Edie