Seasons keep on changing and each season has a beauty of its own. Inspite of all the zeal, there are some drastic effect of this weather change that could be felt in almost every part of India. One can experience sweltering heat or humid climate in some places and cold winds or continuous rainy season in other parts. With the variation in changes in seasons, one can easily estimate some unpredictable days before us. Beating this, renovating your home can give you a fresh comfy start for the upcoming seasons. Make yourself and your home prepared for all seasons by being the change and 'try to go green'. However, you might be worried about the expenses that might incur for all this. Well! Fortunately, you can take a few steps that could be taken to frame  a model friendlier to your pocket, health,  and on a bigger scale, to the earth. A well-planned green home renovation can make you save money. So, get ready to infuse Eco friendliness and energy efficiency to your home and savings in your pocket.
A green home uses less energy, water and other natural resources and creates less waste & greenhouse gases. Transform your living space into a more beautiful and comfortable environment in a more sustainable way via different routes of going green, some of them are analyzed below:
1. Going Green with Rain Gutters:
Green homes with rain gutters might not sound great to you, but it can be a vital component of the Eco friendly renovations. Hot sunny days with high humidity are ahead, which might create the perfect conditions in the atmosphere for thunderstorms to develop. Heavy downpours can cause leaves, twigs and other tree debris to blow around and end up in your gutters. If your gutters aren't wide enough, they may not be able to handle the amount of water coming off your roof during a heavy storm. Rain gutters are an important resource for preventing dampness as well.
Use FSC certified wood for your homes, outfitted with wood gutters, to make it more sustainable.

Install a roof top storage system by diverting your gutters to drums or storage tanks.

Poor maintenance of rain gutters can lead to respiratory problems, and disorders of the immune and nervous system.

Purchase a greener gutter material like steel or aluminium over vinyl, or remodel your entire home drainage system with live green roofing, and rainwater harvesting systems.
2. Green Homes Building Materials  
Clay, being a breathable material, improves thermal comfort, making the substance a good insulator. Using clay as the main raw material for the construction process would definitely lead your building towards a greener environment. Here are a few tips with which you can go green homes with construction materials also:
 1. Clay Bricks:  
Clay bricks are traditionally best Eco friendly option available. The thermal insulation improves the efficiency of buildings, thereby contributing to the indoor comfort. Clay bricks are free from toxic gases and fumes that can cause allergies and other health problems.Advanced version of clay bricks like Porotherm, which is made out of clay, sourced from de-silting of dead water tanks and only natural additives like coal ash, rice husk and granite slurry are added. They keep the interiors cool in summer and warm in winter. Consequently, this results in savings in energy costs, by reducing artificial cooling and heating.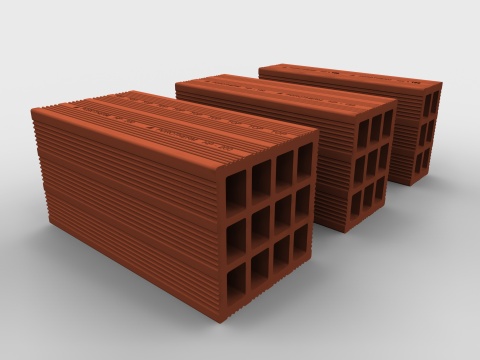 Image Source: wienerberger.in
2.Clay roof tiles:
Clay tiles are the exclusive greener choice for many reasons. They are reflective, supporting ventilation and are made of clay. Clay tiles are rated one of the top environmental choices by the British Building Research Establishment. Moreover the life of these tiles is more than 100 years. Thus, you probably need not reroof it for a long time. The curved shape of the tiles allows for superior ventilation, so that hot air isn't trapped between the material and the roof in the summer. Also, because they're heavy, they help insulate the home year round. Preferably, wienerberger's Koramic roof tiles could be used as they are much more advanced form of these clay tiles which gives complete indemnity of green living to the owner.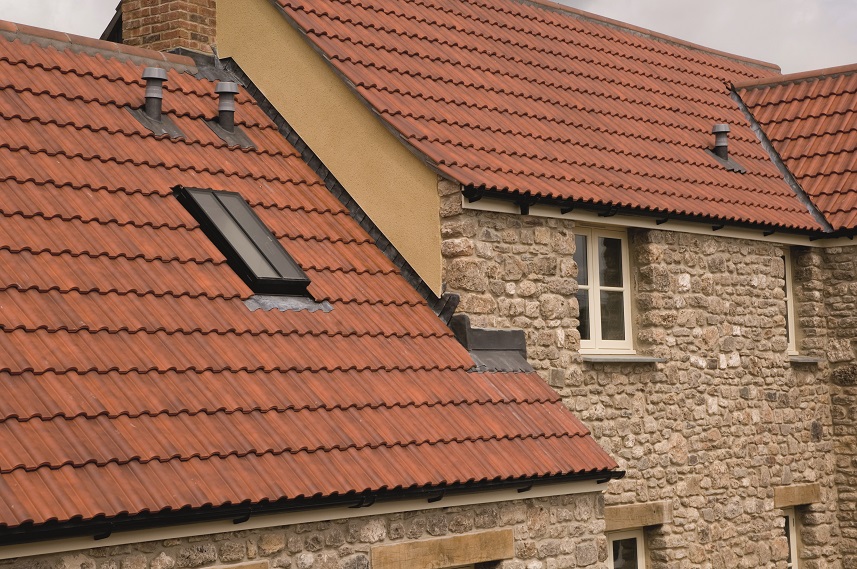 Image Source: wienerberger.co.uk/
3.Terracota Façades :
Facades offer ventilated curtain wall systems with a wide range of variety and colours. It is made entirely from natural raw materials, which creates a pleasing effect inside the building. It prevents the heat from entering inside, and ensures a cool and comfortable indoor climate inside. Facades have outstanding quality and a feature of weather resistance, as firing processes and selected clays are key constituents in their production. Wienerberger's Argeton Facades are highly resistant to all kinds of weather conditions, therefore ensuring the durability of the colours and the building.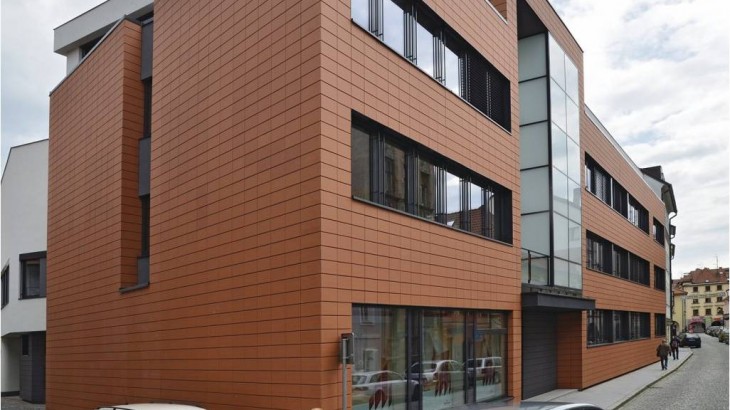 Image Source: http:gosmartbricks.com

3. Going green with Appliances
Buying a new appliance that adds to your green home living idea, can be expensive, but they are durable and allow you save you more cash when it comes to your electricity bills. A research might be helpful here, check what value you are deriving by buying a particular appliance, whether you need it immediately or can wait for a year or 2 or if the existing appliances might get a sustainable result with a few improvements.
Now, since the seasons are arriving, a lot of people will turn on their air conditioning, heaters which can take up a lot of energy. It is always necessary to opt for an air-conditioning and heating unit with a SEER rating of thirteen. This will ensure you to save money when using the system, during hot summer days and cool winter days.
Certain things which can be done in short run are:
Replace your old bulbs to energy saving light bulbs like CFL or LED light bulbs.

Use energy saving washing machines and water-saving sprinkler systems in apartments.

Use energy efficient dishwashers, for washing utensils at home, to reduce water usage, which is of high concern in today's world.

Replace your old refrigerator, as they consume more electricity in comparison to the new ones.
Going green homes with Efficient Ventilation
When it comes to attaining green environment at homes, the ventilation is the first thing which comes to mind. Efficient ventilation improves the surrounding nature. Fresh air is the most important component in your home, especially during different seasons. Green ventilation strategies can be followed by using ceiling fans, operable windows, etc. to reduce annual heating and cooling costs, which are energy efficient ways of ventilation
Bathroom and kitchen exhaust fans could be installed for easy ventilation. This in turn wil prevent suffocation and health disorders.

Install operable windows so that, breezes and winds can flow through your home easily.

Install a whole house fan, which could cool your home by evacuating hot air up and out and drawing cooler fresh air, through the open windows.
2. Going Green with Green windows:
Poor windows accounts for almost 25% of a home's heat loss in winters. On the other hand, energy efficient green windows can considerably increase your home efficiency. The benefits of green windows cannot always be measured in rupees but they are a healthier choice which  adds to the quality and comfort of the house. They are low on maintenance, and adds on to the resale value of the same. The choice can be made as per the requirement and benefit over spending. Few options of these green windows available are as below:
Multiple Panes-

Upgrading your single pane window to a double pane window can reduce your heating costs by 15 percent. Triple pane and super windows can turn out to be miracle for the home by improving home's overall energy efficiency.

E Coating:

Low e-coating on windows will help prevent heat entering in your house and will also help prevent heat loss in winters. You need to choose the right level of e-coating as it differs from climate to climate.

Window frames:

Choose wood, vinyl, fibreglass and insulated frames to increase energy efficiency of your house.
3. Going green with exterior paints
Going green is just about creating healthier homes, or taking care of the environment by improving energy efficiency but also about taking care of the exterior. Sometimes, exterior paint stains can contribute to indoor and outdoor air pollution, leading to contamination of groundwater and water that we consume. Therefore, it is pivotal to use green elements, while using exterior paints.
Use water based paints, which are free from toxic ingredients.

Do not use VOC paints, it leads to many health problems by emitting volatile organic compounds.

Dispose, paint leftovers: measure only an amount of paint you require, and dispose the rest, before it contaminates drinking water, leading to health disorders.

Buy recycled paints, which helps to minimize groundwater contamination, and  saves your  money.
Living in green homes is a requisite today. If your house isn't eco-friendly or wasn't made, go ahead renovating it. You can save energy while improving your home's comfort and helping the environment by making your home more energy-efficient. A green renovation makes your dream house a place worthy of living, contributing to the well-being of the whole ecosystem too.
 Powered by a Building Expert from Wienerberger India
For an expert advice, drop a word at our email id gosmartbricks@gmail.com