Pollution nearing danger levels in the cities, more than the required usage of electricity and exhaustion of natural resources are directly indicating towards the increasing global warming, these situations are a direct battle with Mother Nature. But, Hari and Asha a couple from God's own country "Kerala" bring in a ray of hope. The main aim of this couple's life is to preserve Mother Nature. This blog aims to highlight the outstanding efforts of this couple so that the world can take some inspiration and do their part to preserve our environment. Meet – 'Navanu' – a truly self-sustaining and energy efficient house.
Navanu – A House That Breathes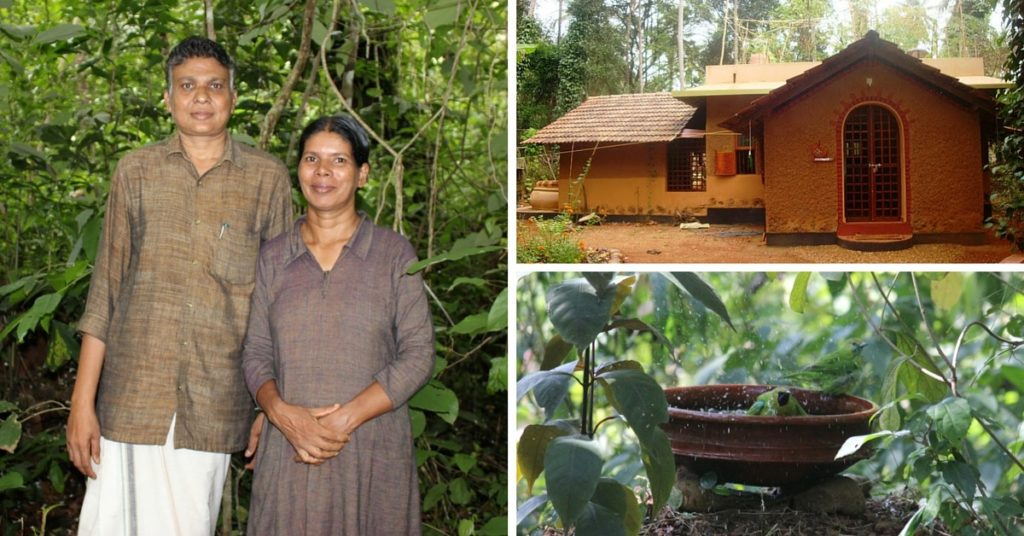 Hari and Asha live in Kerala's Kannur district, Chakkarakkal Uchulikkunil, this couple built their own world that breathes Mother Nature in every possible way. A little about the homeowners, Hari works for the water authority and Asha works with local farmers educating them on natural agricultural practices. The couple decided to build a home for themselves around 6 years ago, and this house truly reflects their love for nature and organic living. Today this house is one of its kind and this little eco-friendly space has been enticing people from all over the country. Let's know some interesting details about 'Navanu'.
·         Turning A Dream Into Reality
When Hari and Asha decided to build their dream home, they wanted it to be energy efficient, sustainable and deeply connected to nature. An architect friend joined their mission and helped them turn their idea into reality. The couple drew inspiration from how the tribals of Kerala built their mud houses.
·         Dimension and Location
Navanu is a 960 square feet house that sits within 34 cents of land in a little town located in Kannur District, Kerala. The walls of the house are made of mud, the house is extremely spacious and encompasses a bedroom, living room, kitchen, hall and a working station.
·         Cost Of Construction
The entire cost of materials involved to build Navanu was estimated at Rs. 50,000. Labour cost amounted to around 2.5 lakhs. Roughly the total cost of the house amounted to around Rs. 4 lakhs.
·         Self-Sustaining And Energy Efficient
Even during peak summers, the house remains cool despite not having any coolers or fans. The mud walls effectively trap the warmth of the sun, this keeps the inside temperature cozy during the night and as the sun sets, the cold airstreams take over. One of the most interesting things about Navanu is that there is no power connection, the couple chooses solar power source of energy for whatever tiny electrical devices they own (TV, mixer grinder, computer, and other appliances like many normal urban households), allowing them to use the conserved energy during the night. The architect of the house has designed the house beautifully, Navanu manages to get ample of natural light and even a small lamp can effectually light up large areas. Their kitchen runs entirely on biogas, all the waste generated in the house (including latrine) is converted into biogas.
·         Amidst The Forest
Navanu sits in the middle of a miniature forest that is created by Asha and Hari. This little forest is now home to many animal's birds and butterflies. The land is used to produce vegetables and fruits, and guess what the couple consumes what comes directly from this land.
·         No Room For Medicines
Natural living has impacted their lives with positivity. The couple claims that they haven't taken any medicines for the past 17 years. Natural food and a rule of not interfering with the body has helped them keep diseases at bay, apart from common cold and fever.
Final Thoughts
We cannot create a forest like Hari and Asha, even then this story has definitely taught us a lesson or two – one surely is of adopting simpler lifestyles and the other is to adopt building practices that are more green and sustainable.
Curated by editor at  Wienerberger India
Like this story? Or have something to share? Write to us: gosmartbricks@gmail.com or connect with us on Facebook and Twitter.